There's just something about Brown County. While only an hour or so from Indianapolis, the rolling hills, nature, and old-fashioned shops provide the perfect mix of charm and excitement for families. While Brown County is known for its picturesque fall foliage, most activities are year-round and you can avoid some of the crowds too.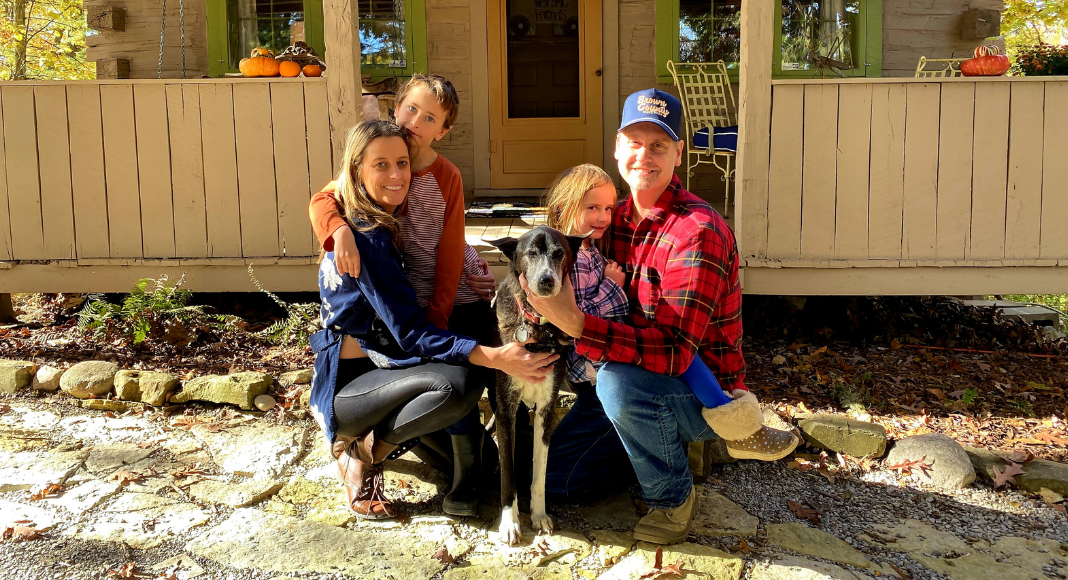 Try Out New Transportation
The Nashville Express is a great 30-minute train tour in downtown Nashville, suitable for all ages. It's a great place to start if you're new to visiting the area. You'll learn about local history, local attractions, and where to find shops and restaurants. It leaves from Fearrin's Ice Cream and Yogurt Depot. It's cash only and is $7 per person with kids 5 and under free.
All Joy Carriages offer a variety of tour packages, starting at a half village tour (10 minutes) for $35. You can book online to guarantee your spot or walk-up if you are more spontaneous.
Mine for Treasure
At Copperhead Creek Gem Mine, you can choose from gem and fossil bags of various sizes and find your very own treasures! This is our must-do activity for every tip. It's also attached to a rock shop which is fun to browse or to purchase something specific.
See a Live Show
While some of the music venues around town are more for adults, The Brown County Playhouse is right in downtown Nashville and has affordable family-friendly shows throughout the year.
Visit Brown County State Park
Brown County State Park is the largest state park in Indiana and it offers so many options! The Friends Trail is short and paved, so it is perfect for little ones and strollers. Trail 6 loops around Strahl Lake and Trail 7 goes around Ogle Lake – both easy hikes and kid-friendly with great views. My kids also love the camp store. It's small but has some fun trinkets, games you won't find at Target, and ice cream for warmer days. Wildlife bingo and our 101 Things to Spot in the Woods puzzle are a couple of our favorite unique finds. Make sure to climb the 90′ fire tower if you have it in you, you won't be disappointed by the views! Additional park activities include the Nature Center with various programs throughout the year, an outdoor pool, a fall hayride around the park, camping (yep, open year-round), lodge with indoor swimming pool, playgrounds, mountain biking, and horseback riding.
Try a local Restaurant
Hard Truth Hills is our favorite restaurant in Brown County and is always kid-friendly. Great food, adult drinks (beer and a distillery), views, trails, and more. During peak season, be sure you get a reservation or arrive early. If you're able to sit outside, there's often live music and games like Connect Four and Jenga.
Big Woods Pizza is in the same family of restaurants as Hard Truth Hills and it's also a favorite. You can't go wrong with pizza and the chocolate chip skillet cookie is my kids' favorite dessert ever.
Our Sandwich Place is another go-to family spot. Basically, every square inch is covered in Indiana University memorabilia. And the biggest perk is that the black tablecloths can be drawn on with chalk.
Take Pictures at Bean Blossom Overlook
Brown County has an endless supply of family photo opportunities but our personal favorite is Bean Blossom Overlook situated along State Road 135 North between Bean Blossom and Nashville. It's a quick drive-in, there are spaces to park, and it's breathtaking. Equipped with picnic tables, it's a great spot to enjoy lunch or the sunset.
Shop in Downtown Nashville
Do your kids beg to shop? Mine don't either. But Nashville is another story. Each shop is so unique and if one doesn't interest you, you just walk next door to the next. We discover a new shop each visit but have a few we just can't miss.
Rich Hill's Magic and Fun Emporium might be the smallest shop I've ever been in, but it's 100% worth a visit. There's always something new and Rich is great at demonstrating tricks and making recommendations for something to take home.
The Candy Emporium and the Nashville Fudge Kitchen is a perfect spot to stop in if you need a little treat/bribe to keep everyone happy.
The Toy Chest is an independent toy story (Indiana's oldest) with games, puzzles, dolls, crafts, science kits, and more. They even offer a personal shopping service, birthday boxes, and various surprise boxes based on interests. Also, free delivery within 25 miles if you're staying in the area.
Take a Quick Drive
While not quite in Brown County, we love Apple Works and can be a good stop on the way into Brown County from Indianapolis. It's a great place to buy apples, pumpkins, Christmas trees, fudge, fresh baked goods, and more. There's some beautiful landscaping and an opportunity to feed animals. Open year-round!
Bloomington and Indiana University are just about 30 minutes away from downtown Nashville. Take in a game, try a local restaurant (our favorite with the kids is Nick's), or walk around campus (ranks #1 in the country for most beautiful campus).
Our family recently purchased a nearly 200-year-old log cabin in Brown County and we share our favorite activities on Instagram at Better Together Cabins as we're learning to become part-time locals. We'd love for you to follow along!