Shopping with a toddler is no easy task. Especially not now while largely pregnant. But, I do it. And I do it probably way too often if you ask my husband. Our favorite shopping spot?
TARGET.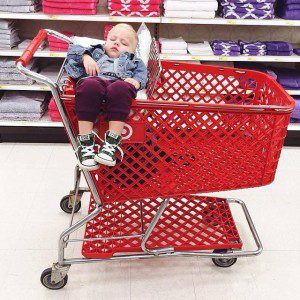 It's like a mini vacation. The anticipation builds while pulling into the parking lot, wondering if I'll find a good spot. I ask myself, could I possibly get front row? What will they have on clearance today?! I hope my battery stays charged long enough so I can use my cartwheel app!!
Gathering my crazy kid and placing him into the cart, we walk in. The bright lights, the red everywhere, the smell of popcorn, the "One Spot"–so close I can almost touch it. I'm in heaven. Sometimes, if Cash falls asleep on the way he'll stay asleep for a portion of the shopping trip. This is an added bonus. If he's awake, these are my tips for a (sometimes) successful shopping trip with a toddler.
Ten steps to our semi-successful Target trip:
Step one: We get a bag of popcorn and that expensive juice with the character on top. He's sitting peacefully in the front of the cart right now eating popcorn and drinking his juice. Good start, if I may say!
Step two: If you are shopping for specifics, grab those first! That way you at least get what you actually came in for. If you're just browsing then go to your favorite spot first while it can still be enjoyable (I come a lot to just look around at what's new).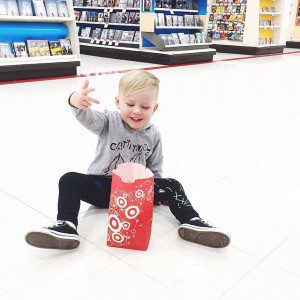 Step three: AVOID THE TOY AREA AT ALL COST!! At Least until later. If your kid is anything like mine once he sees the toys, it's over.
At this point Cash has probably become bored with his popcorn and juice is gone. I'm running out of time with him in the cart. He starts to ask to get "out!" Or tells me, "Uh oh mama, I'm stuck!" I reluctantly give in and let him walk.
He walks next to me for a while then sees some candy. This is my ticket to getting him back in the cart. "Okay, you want candy?? You have to sit in the cart like a big boy and you can have some candy." He goes for it. #winning
Step four: You're on bided time! Use your time wisely! He's contained and quiet. Look at something for yourself! Toys are approaching quickly.
Step five: HE SEES THE TOYS! The candy is a thing of the past. He wants out and he wants to see the toys! This takes a little while for us. He likes to look at everything. Even the dolls. We play for a while and see what's new and he puts some things in the cart that he thinks he's getting. Removal process of these items can be tricky. Proceed with caution! This could result in an end to your shopping trip.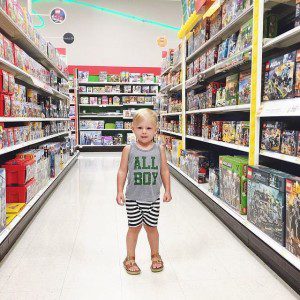 Step six: Leave toy section. This can be hard. And it can take a few moments to round him up and get him back in the cart. I usually leave a few toys for him to play with in the cart and he gladly gets back in for a while. He may even be interested in the candy or popcorn again.
Step seven: I love looking at the home decor section. Now that I've gotten the essentials I look at the fun stuff. I ask Cash what he thinks about some of it. "You think this would look good in the living room?" engaging him in what I'm doing. He's entertained. For now.
Step eight: He escapes! He's running full speed back to the toys! (Refer back to step six)
Step nine: He's over it! He's frustrated! He wants to leave and he wants to leave now! Without him causing a scene, I let him out of the cart and beg him to walk by me. Nope! He has other plans. He wants to run! I keep him in my sight, finishing up my shopping trip, gathering the last few things I need. Then I lose sight of him! Where is he? He's in trouble! I find him hiding right about the time my heart sinks and I begin to worry. I'm sweating, I'm exhausted, but I'm not giving in yet.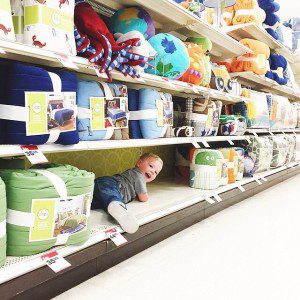 Step ten: He sees the applesauce packets. He loves picking out his favorite flavor. He's back in the cart and I'm finishing up. He seems quiet, and focused. I know exactly what this means: He pooped. I have no diaper and no wipes. I'm tired. I don't want to go back out to the car. I'm 9 months pregnant and I can't think of anything more exhausting. So, I buy wipes and diapers. I needed them anyway, right?
In short, nothing ends my trip to target too soon. But in rare times that occasional breakdown can lead me to true abandonment of my cart and all the items inside. I'm sure you've all been there. This is devastating after a long trip.
Every once in a while, you get that really "special" trip to target. The one BY YOURSELF. These should thoroughly be enjoyed like no other trip you've ever had. Then you get the dreaded call from your husband, two hours later, "How much longer are you gonna be? I thought you went in there for one thing?!"
My response, "I did. My sanity!"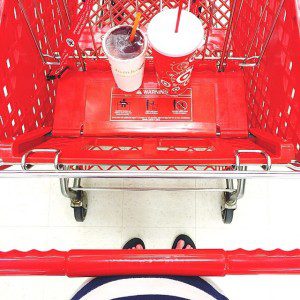 For more of our Target shenanigans, check out #cashgoestargeting on Instagram!