Growing up I was never a fan of the water. My family would occasionally visit the community pool or we would spend an afternoon at the lake, but I was okay with that because I HATED swimming. My parents signed me up for a few swimming lessons with local instructors but I never felt comfortable. Honestly, I feel like it made my fear even worse because I was so scared to be in the water – especially when it got anywhere near my face.
Fast forward thirty years and here I am as an adult, still weary of water but no longer petrified. In fact, our community pool is where my family spends literally every single day that the weather allows. Last summer was the first time I ventured to the pool with three kids in tote. At the time my son was a natural born fish, jumping off the side and swimming circles around people in the pool. Lola, however, was a clinger. While she loved being at the pool, she refused to leave my side and was constantly crying and running to her towel the second a drop touched her cheek. At the time it was doable because Remy was still content in her life jacket and allowed me to push her around the pool in her float. But I knew this summer would be different because she'd no longer be content in a float and containing two clingers would be a challenge.
I knew I had do something. So I planned ahead.
Lola enrolled in swimming lessons at Stony Creek Swim Center at the beginning of January. I was excited because she finally had an activity she got to do herself. But I was also nervous because I knew how shy she could be when she was uncomfortable. So I really talked up her lessons. We got a brand new swimsuit, darling swim cap and purple goggles. I told her what she would expect and how excited I was that she was starting these swim lessons.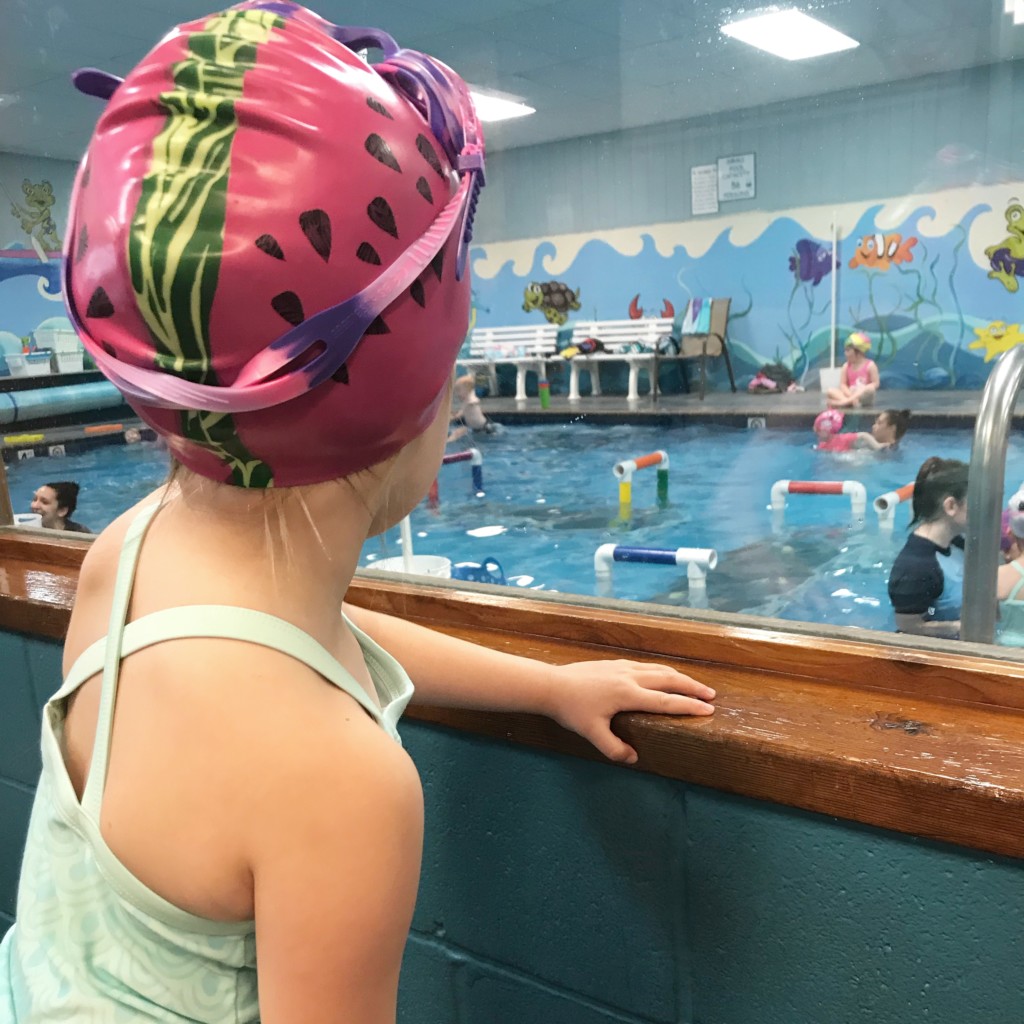 As we drove to her first lesson, she excitedly asked questions about her class and didn't seem nervous at all. We got to SCSC early enough to sit by the big windows and watch the classes that were in session. She sat there taking it all in, all while donning that darling swim cap. Her big moment came when they came to the door and called for the 11:00 o'clock swimmers. I held my breath, afraid of what to expect but Lola got right up and walked in that door with her teacher as if she had known her all of her life.
It couldn't have gone any better.
We took lessons at Stony Creek Swim Center for the next three months. I knew Lola was timid of the water but by her third lesson, she was happily putting her head completely under the water without hesitation AND without plugging her nose. She practiced floating on her back with no problems and even jumped into the deep end without holding the instructor's hand. Lola went from being afraid of the water to comfortable and eager to learn how to swim. Our experience at SCSC exceeded all my expectations and more!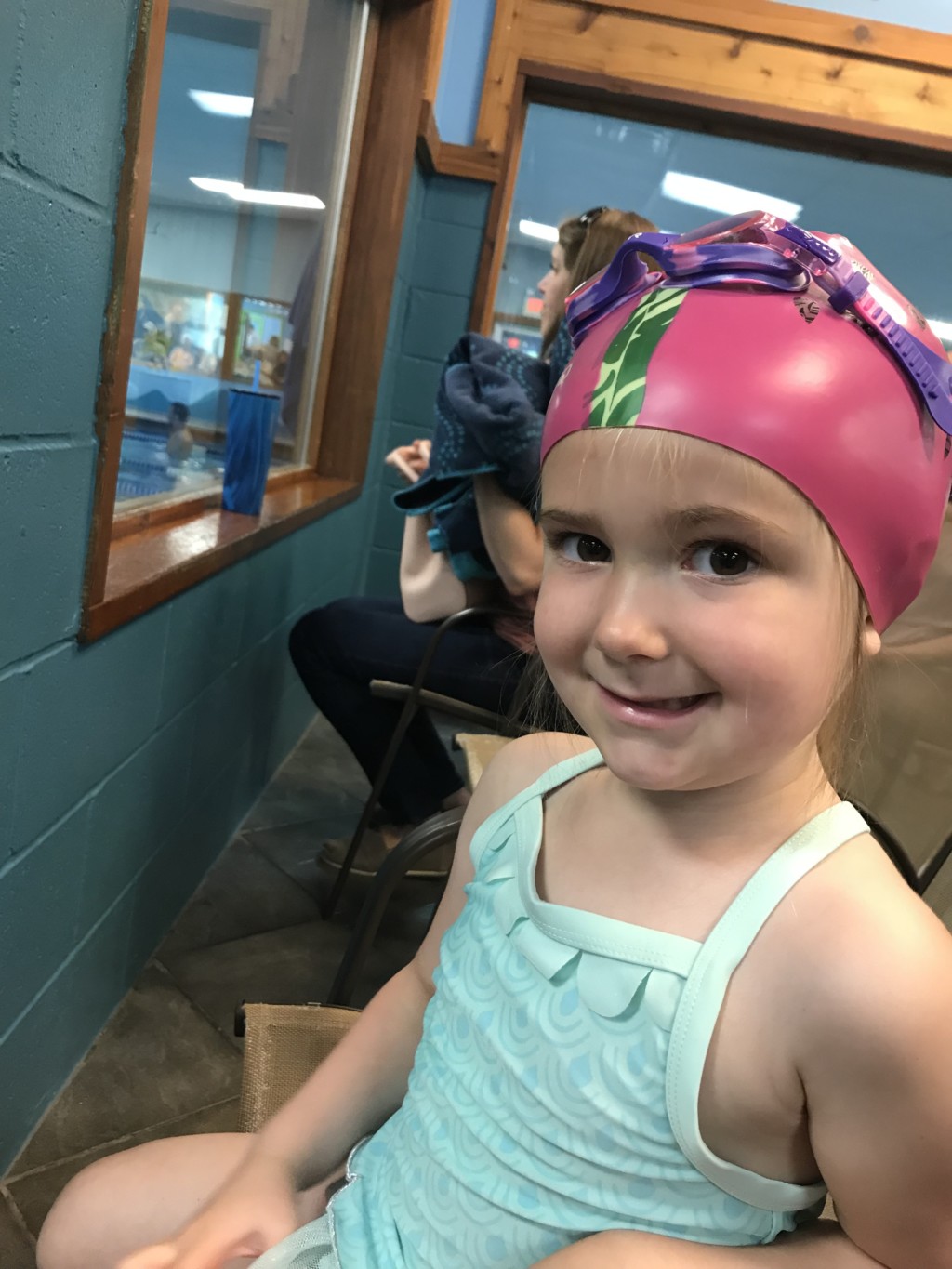 I truly am so impressed with our overall experience at Stony Creek Swim Center. Here is a list of things that stuck out to me:
Small Class Sizes – I loved that the classes were small – usually no more than 4 kids per session. Each child got adequate time and attention to practice the techniques individually or with the group without it being chaotic.
Friendly Instructors and Staff – Lola's instructor was extremely patient and very kind. It takes a special kind of person to be able to teach swim lessons to preschoolers and our instructor was exactly what I had hoped for Lola. I also appreciated how she would meet the children before each class and walk them to the door at the end the lesson too.
Cozy and Inviting Atmosphere – I was able to sit and watch Lola from the big picture window her entire lesson and she was also able to see that I was there too, which eased her nervous mind during our first few lessons. Each lesson was so organized – when one class was over, they would exit from one door while the instructor would call for the next class to enter the main door.
Locally Owned Center – Stony Creek Swim Center is locally owned and not a huge national chain, so their focus is bringing quality instruction to Indianapolis area families. Their main goal is to create lifelong swimmers and promote water safety in our community.
So you may be asking now, "How did this summer go?"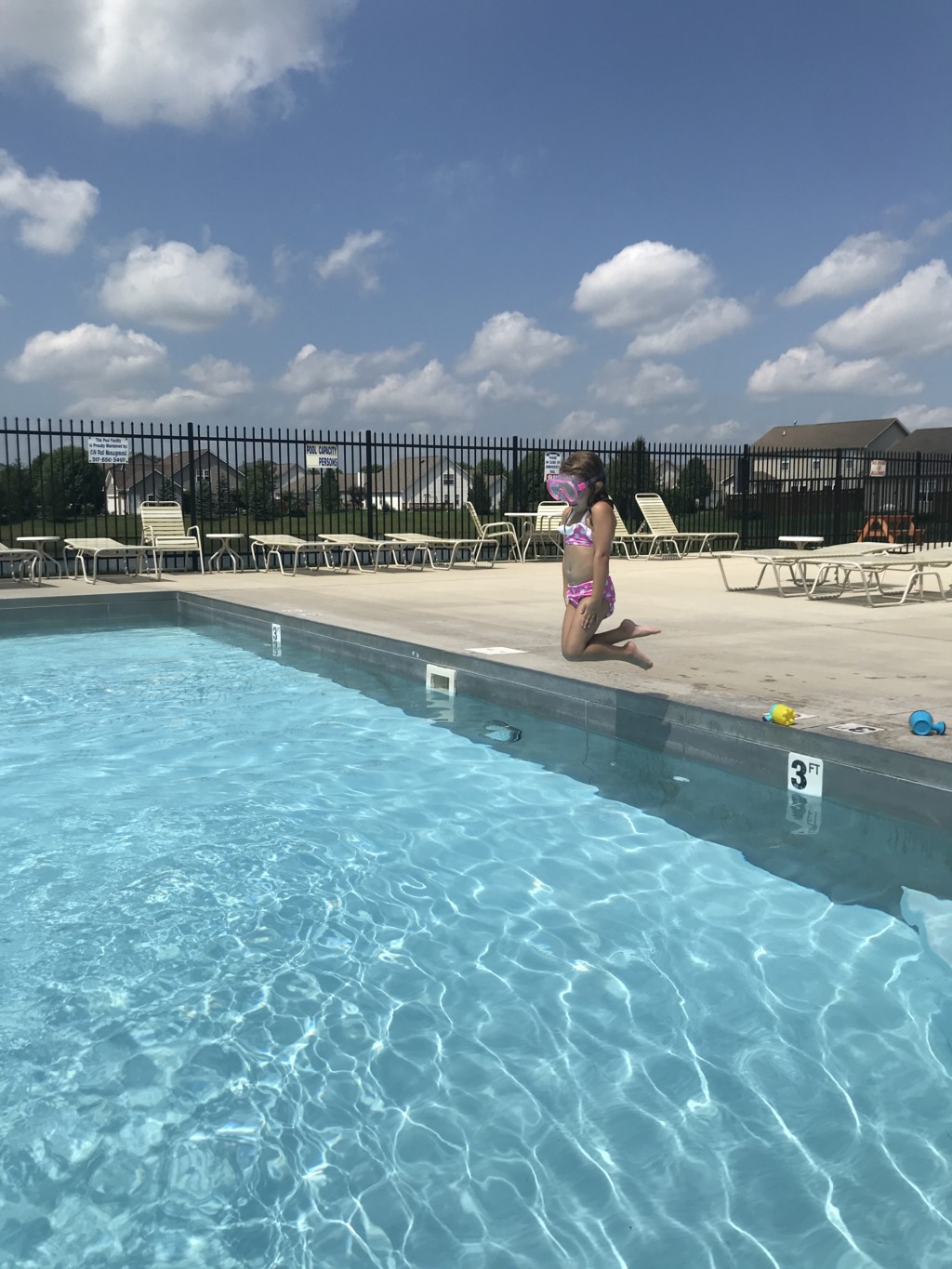 This summer was amazing! Lola was so confident in the water and by the end of pool season, she was jumping into the deep end and swimming to the ledge all by herself. I wasn't toting around an anxious swimmer the entire time rather swimming with my kids and having fun together. Her confidence even rubbed off on her sister who finally mastered kicking and swimming on her tummy in her puddle jumper. I am so grateful for the staff at Stony Creek Swim Center and can't wait to sign both girls up for lessons again soon!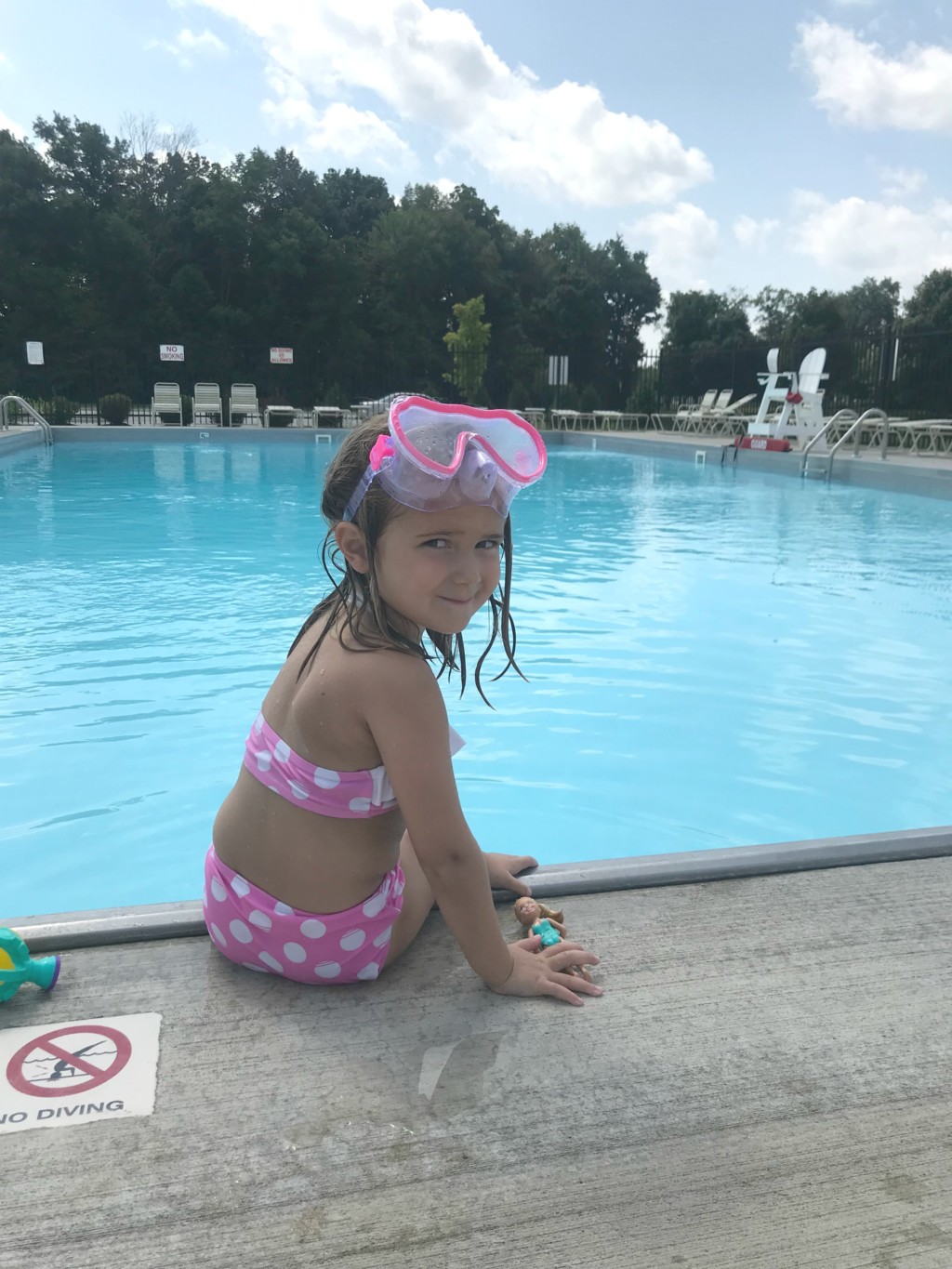 ---
Want more information on Stony Creek Swim Center? Visit their website here! You can also follow them on Facebook, Instagram and Twitter!