When it's all said and done, my husband and I have packed up our belongings and moved a combined total of 28 times since we left home to attend college. Most of those times have been moving out of dorms/apartments for the summer and then moving back to college. However, since getting married in 2008, we have had three major moves together, three home purchases, and two homes sold. Our most recent move was earlier this year and very unexpected. We moved in with my parents for a few months and have just recently moved AGAIN to settle into our latest home purchase. I think it's safe to say that I am officially moved out. This is the house that I will die in. #teamneveragain #bangsgavel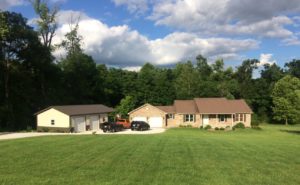 Some of our moves have been incredibly organized and some of them …well … not so much. However, I do like to think that I've learned a few things in the last 12 years and become fairly good at offering moving tips since I've done it so much. So, without further ado, I offer my wisdom in all things related to moving, house selling, and getting the deposit back on that rental.
Dream Tip #1: If you have the resources, just hire someone to pack and move all your crap for you. And then hire someone else to come deep clean your house or apartment. Your blood pressure will thank you for this. Your bank account – not so much.
Actual Real-Life Tip #1: Because moving is already expensive enough without hiring people to do it for you, save that cash and spend it on liquor. Trust me when I say that you'll need it. Like as soon as you crack open the first roll of packing tape and look around at everything you've managed to accrue in just a few short years. Enlist the help of your friends and family. Buy them beer and pizza and have them help you pack and load and then unload. They won't mind because more than likely, they will need your help someday.
Tip #2: If you have the time, PURGE. Organize things into donate, sell, and throw away piles. If you only have 30 days to pack up all your stuff and clean, then don't try to have a yard sale on top of that. You'll kill all your packing time, drive yourself crazy setting up, and then haggle over $1 items. It's just not worth it.
Tip #3: Buy more boxes and packing tape and bubble wrap and those giant rolls of plastic wrap than you think you'll need. Whatever you think is too much is actually probably not enough. So buy extra on top of your extra. You will use it.
Tip #4: Pack by room. It'll make everything much easier when you get to where you're going and have to unpack it all. Label the sides of the boxes rather than the tops. It's easier to read when stacked up on the truck (or horse trailer in our case … we basically move like the Beverly Hillbillies).
Tip #5: Those house projects that you've been putting off? Just get them done. More than likely, they will come up on your inspection report, and then you'll be forced to complete them by your buyer, and you won't have much of a leg to stand on regarding cost. Do them before they come up.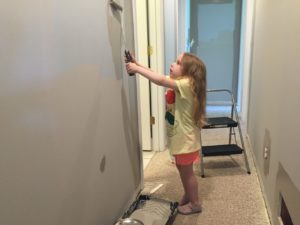 Tip #6: Deep clean. I know I mentioned this in my dream tip earlier, but cleaning is non-negotiable. For the last house we sold, we only had the budget to have our carpets professionally cleaned, so we did the rest of the deep cleaning ourselves. No matter how clean you think you are, houses get dirty. Some of my favorite everyday cleaning products are from green companies, and while I like to keep my family safe from chemicals as much as the next person, selling a house is not the time to worry about being green. Now is the time to get down and dirty (or clean!) with the bleach and the grout cleaner that smells like rotten eggs and the shower foam spray.
Tip #7: Light a candle. Set out fragrant flowers. Bake cookies. Diffuse oils. In short, make your house smell nice before you have any showings. While a clean house feels good, you want it to smell clean and homey, not sterilized.
Tip #8: Those people that helped you move in Real Life Tip #1? Don't forget about them. Especially the ones who went above and beyond. A nice bottle of wine or a gift card to Starbuck's goes a long way.