We need to talk about Alexa.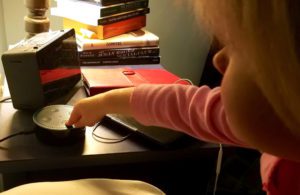 No, she's not some other "woman" in my relationship. But I find myself invoking her name a dozen times or more each day. So much that I actually worry "Alexa" will be one of my 1-year-old's first words.
For Christmas, I gave my husband an Amazon Echo and Dot. I hadn't done much research on the voice-activated device before, but I knew it was a fancy bluetooth speaker that you could integrate with other apps and smart devices.
My husband has a computer science degree, so this seemed like the type of thing he could geek out over. Like a more fun (for me) version of the Raspberry Pi he turned into a credit-card-sized video game emulator.
I was right. Alexa is fun and useful. I had no idea how reliant I, too, would become on it (her?). Months later, the Echo and Dot are our most-used Christmas gift, hands down.
I'd like to say we've turned our house into a smart home with fancy thermostat, security cameras and voice-controlled lights. Nope. Mostly, we use Alexa as an overpriced bluetooth speaker and a virtual assistant.
Ask Alexa Anything
I never got much use out of "Siri" on my iPad or saying "OK, Google…" on my phone. But Alexa? I'll ask her to do anything for me:
"Alexa, What's the weather forecast?"
"Alexa, How's traffic?"
"Alexa, Add peanut butter to the shopping list."
"Alexa, Play NPR."
"Alexa, Tell me a joke."
If she were a human assistant, she'd probably send me a link to LMGTFY.com and tell me the parable about teaching a man to fish, instead of whatever fact I requested. I don't even say "please" or "thank you" (though I do stifle this automatic response half the time).
Instead, the only back talk she gives me is cheesy dad jokes and useful information — provided she hears me right. Once, I requested, "Alexa, play Zen music," and she started playing One Direction. Um, not quite.
Soundtrack of Our Lives
Because Alexa is tied to our Amazon Prime account, we can queue up most songs available on Prime Music or any playlist on Pandora with the simple command, "Alexa, play 'Piano Man'" or, let's be honest, "Alexa, Play KidzBop." I can even ask, "Alexa, what song is this?" when a catchy tune comes on.
My 19-month-old daughter loves, loves, loves to dance. Spinning around in circles while music plays makes her ridiculously happy and burns off some of the crazy toddler energy. Plus, it burns calories for me when she insists I pick her up and dance with her, which is almost every time.
The moment she hears the first chords of "Shake It Off," she goes into "hold my beer, this is my song" mode. She drops everything, including whatever tantrum she was in the middle of, to shake her tiny booty. We listen to Taylor Swift a half dozen times a day, at least.
My favorite playlist though is much lower key. As I set my 5-month-old down to sleep, I queue up, "Alexa, Play lullabies." And with that, he is often asleep in minutes.
Alexa's Not the Only One Listening
So basically, Alexa has become a mommy crutch; better than the TV, but even more present since we never watched much television. I worry a bit that my baby boy isn't hearing the same lullabies as his older sister. Then I remember that I'm not a very good singer anyway. And usually, if I'm putting him down instead of letting him sleep on me, it's to chase after her, so not the ideal time to sing lullabies.
I just hope Amazon doesn't put out one of those year-in-review lists of your most requested or listened to items, a la Spotify. I'd be embarrassed to know the tally of times we listened to "Shake It Off" — and it's only April! Plus, I don't want my husband to know how many times I ask, "Alexa, How many teaspoons are in a tablespoon?" (It's three, in case you suffer from mom brain, too.)
Alexa has been very helpful. But as with all technology, I worry about how it impacts my children.
I don't want them to grow up barking commands at people or to get frustrated when they have to look up something themselves instead of taking a shortcut. I want them to say "please" and "thank you," and to know how dictionaries, radios and (eventually) Google work. So I'm trying to be more mindful of what I ask versus what I look up or queue up myself. Alexa isn't the only one listening, my kids are too.