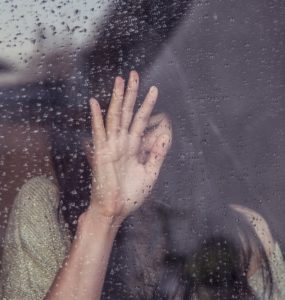 "New baby" and "depression" aren't phrases you commonly hear together. But, as, we know and have experienced, motherhood hits you in the face. While pregnancy seems long – a gradual progression – there is nothing gradual about becoming a mother. Motherhood can blindside you, even if you read all the books and prepped the nursery just so.
As a mother, I am saddened, but not surprised, to learn that according to The Centers for Disease Control (CDC) research, 1 in 9 women experience postpartum depression. Other research indicates it may be closer to 1 in 7. And even more women will experience some other mental health challenge related to becoming a mother or motherhood in general, like postpartum anxiety, postpartum psychosis or baby blues.
With mental health challenges being so prevalent for both new moms and mothers at every stage, I think it is important that we recognize this month, May, which has been deemed Maternal Depression Awareness month by Postpartum Support International (PSI).
Mothers who see an OBGYN will be screened for postpartum depression at their 6-week follow up appointment, which is great, especially since it wasn't so long ago the screening wasn't done at this appointment. Unfortunately, for many women, six weeks is so long to wait when pain is so deep and emotions are so high.
I know I speak for many at Indy Mom's Blog when I say we have a real opportunity to help one another, especially in those difficult first weeks of motherhood. That is why we are launching the #AskHer campaign. It's simple. Know a new mom? Check in. Don't just ask about the baby, ask about her. How is she feeling? Does she need more support than she is receiving? Know a mom of an older child or multiple children? Check in with her, too. Regularly. Postpartum depression isn't limited to moms of newborns.
Motherhood can feel isolating at times, and sometimes just having someone to talk to can help. Be that person for someone else. I think back to my early days of motherhood, and I didn't suffer from postpartum depression, but my mental health was not as strong as it normally is. I felt lucky to have a strong support system and people to talk to about my feelings. It is important to remember that not everyone has that.
Your support of another woman might be exactly what that mother needs. Your gentle reminder to take care of yourself may be the push she needs to seek treatment and get better. And if she's just fine, that's amazing. At least you asked
Signs of Postpartum Depression
Below are some questions from the PSI website that you can ask yourself. If you answer "yes" to some or many, it is likely a sign that you should contact your doctor right away to discuss if you potentially have a mood or anxiety disorder.
* Are you feeling sad or depressed?
* Do you feel more irritable or angry with those around you?
* Are you having difficulty bonding with your baby?
* Do you feel anxious or panicky?
* Are you having problems with eating or sleeping?
* Are you having upsetting thoughts that you can't get out of your mind?
* Do you feel as if you are "out of control" or "going crazy"?
* Do you feel like you never should have become a mother?
* Are you worried that you might hurt your baby or yourself?
Support for Indiana Women (list courtesy of PSI)
Indiana University Health Perinatal Mood Disorders Program
Fee: none
Telephone: 317.962.8191
Birdie Meyer, RN, MA, CLC & Sara Pollard, MSN, RN, PMHNP
Email: [email protected]
Beyond the Baby Blues: Postpartum Support Group
When: Every Monday from 11am-12pm
Where: Community North Hospital, 4th Floor, Education room 4003
No cost, registration is not required. You are welcome to bring your baby.
For more information contact Lindsay Wasik, MSW, LCSW at 317-621-9213
Email: [email protected]
Perinatal Mood & Anxiety Support Group
St. Mary's Hospital for Women & Children
Fee: none
Miranda Wahnsiedler MSN, AGCNS, RNC-OB, Group Facilitator
Telephone: 812-485-6016 for more information
Meets every Thursday (except holidays) @ 12-1pm and 5-6pm
Hospital for Women & Children Gift Conference Room
3700 Washington Ave Evansville, IN 47750
Babies/significant others are welcome
Additional information on times and locations stmarys.org/classes
Community Health Network Indianapolis
Fee: none
Telephone: 317.621.7828
Marcia Boring, MSW, LCSW
Email
Let There be Light
Creating hope and connections for women struggling with unexpected emotional symptoms during or after pregnancy.
Second Tuesday of Every Month
Location: Providence Mennonite Church
4738 US-50 Montgomery IN 47558
Call our warmline: (812) 254-8620 x 1347 with questions
Child care available
Light Refreshments
Led by Women's Health Center, Nurses of the Daviess Community Hosptial
Franciscan St. Francis Health Indianapolis
Jean Crane, MA, LMHC
Support Group meets the 1st & 3rd Wednesdays at 11am
610 E. Southport Rd. Ste 100
Telephone: 317-782-6503
Hendricks Regional Health Danville
Catherine Farthing, MSW,LSW
Jenni Russell, MSW, LSW
Telephone: 317-718-0418
Email
Memorial Hospital South Bend
Fee: none
Linda Meeks, RN, Group Facilitator
Mother Matters – Memorial Hosptial
Telephone: 574-647-3243 (or pager 574-236-7811 8am-10pm)
Phone support and referral services
Motherhood Connection – peer to peer support group for new mothers
Meets every Monday (except holidays) @ 6:30pm-8:00pm
Good Shepherd Lutheran Church
1021 Manchester Drive, South Bend
Babies Welcome
Telephone: 574-272-3446 Contact Linda Meeks for more information
Lutheran Hospital Fort Wayne
Fee: none
Telephone: 260.435.7069
Michelle DeArmond RN BS, IBCLC
Lafayette 
Support goup
2nd and 4th Tuesday of every month from 6:00 to 7:30 pm
Kathyry Weil Center
Fee: none
Telephone: 765-449-5133
Valparaiso
Beyond the Blues; NWI Peer Support Group
Natalie Ladra
Telephone: 219-331-1945