I was listening to the Pregnancy Confidential podcast the other day, which you should check out if you are expecting. The talks cover a different topic each week that relate to the week of pregnancy you're in. Episode 16 for Week 24 discusses the idea of a before baby bucket list. I love this idea! As I'm still in my second trimester and trying to knock a lot of items off my to-do list while I can, this idea really appeals to me.  I put together a list that makes sense for me and my family that I hope to tackle in the next 16 weeks! It includes the following:
Plan a date night once a week: Earlier in my pregnancy, I was so tired that the one night a week our older daughter was with family, I would stay home and rest, and my husband would go out for drinks with his work friends. It was ok at first, but now that my energy level is back to normal, we need to get back in the habit of having "our" time and having a date night. In the summer we really like going out to hear live music at this little little brewery off the Monon trail, or eating Jamaican food since it reminds us of our honeymoon. The clock is ticking until I'm a human milk factory, so this HAS to happen!
Go to a movie that I actually want to see: Husband and daughters I love you, but no, I really don't want to go see another action movie or Disney/Pixar release. But what I WOULD love to see is a great romantic comedy! Preferably with Justin Bateman or Jennifer Aniston. I'm pretty sure I'll be the one up all night feeding this baby when he arrives, so I'm going to be a little selfish here. Plus, the chilly movie theater should feel great this summer when I'm swollen and hot AND I can take care of my salty and sweet cravings all in one location.
Get lots of pedicures: As my stomach continues to grow, sitting down at home to do my own pedicure is becoming more and more uncomfortable. I really don't like paying $30 or so to have someone paint my toe nails, but I know that when the baby comes, the reality of saying, "Oh honey, I'm just running out for a pedicure" will be laughable. Plus, I need my nails done for all of these date nights we'll be having!
Read all the books: I am a huge bookworm and always have been. My light up Nook is my obsession and I can't live without it. As I've been through this baby thing before, I know there will be NO TIME for reading when little brother comes, which does make me a little sad. So even though I need my sleep to grow this baby, I'm also taking time for me and staying up a little later than I should on occasion to finish a few books that are really worth the sacrifice of sleep.

I think she deserves another trip to Great Wolf Lodge, don't you?!
Plan a pre-brother trip for our 7-year old daughter: Even though she's so excited to meet her little brother, the reality of the situation is that we'll be spending a lot more time at home once he arrives. So my husband and I want to treat her and a friend to ONE more overnight trip that's all about her. We're planning a quick trip to Great Wolf Lodge and King's Island where we will spoil her with the Paw Pass, souvenirs, junk food and lots of one-on-one time. There will be no stroller or diaper changes to slow us down, so even though I can't ride the roller coasters, I'm looking forward to getting out of town for this one too!
Deep clean, little by little: I'm not going to go crazy, but each weekend I'm going to try and tackle one extra task around the house. It is spring, so it's the perfect time to use a little elbow grease to tackle some spring cleaning. And if I get too overwhelmed, have no doubt that this is the first thing I will remove from this list!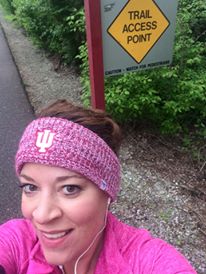 Get outside for workouts: I plan to nurse this baby for as close to the recommended one year as I can. I made it almost 11 months with my daughter, so I'm hopeful I can come close to my goal with this baby too. However, exercising releases lactic acid into your milk, which can change the taste of milk to baby. Plus, the whole jogging stroller thing is kind of a nightmare. I know I'll be able to do my exercise dvd's at home, but I'll really miss getting outside in the fresh air for long walks and jogs as often as I like. So at least once a weekend, my goal is to get outside and take a long solo walk while I still can!
As we already have kids, I think I'm going to keep the list short and sweet to make it realistic. And I'm also going to remember that even though it's easy to focus on everything I'm giving up to have another baby, we'll be gaining SO much in return. I can hardly wait for those sweet baby cuddles and to see who this little boy will look like. But if you need to find me before my August due date, you should probably look for me on the Monon trail, at the nearest nail salon or at the movie theater, where I won't be feeling the least bit guilty!