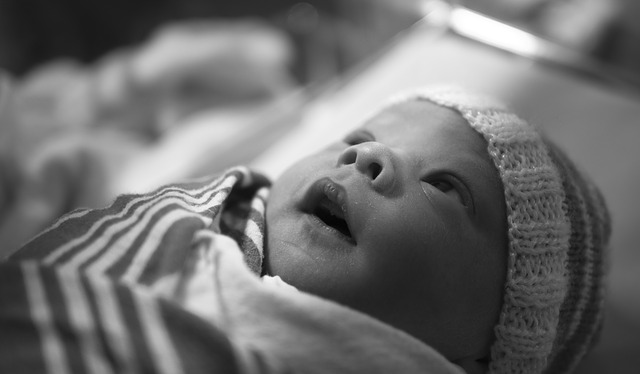 When I was pregnant with my son four years ago, I was over-prepared. Or so I thought. The nursery was painted and decorated long before his arrival, fancy baby clothes hung in his closet, the last remaining registry items had been purchased, and bouncers, play mats, and adorable handmade blankets littered our apartment. We were ready.
Hahahahahahhaha.
As most parents can attest to, life with our newborn was not exactly how we had imagined it. He didn't sleep in his room until he was almost four months old, the only thing he was interested in during his first weeks of life were my boobs, and he definitely didn't give damn about all of the fancy outfits.
Needless to say, we've prepared a bit differently this time around. I'm now 7 months pregnant, and the "nursery", a.k.a. storage room, hasn't even been cleaned out, let alone painted or decorated. Play mats and bouncers remain in the attic and closets, and those fancy clothes and blankets will probably go untouched. Because, while I know this stuff is a luxury that can occasionally make life easier, I also know it's definitely not a necessity, especially in baby's first few days and weeks.
Instead, I've put together a list of the absolute basics you need in those first weeks, as well as a few simple things to make life as a new parent a bit easier:
On the go
Carseat. Unless you're walking home from the hospital, you'll need a car seat. Sorry, there's no way around this one.
Baby carrier or stroller. These aren't necessary until you are ready to be out and about, but a carrier that allows you to wear baby does come in handy during those times that you need your hands free and your little one doesn't want to be put down.
Feeding
Comfy nursing bras. Make sure they are really comfortable, as you'll probably be wearing them at night quite a bit in the beginning to prevent leaks. I prefer the sports bra style ones that you just pull down.
Disposable breast pads. I loved the washable fabric breast pads once my supply regulated, but until then I leaked like crazy. The disposable ones were great before that because I could toss them instead of having to do laundry every 5 minutes.
Nipple cream. There's nothing worse than being caught off guard by cracked, irritated nipples in the middle of the night. Make sure to have some of this on hand. (It's also great for really chapped lips!)
Nursing pillow. If you're lucky, you might be able to get away with a regular pillow or just your arms, but for most people breastfeeding can be a little awkward in the beginning. A nursing pillow such as a Boppy can help if you're a first-time breastfeeder.
Giant water bottle. You will be thirstier than you've ever been before in your life and you need fluids to keep your supply up. Keep a BIG water bottle nearby at all times.
Snacks. Pregnancy hunger has nothing on breastfeeding hunger. Stock the pantry and fridge (and car and nightstand and every other room) with snacks that are easily eaten with one hand. Think granola bars, nuts, string cheese, fruit, yogurt, and other healthy foods that are high in fat, protein, and calories to keep you feeling full.
Burp cloths. Don't bother spending money on the cute ones (remember, these are for cleaning up bodily fluids). These plain white cloth diapers work great!
If you choose to formula feed, you'll need water (make sure yours is safe for drinking), formula (duh), and bottles. Don't buy too many of one type of bottle since many babies can be picky and you won't necessarily know what works until you try it.
Sleeping
A place to sleep. Yes, your baby needs a place to sleep. But don't be tricked into thinking you need the fancy crib or bassinet right away. My newborn son would only sleep right next to me in bed (just be sure that if you choose to bedshare, you do it safely). Other popular options include a Moses basket or Rock'N'Play.
Diapering
Diapers. You knew this was coming. Maybe you want to cloth diaper. Maybe that sounds terrible. I'm a big fan of Pampers Swaddlers, but I won't be throwing down if you try to tell me Huggies or bumGenius are better. You do you.
Wipes. I love Pampers Sensitive, but if you want to make yours out of organic bamboo and coconut oil, go for it.
Diaper cream. This seems to be a very personal decision that gets moms all sort of excited. I swear by regular old A&D ointment or coconut oil, but again, you do you.
Bathing
A place to bathe the baby. Notice I did not say baby bath tub. That's because you really don't need one. You can easily bathe a baby in a regular sink or bathtub, just put a nice thick towel underneath them. Voila. You can also take a bath or shower while holding baby, which also makes for a great bonding experience. Am I blowing your mind yet?
Mild soap. Babies tend to have sensitive skin (you would too if you lived underwater for 9 months), but any mild, scent free soap should work fine. You might want to use a moisturizer as well, but I found that as long as I used a gentle soap and didn't overdo it, moisturizer wasn't really needed. My son does have allergies though, so I used this or plain coconut oil for eczema flare ups.
Clothing
Side-snap kimono tees. I couldn't get enough of these when my son was a newborn. We paired it with a diaper and wrapped him in a blanket and he was good to go (yes, even in the winter). It allowed his umbilical cord to dry and made diaper changes a breeze!
Footed sleepers. These are great for nighttime and when you are out and about because they are nice and warm and don't ride up or down or get bunched up in car seats and baby carriers.
Hat. Babies are used to being pretty warm and cozy in your belly and sometimes have trouble regulating their temperature in the beginning. If you are going to be spending any time outside, or if you keep your home a little cooler, I suggest a hat of some sort. If it's winter, use that brain of yours and get a warmer hat. Please note that you do not need 15 hats.
Swaddling blankets. These days there are all sorts of fancy swaddling contraptions, but I still swear by the large muslin swaddle blankets. They are super soft, easy to use, and nice and thin, so they can double as a nursing or car seat cover when you are out and don't want strangers all up in baby's face. If your baby is born in the cooler months, you'll also probably want to get a heavier blanket to keep them toasty in their carseat, as coats and carseats don't mix.
Miscellaneous
Easy food. This means different things to different people. If you want to make 60 freezer meals in advance, go for it. If you're like me, you'll want to make sure to have plenty of stuff on hand for things like sandwiches, smoothies, and other simple, easy meals. I also like to keep all my favorite carryout restaurants bookmarked for those long days when even just throwing a sandwich together sounds exhausting.
Paper plates. Don't ask me why, but once you have children, dirty dishes multiply at an exponential rate. So unless you have someone to help out with dishes in those early days, make your life a bit easier and stock up on paper plates.
Everything from the hospital. Our wonderful nurses encouraged us to take with us anything we thought we might need at home. This included baby blankets, hats, diapers, pump parts (that happened to be compatible with the Medela pump I had at home, whoop!), mesh underwear, giant pads, hemorrhoid ointment, and these awesome bed pads I used to protect my own sheets and mattress once I got home.
So there you have it. Don't overwhelm yourself with the baby sites and lists that tell you you need the fancy bottle warmer and bath tub because, in reality, babies need very little. As long as you can provide the basics, a safe and loving home should cover it. Don't sweat the baby stuff.