Before I had my son, Cash, I was a hairstylist. When you style hair for a living, you get to know you clients pretty well just through talking to them while they are in the chair. You chat about things like life and family and friends, so I guess it shouldn't have surprised me when I became pregnant and the advice started pouring in. I received lots and lots of unwanted opinions on what I should and shouldn't and will and won't do as a mom. I grew used to this and eventually it went in one ear and out the other. After all, how could someone who didn't even really know me know so much about my unborn child? But while I fully expected others to be clueless about MY experience in motherhood, what I didn't realize is how little I knew myself while becoming a mom.
I had plenty of ideas and thoughts on how I wanted to raise my kids, some of which I was pretty certain of. Unfortunately, we all know that the only thing certain in life is uncertainty, and babies have a nice way of making sure you understand that. Here are four of the many ways my son was determined to prove me naïve in my thoughts on parenting:
 1. Breastfeeding
While pregnant, I had some strong feelings about breastfeeding. The words "I will never breastfeed my baby past 6 months because that is gross" actually left my mouth at one point! And what did I do? I nursed Cash right past his second birthday. Never did I think that would happen, but time went on and we just continued to enjoy our nursing relationship. And now I hope to the same with his little brother.
 2. Food
"I am going to make all my own baby food and only feed him the healthy stuff- No processed foods or junk!" Sound familiar? Six months later I went the baby led weaning route and skipped purees all together. And as far as processed foods go? Well let's just say that any time Cash sees a brown sack he yells, "FIES!!" (fries). We are also in the process of trying to wean him off of Reese's cups.
3. Technology/Screen Time
I remember being in a restaurant many times while pregnant to see these toddlers with iPads or phones out watching cartoons and I'd think to myself, "No way! Why do they need that? Can't their parents entertain them for an hour?" Ha! That sometimes doesn't work, does it? Now Cash gets the occasional cartoons on my iPhone and plays with the apps (hey, they're educational right?). And TV? That's the only time I can actually get anything done!
4. Co-sleeping/Bed-sharing
I guess I just sort of assumed the baby would be content in a bassinet in our room until he was three months old, when he would seemlessly transition to a crib in his own room. That plan didn't even make it out the hospital doors, as the only place Cash would actually sleep was in my arms. Between horrible reflux and being night feeder, I survived the first several months thanks to bed-sharing. Fast-forward two and a half years and he still sleeps next to us. And with a new baby arriving soon, we may just go for the family bed.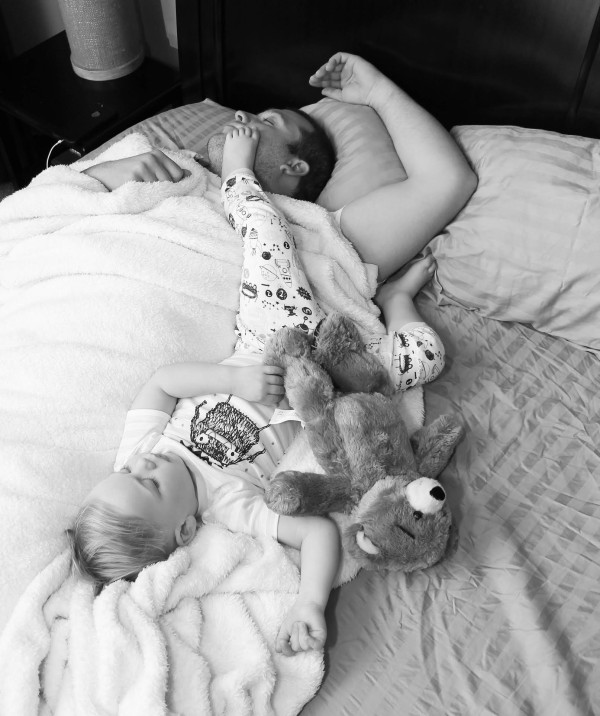 So my advice to those expecting is to take the opinions from the well-meaning strangers with a grain of salt, but also keep an open mind yourself. You never know what kind of mom you will be or how you'll handle certain situations until you're there, doing it. Now when I hear women talk about what they will and won't do when they are moms, I just smile and tell them that they'll surprise themselves in more ways than one.
We cannot plan for a future that we know so little about, but the silver lining is that you don't need to- because we all figure it all out in time.
What things did you find yourself doing as a parent that you thought you never would?