When I started dating my husband several years ago, I knew that football played a huge role in his life, both as a coach and as a former player. I guess you can say that I was fully aware that when I agreed to marry him, I would be marrying him (the person) along with the sport of football. But back then, I honestly didn't think too much of it. I love football! It is one of my favorite sports to watch and in the fall, you can always see me watching games on the weekends. I assumed that football was one of the many things that we had in common and could enjoy together in our marriage. Little did I know, it would be much more than a common hobby.
The first phase of my journey to football widowhood (if you will) was becoming a fan. I would go to games, tailgate with friends and family, and support my husband by just being in the stands. I always found it a little odd as those were things that I did when I was watching someone I care about PLAY the sport, not coach it. But nonetheless, I was there and my husband appreciated that. At this time, he was coaching at the college level and while during the season was always busy, the offseason wasn't nearly as bad. We would always make time to take a mini vacation on their "bye" week and it was something that I looked forward to every year.
Phase two of my journey came when we got pregnant with our son and he was originally due in mid-November. My husband had moved back to coaching high school football at this point, which was even more time-consuming. That was perfect because it was after the state football championships and our child's arrival shouldn't interfere too much since the season would be over by then. But then, our precious little man arrived a whole month early, and just in time for the last regular season game. We were sitting in the hospital the weekend before I delivered and my husband chose to skip his last regular season game to stay with me. Ironically enough, his team won their first game of the season that night (we joke about that all the time). I delivered our son on a Thursday and the following night, with my blessing, my husband went to coach his football team in the first round of sectionals. They won and his team lived to see another week of play. As we were being discharged from the hospital a few days later, I remember him saying to me very vividly "For our next kid, let's not have him/her in the middle of football season". And while I know life doesn't always go as planned, I knew we could do our best to plan for a spring baby.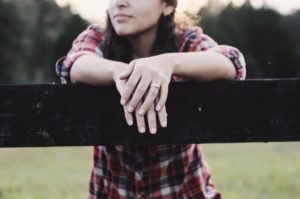 Phase three (and my full initiation) into football widowhood happened when, only 8 weeks after delivering our son, we found out we were pregnant again. Estimated due date of baby #2: September 8th, 2018…right smack dab in the middle of football season. We both laughed at this and knew that we would handle this just like we always do: together. Except this season was a little different. First, my husband took a new coaching job at a different school under a new head coach. More responsibilities, more time commitment and juggling school, football and a new baby at home. I recall him saying to me midway through the season that even he had underestimated the amount of work he was going to be required to do this season. Most days, he would get up, go to work, go to football until about 6 or 7pm and then once he did get home, he had another hour or two of computer work to do before the next day. I know this might sound a little crazy as that is a normal work day for some people, but I was used to having my husband home by 6pm at the latest. While he was physically home, he wasn't able to help me with much because he had coaching deadlines to meet.
THE HARDEST PART
But the ultimate reality check of being a football widow came when we delivered our daughter on August 20th, only a few weeks into the season. Thankfully, we had scheduled a C-section and it was on a Monday. This allowed plenty of time to make it home to be at Friday night's game. My parents had decided to come in for the birth and were planning to stay for several weeks to help me out. They were my saving grace because for the next two months, I had two babies under one, was recovering from major surgery, trying to get our new house in working order and my husband was nowhere to be found.
LEARNING TO LIVE WITH IT
The last two months have been a complete blur and I can't even tell you how many hours I've actually spent with my husband since our daughter arrived. But I knew what I signed up for when I married a football coach. I guess I just didn't realize how much I really needed him, as a partner, co-parent and sounding board until I had to do without him for the better part of 3 months. In those vows we said to one another almost 5 years ago, I promised to love and support him in whatever he chooses to do. Football is his passion; he lives for it and watching him with the kids on the field makes me love him even more. It's just hard when he's forced to juggle the two most important things in his life: family and football. One day, he will hang up his hat and maybe coach our own kids in their youth sporting ventures. But for now, I will just go on as a football widow. To those of you who are married to a coach: you are not alone! Hang in there and remember, the season only lasts for a few months.