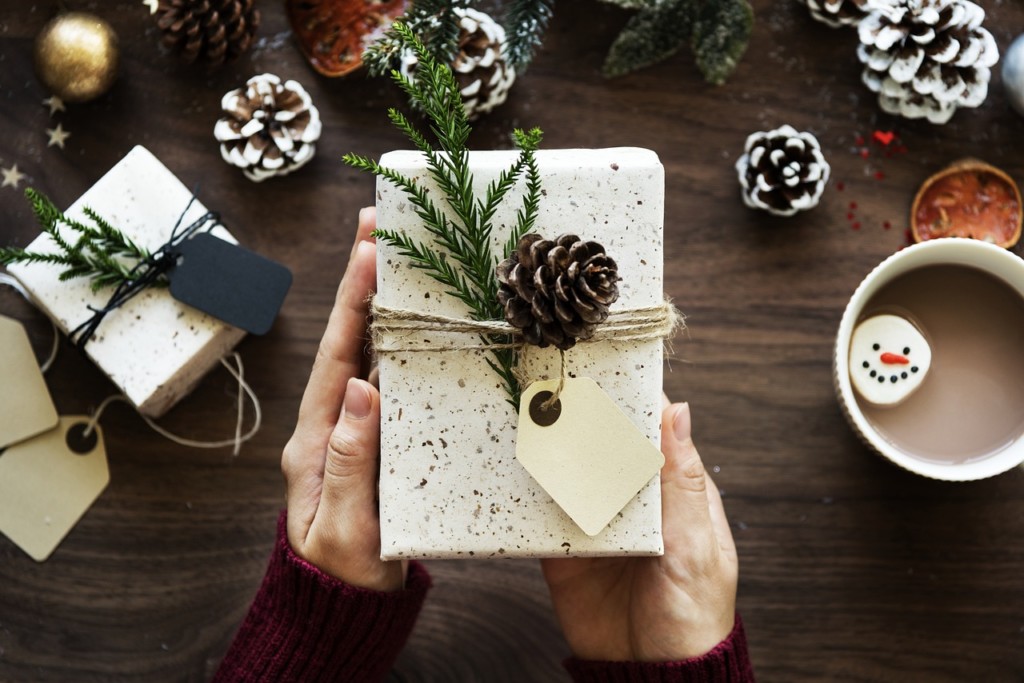 Well, it's all getting closer. Christmas. Snow. Ice. The constant, lingering desire to live in pajamas. Goodbye fall, and helllloooo winter and holiday season! I know some of you almost gagged when some stores started stocking their shelves with Christmas items over the summer, but the good news is, this can be the biggest and best holiday season yet, without breaking the bank.
Here are some different craft options and unique gift ideas, homemade and otherwise, to spoil your loved ones! Even though holidays can become very commercialized, it doesn't mean you can't be clever and "wow" your family and friends with your gift of love and creativity (and money…money is always good).
1) Christmas cut-outs
Here's your chance to give your kids and/or significant other a positive boost each day. Just get out some construction paper, cut out a bunch of paper trees (or print out templates from the computer, that's what I would do so my trees wouldn't look deformed) and write down endearing messages, unique traits, special talents or positive descriptions of your loved one(s). Then, each day leading up to Christmas (or you can do it the entire month!), tape a new tree with your sweet words on a bedroom door or mirror. Your loved ones will appreciate seeing your kind words and perceptions!
2) Bouquet of goodies
Did you ever envision making your man a "man bouquet?" If not, picture this: Beer, mini bottles of Fireball or Jack Daniels, gum, snacks, chocolate, deodorant, car wash gift cards, the works. You know, man stuff! Just gather the goodies, grab some cellophane paper and wrap it all up like a bouquet! For women, you could wrap up some nail polish, protein bars, lotion, wine, a new car, I mean, new plush socks, or whatever. Women LOVE goodies and surprises! You could also easily do this for kids, too…crayons, snack bags, small toys, candy, stickers, etc. Just be sure to leave out the Fireball.
3) Money Tree
It's the best tree ever, y'all! It's the money tree! This is especially useful for those picky loved ones in your life or those who love to gamble. Or both. Just grab one of those cute, decorations from the store, tape some money to it and VOILA! It's the money tree! And you'll see your loved one light up because it's cold, hard cash on Christmas tinsel. It's the gift that just keeps on giving…until they gamble it away or spend it all on something silly. But hey, it was still thoughtful, and you are now a legendary gift giver.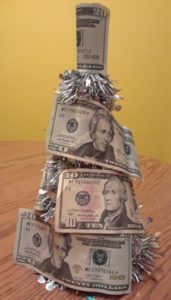 4) Candy message card
Ok, so it's a little cheesy, but it's still cute! Grab a poster board, various candies and get to work arranging your candy message masterpiece! Think about your loved one and how you could construct an accurate story that incorporates the different candies. Examples include Sweet Tarts ("You're such a sweetie!"), Milky Way ("You're out of this world!"), 100 Grand ("You're worth a 100 Grand!"), Spree ("You deserve a shopping spree!"), Snickers ("You make us all laugh!") and Starburst ("You're such a star!") The possibilities are endless, just like all the candy that entered your house for Halloween. Make it count, make it cute and make your mark with some candy creativity.
5) Lottery Ticket Tree
It's the second best tree ever, right? It's the lottery ticket tree! Just like the money tree, this is especially useful for those picky loved ones in your life or those who love to gamble. Or both. Once again, just grab one of those cute decorations from the store, tape some money to it and VOILA! It's the lottery ticket tree! And if you really want to get crazy and show your abundant love and adoration, tape both money AND lottery tickets to the tree. Then, sit back and watch your loved ones do the hokey pokey with joy. It's the gift that gets them both eagerly scratching and giggling over your thoughtfulness. Gosh, you're just so cute, and you know it, you amazing gift giver you.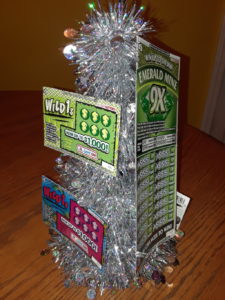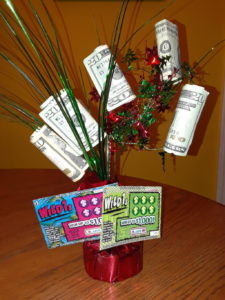 6) Meal
You can always cook someone's favorite food as a way to spoil them for a day! Like, maybe you only cook your spouse a meatloaf once a year, because ewwww, it's a loaf. A loaf of meat. They will be so happy for their loaf of meat that one time you prepare it for them though. And if they want it more often after that, then they can happily cook it themselves, right?
7) Homemade coupon booklet
A handmade coupon booklet is a great way to be creative and show you care. You can decide exactly what you are willing to do and how many coupons you want to create. Then, write the coupons and compile them into a booklet (decorate it if you wish)! Coupons for your special someone could be for a massage by yours truly (that's you, not me, by the way), a free pass from taking out the trash, a break from watching the kids, a day free of laundry or other chores, a favorite meal, a date night, etc. For kids, it could be a day without chores, a trip for ice cream, an extra bedtime story (because we know they just do not want to go to sleep) or another special treat. Just make sure you are willing to carry out the terms of these coupons! It's all fun and games until you're shoveling the snow in -10 degree temperatures because your spouse cashed in on his coupon (that you were hoping he'd lose).
8) Personalized gifts
Who doesn't like to see their name on a pen, mug or stationery? Or M and M's candies? Or pillows? The list could go on and on. Depending on your budget, there are so many businesses that thrive on personalized gifts. If you are looking for something creative that doesn't involve as much time or effort of a "homemade" gift, then this is for you! And don't forget to search online for coupon codes before you buy anything; most retailers have promos that can save you some money.
9) Sew or do a crafty thing
Ok, so I can't do this, but I have tons of respect for those who can. Do it! Give your loved ones an amazing crocheted blanket, homemade jewelry or a skirt made out of all the t-shirts from the '80s in your closet. Watch them light up and truly appreciate your hard work.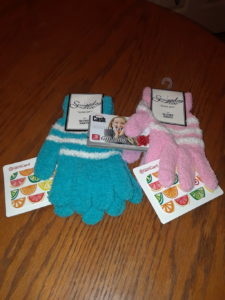 10) Gift cards
Some might disagree, but I believe you can never really go wrong with gift cards. Try stuffing them inside practical items, such as hats or socks or gloves (or undies?). That way if you feel guilty for "just" buying a gift card, at least you have paired it with something else the person can use! Heck, you can even add a bonus by also stuffing Kohl's Cash you earned this holiday season, because hey, we know that stuff is never-ending (every time you use it, you earn more, right?)!
11) Charity donation
Bonus points if you support local businesses or donate to a charity in honor of a loved one this holiday season!
12) A heartfelt card
Don't underestimate the power of a well-written, thoughtful card and this doesn't just apply to this time of year!
Happy Holidays! May your gift-giving be fun, genuine and heartfelt!