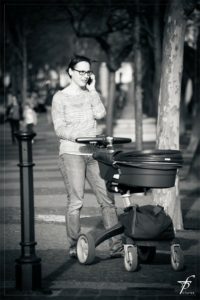 Well, I guess my title is a little untrue given I grew up in rural Indiana and rarely stepped foot into the "big city". I am talking straight up, small town. I graduated with only 45 people in my class, so moving to Downtown Indianapolis was a bit of a shock for me. I remember driving in the city, wondering which street would take me west, and worried if I was going to accidentally drive down a one-way street. Thankfully, this never happened to me. It has been almost six years since my husband and I moved downtown. We bought a place that could not have been more perfect for us, and I am adjusting to life as a city mom. By the time our son was 3 months old, he had already attended multiple festivals and a few parades. Thank goodness for infant sized hearing protection headphones! And oh my goodness, he looks the cutest in them! Not biased. Not biased at all. Being a city mom can be difficult at times, but overall it is one of the best choices I have made.
Around Town
Once pregnant, I had some concerns about getting out and enjoying the new restaurants that are always popping up just blocks away. I was hesitant to take a baby into restaurants, as I was somehow fearful of becoming that "old lady" with a baby. I can honestly say, we have only been turned away from one restaurant due to a 21 and over rule. And we rarely get dirty looks from others when our son gets a little chatty.
One of my favorite things to do as a family is going to the Central Library. We have only been able to make story time a few times since I work during the week. In my opinion, it is such a creative space. It is filled with a variety of people from all walks of life. The kids area is the best and the teacher in me gets completed nerded out picking out books to bring home to read at night or before naps. #bookwormforlife
And as our son gets older, we look forward to going to all of the sporting events that Indianapolis has to offer. Although we have already experienced a couple of baseball games this past year as a family (one of which my husband caught a home run), we look forward to helping him become the biggest Pacers, Colts, Fuel, and IndyEleven fan around.
Daily Life
Our son goes to daycare downtown, so my husband walks him to school every day. Yep, you read that right…even in the winter! Have no fear, he is all nice and toasty. We think of this as just one of the perks of living downtown. On the nicer evenings, we take long family walks or runs on the cultural trail, the canal, or walk to grab dinner/ice cream in Fountain Square, on Mass Ave., or in the heart of downtown.
Shopping is always a fun event, whether it is for groceries or specialty shops. A grocery store within a block from your house is a momma's dream when it comes to running out of distilled water, baby food, and or wipes that you swore you ordered on Amazon (but in reality you forgot to push "confirm order" on Amazon). Needler's is just a jump, skip, & hop away from our house which makes city living even easier. Living close to Mass Ave., we are grateful for all of the small businesses that are easy to get in and out of with a stroller (for the most part). Although I won't complain if Target wanted to make its way within walking distance. My husband might say otherwise…
Our Space
Let's chat about neighbors. I know I could start a debate about who has the best neighbors, but we really do! We have been so lucky to get to know people in our small neighborhood and they have become family to us. We hang out on our porches on Friday afternoons after work when the weather is nice, and they treat him like one of the family (babysitting included). There aren't many kids around our area, which is a downfall, but neighborhoods are always changing, so hopefully in the near future there will be more kids running around.
The joys of owning a home downtown definitely doesn't lend itself to a lot of extra storage space. We don't have a playroom or a large area to hide away all of the colorful plastic that a baby accumulates, but it has us living more of a minimalist lifestyle to balance it all out. I could definitely use a few more closets or drawers to hide some junk. Okay, okay…a lot more!
Many people question us about not having a yard for him to run about and play. We are so lucky to be within walking distance to numerous parks. I agree, it isn't as convenient as letting your kids "go out back", but we definitely try to make it a family event to go and play outside. Have no fear, we still open the garage and head out to push him around in his Little Tykes car. But having the Memorial Mall as a "backyard" isn't too shabby.
Living downtown may not be a permanent plan, but for right now it fits our family's lifestyle perfectly. Now who wants to move downtown to be our neighbor?