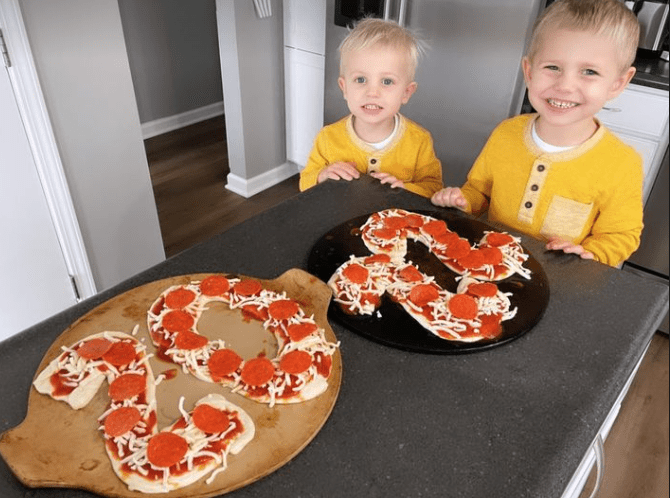 As a parent of young children, I don't typically watch the ball drop. My children don't "snooze," so we countdown to noon! I am going to share some ideas so you can host your own countdown to noon, but also two ideas of fun places that have a countdown to noon in case you want to go explore.
If you plan on counting down to noon at home. Here are some ideas for your morning.
Decorations
Every year I love to fill the living room with balloons. My boys could play with balloons for hours. For the kitchen table, I put down a black tablecloth (or whatever color I have on hand) and then put down weighted firework centerpieces from Dollar Tree. 
Themed breakfast
We begin our day by having confetti pancakes. I make our pancake batter the same as I always do, which is by adding a mysterious amount of pancake mix and milk until I get the desired consistency. Then, I add confetti sprinkles to the mix, stir, and then make the pancakes. 
Sensory bin
Holiday sensory bins are so much fun to put together and are easy to reproduce each year. For New Year's Eve, our sensory bin has black beans, gold pipe cleaners cut in half, large pretend diamonds and bead necklaces.
Crafts
Last year we made 2022 hats. I printed out bubble numbers 2022, and the boys decorated them and then glued them on construction paper for their hats. Before gluing down the 2022, cut the construction paper in half and then glue the two pieces together to make one long piece. This way, it can go around your child's head so you can measure it to fit.
Experiment
In 12 jars (or however many you want), put about two tablespoons of baking soda, glitter, and food coloring, then have your child use a syringe to squirt vinegar into each as you countdown. These will fizz and likely spill over, so I would suggest having them on a cookie sheet or a deeper bin. 
Lunch
We have so much fun making our own pizzas. On New Year's Eve, we take the pizza dough and shape it into the numbers of the next year. Then, we add all our sauce, toppings, and cheese. (The order in which you choose to do that is an entirely different debate that will not be addressed in this post.) 
Countdown to Noon
With just a posterboard, markers, and balloons, I create our own countdown. I write the numbers to look like a clock and then tape the blown-up balloons around the outside of the numbers. We do a countdown of minutes before noon, and each minute we pop a balloon. You can do this with an actual timer and have a dance party in between the minutes, or if you have a younger little who needs this done faster, you can just pop them one by one as a countdown. (If you have children who do not like the sound of popping balloons, you could also do a fizzle countdown. Refer back to the experiment!) 
Celebratory drink
This is always a special treat for the boys. I take one of the open-mouthed cups and coat the rim in vanilla icing. Then, I dip it in sprinkles and pour milk inside. To answer your question, yes, it's the same concept as salting a margarita glass. (Wink wink) 
If you plan on going elsewhere for a countdown to noon. Here are two ideas for your morning.
Children's Museum of Indianapolis: At noon and 1 pm, the Children's Museum has a countdown in the Sunburst Atrium. In my opinion, the museum has the coolest clock, so if you haven't seen it, I highly recommend checking it out for New Year's Eve or another day. The event is included in admission (or membership) and will include activities, live music, and festive favors (available while supplies last).
Indiana State Museum: From 6 pm-9 pm, the museum will have dance parties, music, face paintings, and more. Plus, a balloon drop at 8 pm. Entrance is $18 a person (ages 3+), 25% discount for members, $8/Access Pass members, and free for children younger than 3. 
You can also check out our Indianapolis Holiday Events for the Family post, which includes so many other holiday options that you can explore with your family. 
As you prepare for 2023, I wish you and your family a very happy new year. Twelve new chapters and 365 new chances.