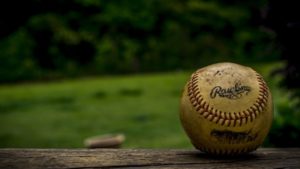 Our oldest son (Dylan 9 years old) has played baseball for the past three years. When he decided to give it a shot when he was 6 years old, we had no idea of the world we were about to enter. Some of the kids were pretty darn good (and this was just t-ball!) He had a great time and it was super cute watching all of the boys play. I mean, who can resist these little guys with the too big helmets and the ones who would be in the outfield picking dandelions?
Let me give you a little background on our son: he is not the most competitive kid in the world. He tried soccer when he was 5 years old and during the first game he ran up to me crying because the other kids, "weren't being nice friends and sharing the ball with him." The one goal he did score that soccer season, I bawled my eyes out (bless his heart). Dylan was also born with a congenital heart defect at birth and actually had to have open heart surgery at eight months old to help prepare it. That has never held him back and he has never had any restrictions, but he is definitely not the quickest on his feet compared to some other kids.
During the past few baseball seasons, we watched more and more boys progressively hitting and throwing harder and with such force, that it was scary! So we were secretly hoping Dylan wouldn't want to play again this year—I mean, he always had fun, but we were kind of at a fork in the road because some of the other boys were playing at a higher level than him (no more t-ball anymore!) Dylan was good, but some of these other boys were fierce! He has always worn a chest guard but after we started this current season and saw the caliber of boys that he was playing with we decided to take him out (mainly just for his safety). This was a heartbreaking decision because Dylan just kept saying, "it's OK if I get hurt, and it's OK if I can't hit the ball or catch it every time, as long as I'm just having fun, right Mom?" What a great attitude to have, you know? However, we felt it was in his best interest and for his safety that we take him out. It literally scared the you know what out of my husband and me watching him play with some of the other boys.
So, Dylan is just sticking with a running club he is part of and might give swimming a try in the fall. I think it's great for kids to try different sports and find their niche—which may end up not being sports! It's all fun and games when they're little, but as they grow sometimes you need to help guide them according to their capabilities and personalities. Like Dylan, said….as long as they're having fun (and not getting hurt), but also learning about the importance of sportsmanship and working with a team—those lessons will take them far in life.