Hey Indy Moms, did you hear? IKEA opens THIS Wednesday (10/11) right here in Fishers!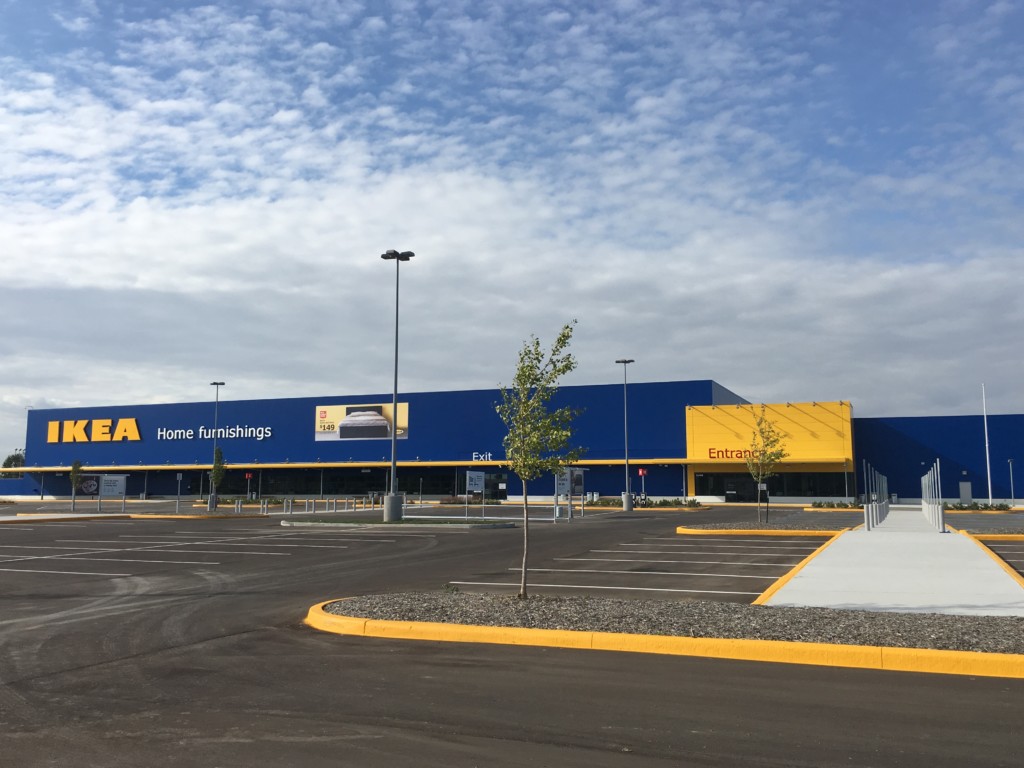 This past week I got a sneak peek of the new IKEA store here in Fishers and once again, my love for this store was confirmed immediately. If you've never been to IKEA prepare yourself – your life is about to change. Besides the affordable furniture and adorable designs, there really is so much more to this store! Here are my five reasons as to why every mom needs IKEA.
1. IKEA Family
IKEA Family is a free loyalty program for their shoppers. Members get a variety of perks including monthly discounted prices on items, free coffee or tea during every visit and even extra time for your kiddos in SMÅLAND.
2. Cinnamon Rolls, Meatballs and Frozen Yogurt
If you aren't familiar with these three food items, you will be after your first visit! The IKEA Restaurant offers a wide variety of meals and food at super affordable prices – including kid meals! Plus, it opens an extra thirty minutes before the store opens so you get make sure you get a full meal to prepare you for the upcoming shopping extravaganza.
3. Free Design Appointments
Looking to upgrade our kitchen, redo the living room or decorate the kids' bedrooms? IKEA offers free design appointments with a furnishing consultant to make sure you get the room of your dreams!
4. SMÅLAND
Mama shops and kids play – it's a win-win situation. SMÅLAND is a supervised play area where kids can play for up to an hour while you sho – and it's FREE. And did I mention that the IKEA Fishers SMÅLAND has a ball pit? No Mom, it's for the kids, not adults…
5. The IKEA Experience
Even if you don't have a specific item in mind, it's the experience that makes the trip. With over 280,000 square feet of furniture and goodies, you won't be disappointed. In fact, I guarantee you leave with a list of things you need to come back to get on your next trip.
Moms, pack your tents and start heading to IKEA Fishers because beginning at 9 am on Monday morning, customers can start lining up to be ensure they are the first ones into the store. I mean really this would be an amazing Moms Night Out idea. Plus the week is full of amazing giveaways and prizes so start planning your trip – this grand opening is one that surely won't disappoint!
List of Grand Opening Giveaways
Wednesday:
First 45 people adults (18 & older) will receive a free EKTORP three-seat sofa
The next 100 adults (18 & older) will receive a free POÄNG armchair.
The first 100 children (17 & younger) get a free FAMNIG heart-shaped soft toy.
2,500 adults (18 & older) in first will also receive a random prize envelope with IKEA Gift Cards ranging from $10 to $250, or a "Buy One, Get One Free" cinnamon bun, hotdog or soft-serve frozen yogurt voucher.
Birthday Adults that bring proof that their birthday is the same as the store's will receive a gift card in the amount of $45 (because IKEA Fishers is the 45th U.S. IKEA store
Thursday:
The first 45 adults will receive a free queen-sized HAUGESUND mattress.
The next 100 adults (18 & older) will get a free ALINA "sleep set" that includes bedspread and cushion covers.
The first 100 children (17 & younger) will receive a free GOSIG golden dog soft toy
Friday:
The first 45 adults will receive a free 4-piece SENSUELL cookware set.
The next 100 adults (18 & older) will receive a voucher for 12 monthly meatball meals for two at IKEA Fishers' Restaurant through next year, expiring on October 31, 2018.
The first 100 children (17 & under) will receive a voucher for a soft-serve frozen yogurt available that day at IKEA Fishers' Exit Bistro.
So raise your hand if you are ready for IKEA, Indy. Now excuse me while I narrow down my list to the items that I need to get during my first trip to the store…