Mid-August's GenCon is the highlight of the summer for board-game-loving Indy parents like my husband and I. Whether your idea of go-to family fun is playing Catan, you're raising a little RPGer, or you just enjoy dressing up in fun costumes, the largest gaming convention in North America happens in our backyard each summer and is a must-attend event for geeky families.
But have you ever tried to bring kids to a convention that spans four days and many city blocks with 60,000+ other people?!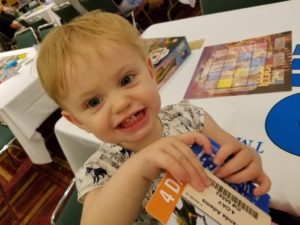 I did it last year with a baby on my back and on board! I had a one-year-old and was 6 months pregnant. It's totally doable — and fun — but you don't want to show up without a game plan.
Here's what I learned and what I'll do differently as my husband and I don our four-day passes and baby carriers with a two-year-old and 9-month-old in tow for GenCon 50 this month.
First, get the wristband
Children under 8 years old are free! Yay! BUT they do need to get a wristband with your contact info on it. This helps the convention with head count, but more importantly, it helps if you ever get separated. And when there are thousands and thousands and thousands of people crammed in a few city blocks, this could happen and be the most terrifying time of your lives. Plus, you need the red wristband to take the kid into events or the convention hall. It's the kid's badge.
If you didn't already order the wristband with your badge and get it in the mail (totally worth the shipping cost not to stand in a long line with kids IMHO), then request one for will-call. Try not to wait until the day-of, when you'll have to wait in the same line with everyone else picking up their badges, buying tickets or asking for information. It's free but not easy.
Get there early for closer parking
Every parking lot, garage and street spot is going to be full for several city blocks. You may think since you're local, it won't matter much if you come in a little later, but trust me: Get there as early as possible.
You'll want parking close by, ideally attached via sky walk to the convention center (we often go for the mall parking). That's especially true if you'll need to make a mid-day trip to the car for naptime or to grab supplies you don't want to carry. Navigating overflowing sidewalks and waiting on crosswalks in the August heat is no fun even when you don't have to worry about a kid darting into traffic or crying in your arms.
Skip the stroller
As a mom to a toddler and baby who doesn't yet walk, I love my double stroller. But I'm not bringing it, and I'd suggest you skip the stroller, too. Not only is the people watching and colorful booth viewing better from a higher vantage (would you want to stare at strangers butts all day?), but also navigating the crowds with a stroller is going to have you saying a lot of "Sorry" and "Excuse me," especially if you want to brave the main event trade floor, where you see all the products and new games. GenCon is always crowded, but with sell-out crowds this year, the crush of people will be even greater.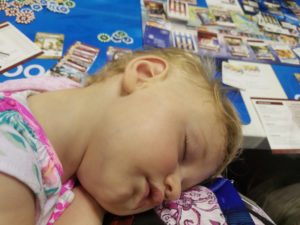 Even getting into the convention hall with a stroller requires going out of your way since most entrances have stairs. You will have to take the elevators (on the side of the main convention hall — bonus there are less-busy bathrooms with changing tables right upstairs) for any events upstairs, so you'll be walking a fair distance out of the way.
We took a small stroller one day last year and while it was nice to have somewhere to stash some things we bought and a sleepy baby, it wasn't worth the hassle. We couldn't get into many booths or shops because there just wasn't enough room, and we felt conspicuous and in the way the whole time. We went the baby carrier route the rest of the time, and plan to go that way this year. It's probably worth investing in a better carrier if your kid can't walk at all. My 20+-pound 9-month-old will be riding around in a Lillebaby because that lumbar support is going to be necessary after 12 hours. We plan to give him breaks and bring a small blanket to set him down occasionally.
If you absolutely can't wear your kid and they must be in a stroller, definitely go the tiny umbrella stroller route. Even this is going to really limit you, but it will the least annoying/obstructive.
Be respectful and be ready to walk out or away
It happened to me last year. I had to walk out on a fun improv workshop when my baby got fussy. Having the baby (strapped to my chest) at the event wasn't a problem. In fact, there were other babies in the room. I was even able to participate in a few of the interactive group portions, throwing imaginary balls and playing verbal word games.
But my normally always-happy baby suddenly decided to have an outburst during the Q&A. Rather than ruin the experience for the rest of the room, I excused myself out of the door and baby and I spent the rest of the hour (while my husband stayed) on the balcony watching the balloon sculpture come together below.
For events and games we signed up for, I always tried to make sure I had an out, so I'd stand near the door or exit. If we were testing a game where a player couldn't just leave without disrupting, we tried to play as one (one person watched or we collaborated), so one of us could bow out if needed. Fortunately, on the trade floor, most playtests are abbreviated games, so they're easy for people to swap in and out without issue. Also know that it's hard to follow the rule explanation while calming a fussy baby, so keep that in mind.
Find the kid-friendly activities
The main hub of family-friendly activities and games is going to be in the back corner of the convention hall. While Sunday is officially the "family fun day" at the convention, there are things to enjoy every day.
Family Fun Pavilion: This cluster of game manufacturers showcases games that will appeal to family game night. Head back there to play test games with your kids and to find the training grounds, family friendly restrooms, nursing moms area, etc.
Training Grounds: There is a kids corner on the main convention hall floor with kids board games and activities, usually including some life-size game pieces. This area also has a section of clean/soft floor for babies and toddlers to crawl around.
Collector buttons: If your kids like treasure hunts, they'll enjoy collecting the special flair buttons stationed throughout GenCon. You can only collect the buttons with a child, so these are a good guide to finding kid-friendly spots. You can get a card with the list back in the Training Grounds area, but the general idea is you walk to specific booths or areas of the convention and collect buttons for doing certain things (sometimes just saying hi and sometimes playing a game). Note that they do have a limited number to hand out each day (with the most on Sunday), so if you want to do this, try to do it in the morning.
Open gaming: You can sign up for specific events to sit down and play games at the convention. There are even tournaments for many games. Whether Magic the Gathering or Catan is your speed, there's probably a table playing it somewhere. When you arrive, if you didn't scope out the events online already, you can find the convention program book and flip through to see what time slots and ticket costs are available each day.
Cardhalla: Look for this giant pit of donated old cards in the hall near the exit by Georgia Street. Jump in, for free, and help build an epic card tower or two out of the cards. On Saturday night, people buy in the rights to throw change at the tower and knock it over.
Cosplay: The costume contest does a parade at 3 p.m. on Saturday. If you're here for people-watching or your kids like superheroes or any sci-fi characters, this is a must watch event. Line up early in the main hall for prime viewing. (If you really want to get into the Cosplay, there is a child category in the costume contest.)
Facepainting: You'll find face painters usually in the hall near the main convention floor. So your kid can put on a costume without wearing uncomfortable clothes.
Non-gaming activities: There is a special area and list of events for non-gaming spouses, such as crafts or yoga classes or even brewery tours. Look in program guide for "SPA" activities for some non-gaming ideas.
Plan for diaper changing, napping and breast feeding
In addition to the nursing area by the training grounds, there are some private breastfeeding stalls with comfy chairs in the women's bathroom in the crossroads concourse across from the convention floor. That bathroom also has a changing table, but the line for the table can be a bit long. (Other bathrooms have changing tables, but not all. The ones inside the main hall didn't have them last year.)
If you're comfortable feeding in public, the upstairs balcony above the main hall is usually relatively quiet and has a few benches to sit on. It's also less crowded, so if you grab an area against the wall you can roll out a changing mat and change the baby there (if yours is like mine and freak out from loud noises in crowded restrooms).
If your kid will sleep on you or a small blanket, this is also a good spot to sit down and let them nap while you browse through the huge convention program or coupon book.
A backpack is a good idea to stash everything from diapers to snacks. That will leave your hands free for shopping/playing games, and if you're wearing a baby, your chest free for them to lay their head on when they're tired.
Bring plenty of snacks, drinks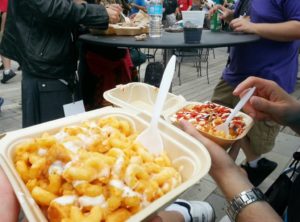 Not only will you spend a ridiculous amount of money on a soda fountains or bottles of water, but you will waste a lot of time standing in line, which is every child's least favorite activity.
This is where parking nearby can help. You could stash a picnic lunch in a cooler, or bring along a small lunchbox with kid snacks and drinks. Technically, the convention center frowns on outside food. But who can argue with an applesauce pouch when they don't sell any? Even if you head to your car to eat lunch, you'll still save time and definitely save money. Plus, you won't need to carry as much.
We usually bring pre-made baby bottles and ice packs in an insulated lunchbox if it's going to be a long day, but know this isn't the lightest option. A Hydroflask (or similar) filled with ice and some water will stay cold and can be refilled at the drinking fountains throughout the day.
The food trucks parked on Georgia Street are fun to sample, but they are ridiculously crowded at peak times. If you want a cupcake, popsicle, pizza slice, chicken wings, or other treat or meal, plan accordingly. I'd have one person go out while the other baby wrangles in the air conditioning. Even then, expect to lose an hour or more to lunch in this situation.
Have a plan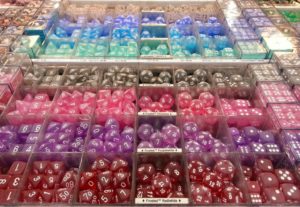 Some events and activities just won't work with kids in tow. It will depend on their age, of course, and that's why children under 8 are free. You can definitely play test many games, go to events (you should be able to judge, but a serious seminar is probably not good for a kid), and really enjoy GenCon even with kids or babies. Just realize it is a very different Con experience, and lower your expectations and schedule.
Know your kids limits, too. Four days can be a lot for kids to take in, especially if they're not used to being in crowds all day. So plan for downtime. You probably won't want to keep them out for 12 hours, even if they're a little older, since that's a long day. We have a babysitter lined up for Saturday since it's busiest, and so we have one day kid-free to do some less kid-friendly activities.
I'd recommend downloading the event program ahead of time or maybe looking through the Board Game Geek guide to new game releases to come up with a game plan. You could spend four days wandering the main floor and not see everything, and half the fun of the convention is stumbling on new things. But with a kid in tow, you'll definitely want to have a few planned stops.
Above all, just have fun. I'll see you there!