Halloween is such a fun night for our little ones, and often times the big kids in our life too. But there are important tips to keep in mind while you are out taking your children trick or treating in order to keep all those the adorable ghosts and goblins safe. The Indianapolis Moms Blog is providing you with our top tips for a safe and happy Halloween!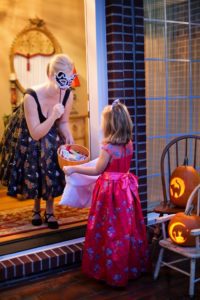 Selecting a costume
First and foremost, the American Academy of Pediatrics (AAP) recommends several important tips on choosing a costume. It's helpful to keep these in mind prior to the big day!
Select a costume that is bright and reflective and make sure that it fits your trick or treater to prevent tripping or the possibility that they might fall.
Consider adding reflective tape to the costume or choose a reflective trick or treat bag for them to carry.
Test out all makeup prior to the big day to ensure there are no allergic reactions and opt out of the mask that could block your child's eyesight.
Ensure that if a costume requires a sword or stick that it isn't sharp or jagged to prevent injury as well.
Carving pumpkins
In preparation for Halloween, Parents should also heed these tips for carving pumpkins with their children.
Small children should never carve pumpkins. Opt to have your little ones draw what they would like to see and then have an adult do all the cutting.
Consider using paints instead to decorate your family's pumpkin. There are some great new ideas out there that assist in creating a fun design without using a knife!
When lighting a pumpkin, try using an electronic votive rather than a real flame.

Halloween means pumpkins, ghosts and fall fun!
Preparation for your home and kiddo
Proper preparation at home and for your children will make the night go smooth for everyone involved.
Ensure your children have a healthy meal prior to heading out for trick or treating. Be sure to check for the trick or treating hours in your town and plan ahead for dinner. This may discourage them from overeating sweet treats. (Wishful thinking!)
Clear the path to your front door and make sure all lights are in working order.
Opt to put your pets in a room away from the front door to avoid scaring trick or treaters.
If you are a parent driving on Halloween, stay alert. Pay attention to your surroundings and keep on the lookout for children.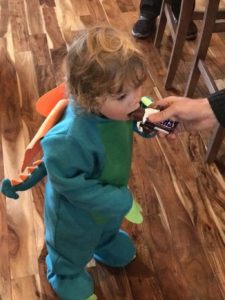 Safety on the streets for Halloween
According to Safe Kids Worldwide, on average, children are more than twice as likely to be hit by a vehicle and killed on Halloween than on any other day of the year. That's a scary thought, but as long as parents create a safety plan everything should be set for a night of fun!
Always travel in groups with an adult chaperone and have a flashlight on hand for the evening.
Stay on the sidewalk and remember to look both ways when crossing the street. If no sidewalk is available, walk facing traffic as far away from the vehicles as possible.
Stay on well-lit streets and only go to houses with porch lights on.
Remind your children to never go into a home for a treat.
Put down the phone and pay attention to your surroundings, parents included! Wait until you get home to post those adorable photos!

Hold hands!
Halloween is supposed to be fun, and it will be if you take important steps to ensure your child's safety! So whether you have a Mickey or Minnie, Mr. Incredible, or a good old-fashioned ghost keep all these tips in mind when venturing out this year and enjoy your holiday.