Sweet child of mine,
It doesn't seem possible but in a few precious hours, you will be turning two. I thought your first birthday came fast, but your second? That arrived at lightning speed.
So much has changed in the past year. You've changed. I've changed. Our first year as Mommy and baby were spent getting to know one another and feel out what parenthood was. This year has been all about perfecting that relationship and teaching you how to be a little person and not just watch your baby milestones. You have teeth now! You talk and walk and eat by yourself. You know your own name and have proven every hour of every day that you know mine. We've learned how to be a team.
Baby, you are handsome and smart and kind. So, so kind. The other day we went to a playdate with a little boy who has special needs. The other kids wanted to touch him and ask questions. Not you, sweet one. You went right over to him, kissed his belly, and pulled on his hand to come play with you. That's the kind of person you are: gentle and so kind.
In May, Daddy and I will have been married for five years. When we first became husband and wife, we laid out our five year plan and thought we would have a baby around that time. You were a surprise. I remember taking that pregnancy test and then a second one because I couldn't believe it. I was scared. So scared. I was unsure what it would mean to be a mom. I didn't know if I could cut it.
And then I met you. And from the second that I held you in my arms, I knew that you and I were meant to be together. My heart felt a love so strong that tears instantly fell from my eyes, and I told our midwife that you were the most perfect baby I had ever seen.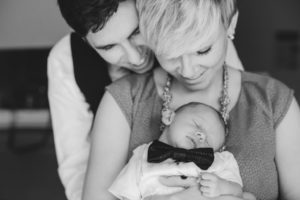 But you were different than the person I envisioned. You have my blonde hair and blue eyes and Daddy's dark, long eyelashes, but you're…you. As I watched you run around the baseball diamond tonight, I felt completely captivated by everything you did; the way you laughed, the way you ran, teetering back and forth a little, the way you stuck your fingers through the fence and exclaimed, "ooohh" as you wiggled them back and forth. Everything about you is better than I envisioned.
You changed me.
You changed the way I look at the world and the way I interact with it. I'm kinder, more patient. You make me slow down and experience everything for the first time again. I love the person you're helping me become, and I love the person you are.
I love watching you splash in puddles. I love seeing your eyes light up when your daddy walks through the front door. I love the sloppy, open-mouth kisses we give each other 100 times a day. I love that you hold my hand when we go for walks, and my favorite sound in the world is listening to you and Daddy laugh and laugh.
I won't pretend and say parenthood is easy or I've been anywhere near perfect, but make no mistake, being your mom is a blessed job. And every second of every day, I'm thankful that you're mine and I'm yours.
Happy birthday, baby. I love you more than you'll ever know.
All my love,
Mama