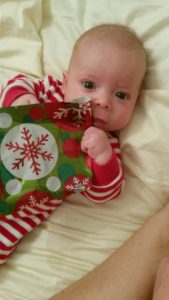 I remember when my husband and I were registering in advance of our son's birth and wondering what baby toys we should add to our ridiculously long list. Luckily someone had told me that newborns don't play very much. This makes total sense as babies can hardly move or see anything for many weeks… But baby toys are so cute, so it's tempting to disregard that. Anyway, we went with the usual baby toy suspects: a few stuffed animals, a rattle, books.
My son will be one in less than a month (how did this happen?), and I can say that when looking back at photos of him playing in those early months, many of the things that brought him the most joy weren't toys at all. So if you're a soon to be parent, save some money for diapers, go easy on the baby toys, and try some of these tried and true non-toys.
1. Wrapping paper– my son was two months old on Christmas, and wrapping paper was around pretty much his entire first two months of life. Much of it was shiny, glittery and awesome (I have pretty good taste in wrapping paper, obviously). He could crinkle it, or we could just let him look at it.
2. Toothpaste box– he may have been months away from his first tooth, but my son is all about dental hygiene and loved the Colgate toothpaste box! The silver foil packaging was great to look at, and the box was light and easy for him to hold… And eat, though we tried to limit that.
3. Pumping accessories– babies will enjoy holding and chewing on Medela pump bottles and flanges way more than moms enjoy using them as intended.
4. Empty diaper box- once Deacon was a little older and had better core strength, we would line a diaper box with blankets and drag him around in it like a car. He mostly seemed perplexed by this, but it's fun for mom and dad!
5. Clothing tags– you know what babies like better than any stuffed animal? The stuffed animal's tag! Any tag for that matter-clothing, pillows, etc.- is sure to be a big hit.
6. Tissues– warning, folks: this can get costly! Babies will enjoy plucking tissue after tissue out of the box. Spinning toilet paper off the roll works similarly. Stock up now.
Now that my son is older, he has plenty of toys he plays with, but he spent nearly an entire day carrying around my travel size lotion bottle a couple weeks ago, so the theory that household items are at least almost as good as real toys stands true.