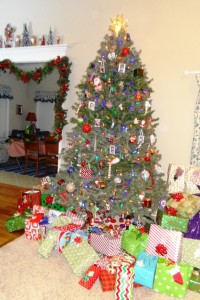 The holidays are coming – time for joy, time for cheer, jingle bells and pretty lights and cookies and presents and… Bah Humbug! Ok, I really don't have anything against the holidays. If I could, I would spend the time from mid-November until January 1 decorating my house in a light display that could be seen from space, cooking non-stop an array of mouth-watering delicacies and treats that no sane person could refuse, listening to seasonal songs that lift my spirit, watching sappy movies where someone always ends up having the best Christmas ever, going out and enjoying holiday displays and shows and special events all over town, and picking out and expertly wrapping the perfect gifts for everyone on my list.
But here is what is likely to happen over the next month. I am going to attempt to decorate my house, inside and out, but in order to do that I first have to clean my house so there are places to put the holiday décor, pray for decent weather so we're not outside trying to decorate in snow and sub-freezing temperatures (which is what usually happens when we actually find a time that will work), and get all the decorations out of storage which will leave both a mess and a string of people with sore backs from lugging big boxes up and down stairs for an hour. Half the lights won't work and I'll spend an hour trying to find the problem and fix it because I am obstinate that way. We'll get everything set up outside and it will look amazing for about 12 hours until the wind and the kids and the dog get to everything.
I am going to cook an amazing Christmas dinner and then stare in horror at the mess I have left in my wake over my kitchen counters and in my sink, piled with pots and pans and bakeware. My family will have to Rock/Paper/Scissors to decide who has to clean it up. I will convince myself that I am going to make cookies and cakes and treats, I will buy all the ingredients, and then I will either not find the time to actually make anything, or my children will use up the ingredients, which I won't discover until I have actually started mixing things together.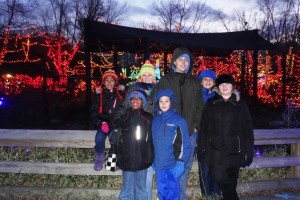 I will listen to songs on the radio and be delighted, singing along and smiling like a five year old for approximately a week. Then they will start to wear on me and I will wonder how in the world I listen to the same songs year after year. I will record thirty different movies on the Hallmark Channel and Lifetime, and get out the myriad of Holiday DVDs and (yes) VHS that I own and place them right by the television. These will all mock me every day because I have too much going on to sit down for an hour and a half to be entertained by their cheesy goodness. I will slowly start deleting my recordings and the DVDs will get put back on the shelf, although this probably won't be until Valentine's Day as I'll still be holding out hope that I'll get around to all of them.
I will sit down and look over my very intricate holiday calendar and try to find time to go to the Zoo, the Children's Museum, Monument Circle, the State Museum, and Conner Prairie. I will want to go see all my fellow theater friends in a wide variety of shows all over the Indianapolis area. I will soon realize that unless these things are available from 6:46 – 9:00am on Thursday mornings, it probably won't happen.
I will happily build the list of people for whom I need to buy gifts and start thinking about what they would absolutely love this year. I will realize that the list is seventeen pages long and a few of the people are so hard to buy for that I'll need to hire a private detective to help me get a clue. Some people will be easy to buy for, and I may even come up with "the perfect gift" once or twice. I will also be frantically hunting around on Christmas Eve for at least one gift with absolutely no idea what I am even looking for, and will eventually give up and get a gift card. The gifts will be wrapped in paper only (who has time for bows?!?) or placed in a bag, or will be taped in the box with a bow covering up the name of the actual item within.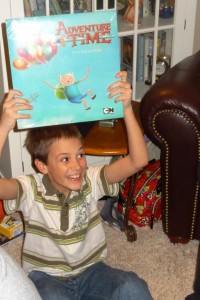 I sound like Ebeneezer Scrooge's long lost daughter, don't I? You would think when the holidays started approaching I would run for cover and hide until Martin Luther King Jr. Day has come and gone. I will admit that I've had my moments where I have locked myself in a room and cried and tried to figure out how I could cancel the holidays without anyone getting too upset. But my pity party doesn't last too long, as I pull myself together and remind myself what the holidays are about. They are about family. They are about feeling grateful for the things we have. They are about celebrating our religions and cultures and traditions. They are about having hot cocoa and reminiscing about the meaning behind each ornament as it is hung on the tree. It is about seeing the smiles of people who love their gifts, even if they aren't "perfect". It is about remembering to slow down a little and enjoy life, enjoy the time I get to spend with the people I love, some of whom I get to see in passing every day, some of whom I only get to see once a year, if I'm lucky. Will I get to do everything on my dream list for the perfect holiday? Not a chance. But will it haunt me for the rest of my life and ruin the entire holiday season? Nope. Being a Mom can be the best and worst job there is this time of year. I'm going to shoot for finding the joy around me and letting go of the rest, and I hope my fellow moms can too.