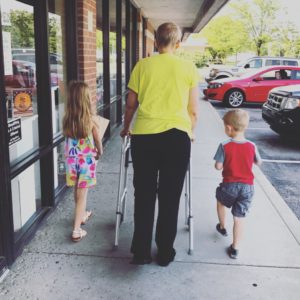 Today while leaving the Chick-fil-a drive-thru, I stopped and noticed a slow-moving grandmother with what I assumed were her daughter and granddaughters. I smiled politely and said, "Go ahead!" to which the younger woman responded "It might take us awhile!" with a stressed look on her face. I smiled and explained there was no hurry. As they walked slowly across the parking lot the elderly woman turned to me with the biggest and brightest smile. She didn't say anything and she didn't have to, her facial expression told her story. She was smiling on this sunny day as she slowly strolled, at her own pace, with no stress. She was stress-free in this moment because today a stranger let her take the time without rushing. Her radiant smile reminded me to pause and start "taking the time" for moments like this.
You see, today I took the time to let her pass, but that isn't always the case. Life gets busy, motherhood gets chaotic and time is of the essence. We live in a hurried world where every minute and second matter. Today I got to thinking, if every second and minute matter, are we utilizing these minutes to the best of our ability? Are we making the minute's count? The answer, probably not nearly enough. Think of how many meaningless minutes pass in our day.
So today with the sun shining and this old lady's grateful smile inspiring my thoughts, I remind you to pause, wait, and take the time.
Take the time to let an old lady cross the street without the stress of having to hurry. She's probably glad she's still able to enjoy the walk independently.
Take the time to listen, truly listen when a friend, colleague or loved one is telling a story, even if it's the same one you've heard ten times. Simply listening is one of the best comfort tools.
Take the time to let your children do things independently, even if this means waiting 5 minutes for them to tie their shoe, when you could have done it in 30 seconds. This will create a proud sense of accomplishment and success.
Take the time to call that friend you've been procrastinating to call. You'll find when she answers that you'll pick up as if time hadn't separated you for all of those weeks and months. You'll be glad you did, trust me.
Take the time to dance, sing and spin your children around when they aren't expecting it. That simple unplanned moment will remind them that you can be fun, carefree and spontaneous too.
Take the time to call your grandparents, parents, or older loved ones. You never know when that opportunity will be stolen from you. Your heart will be glad you seized every opportunity you had while they were here.
Take the time to hug, kiss and cuddle your babies, even if it means staying up past bedtime. They'll go to bed happier and one day when they're living in a college dorm and haven't returned your calls for days, you'll be reaching for those extra cuddles and kisses.
Take the time to write someone a note. This simple task has been lost in our world of endless technology. You'll be surprised how this simple gesture will brighten someone's entire day.
Take the time to be mentally present. If you've chosen to be physically present, allow yourself to fully engage in your surroundings, your relationships, your life. It will make all the difference.
And finally, take the time to be you, the messy, chaotic, partially organized, sometimes late, joyful, kind, and sporadic you! In this busy mom life, you may not always have the time or patience to let an old lady cross the street, but I urge you to do it as much as you can. You'll go to bed with a joyful heart knowing that you were able to pause, notice and allow the opportunity for a stranger to smile!