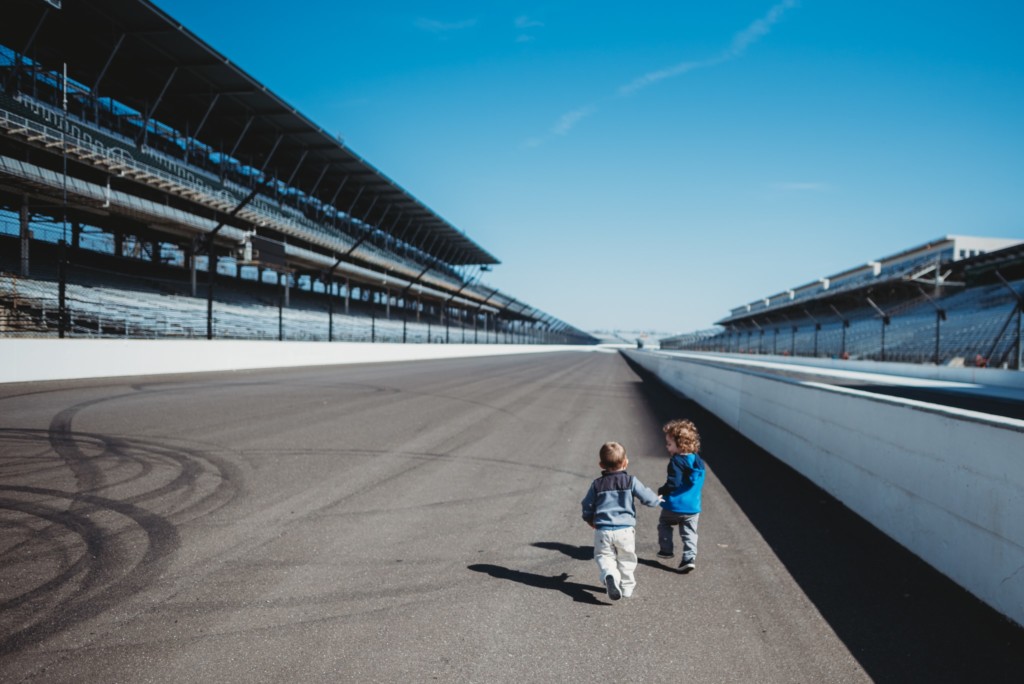 It's no secret that May is the biggest month in our city. I mean, we weren't named the Racing Capital of the world for nothing! We have rounded up some note-worthy activities for your family to partake in during the month of May in Indianapolis all related to the big Indy 500!
---
Indianapolis Motor Speedway Kids Zone: During the month of May, the Kid Zone is open at the Indianapolis Motor Speedway and includes games, music, prizes and more! Best part? It's FREE!
500 Festival Kids' Day: Take your family down to Monumental Circle on the second Saturday, May 11th to enjoy Indiana's largest FREE festival for kids! The day is specially geared just for kids with activities and fun that will create lifelong memories.
500 Festival Rookie Run: The Rookie Run is a noncompete race for kids ages 3-10 and also part of the 500 Festival Kids' Day. Participants will get to run downtown Indianapolis at a set distance based on their age group and receive a goody bag, big and a finisher's medal at the end.
IMS Kids Club: For just $25, this annual membership gives your kids all the perks! Members will receive a t-shirt and membership kit along with some pretty cool perks like a special gift at every major racing event.
The IPL 500 Festival Parade: On May 25th, take the family downtown to enjoy a parade filled with floats, bands and of course all 33 drivers that will be racing in the Indy 500!
Full Grounds Tour of the Indianapolis Motor Speedway: While this adventure may be suitable for older kids, this family adventure includes a 90 minute narrated tour as you take one lap around the 2.5-mile long track. Attendees get a behind the scenes look at Victory Podium as well as a drive-through Gasoline Alley.
Kiss the Bricks Tour: This tour is a bit shorter than a Full Grounds tour as you take a lap around the Speedway and make a stop to actually kiss the bricks!
Lemonade Day at IMS: Come visit the ten lucky kids who get to set up their stands with the Lemonade Day initiative that walks kids through the process of a dream to a business plan while introducing them to the world of entrepreneurship.
Indianapolis 500 Practice: If you want to check out the cars but avoid the crowds, hit a practice day at the track with your family! You can still enjoy all the sights and loud sounds while watching the drivers race around the track at top speed.
IMS Museum: Explore the history behind the Indianapolis Motor Speedway through the many exhibits, automobiles, and artifacts. The museum is located right within the racetrack with adult tickets costing $10 and child tickets just $5.
---
Looking for some good literature? Check out these books that we recommend for the little racers in your family!
Good Night Race Cars (Good Night Our World) by Joe Veno
Black Noon: The Year They Stopped The Indy 500 by Art Garner
A is for Alternator: ABC Book of Auto Parts by Alex Smith
If I Built a Car by Chris Van Dusen
Race Car Dreams by Sharon Chriscoe
ABC's for Future Race Car Drivers by Fast Kids Club
How Do Race Cars Work? by Baby Professor
Race Cars: True Behind the Scenes by Cody Crane
The Spectacle – Celebrating the History of The Indy 500 by Chris Workman
Josef, The Indy Car Driver by Christ Workman