As a certified health coach, I frequently have parents asking me about the best ways to incorporate more vegetables and protein into their children's diets. My advice comes in two parts: One, the best way to encourage your children to eat healthy is to eat healthy yourself. It's difficult to expect children to eat foods that you are unwilling to eat. If they see you eating lots of fruits and vegetables and lean protein, they will be much more likely to eat it, too. The second piece of advice is to be sneaky.
Toddlers are all about drinking out of crazy straws or fun cups, especially if the drink contains something other than the typical water or milk. In order to infuse our sixteen-month-old's diet with more vegetables and protein, we've recently been starting his day with the breakfast of champions: a super smoothie. He gulps it down like his life depends on it, and it doesn't take much more effort than what we were preparing before.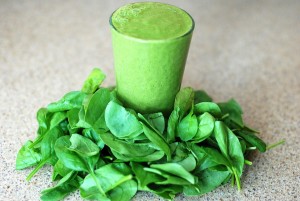 Ideas for what to include in a super smoothie:
Spinach (frozen or fresh)
Kale (frozen or fresh)
Berries (frozen or fresh)
Greek yogurt
Applesauce
Milk
Avocado
Nut butter or PB2
Chia seeds (soaked — we actually keep ours in a Mason Jar in the refrigerator, and they last up to a month)
Flax seeds
Pumpkin
His smoothies never contain all of the above ideas at one time, but we mix and match based on what we have handy. Super smoothies are also a great way to sneak in other things, such as coconut water or prunes if your kiddos are constipated. Plus, if you make enough, you can also indulge in some super nutrients, too. Happy healthy eating!