Just as many first time-moms, I received a baby book at one of my baby showers. I had grand plans of tracking all of my son's milestones in it like my mom did for me. I absolutely love to look back on the baby book she meticulously kept for me, but when it comes to my own kids…I just never seemed to pull it out when milestones were taking place and soon, too much had passed for me to keep up on and I threw in the towel.
All is not lost, though. Even though I might not keep up on a traditional baby book, what my husband and I do instead is easier and more meaningful to me. I also believe it will be more meaningful to my boys and their future families.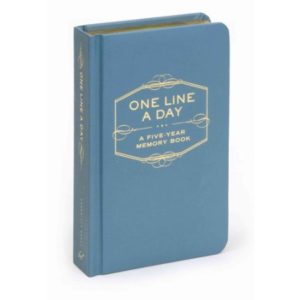 Every night before bed (or very nearly), either my husband or I write a sentence or two about what took place that day in the life of our two sons. We keep a journal for each of our boys. What I love most about the journals we keep is that there is no pressure to write long, flowing, complex sentiments. It's the end of a long day and we can typically talk ourselves into documenting SOMETHING that happened in the lives of our sons during that day. Sometimes it's as simple as, "Jack has always hated peas but today he tried them and declared he liked them." or something bigger like, "Wesley started crawling today!" The other thing I love about these particular journals is that on each page, you can see what you wrote on this day last year and it tracks it for 5 consecutive years.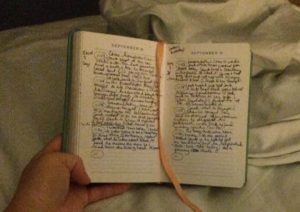 I started writing for our now 3 1/2 year old when he was a few months old. I received this journal for mother's day and realized how easy it was for me to keep up with. Now we are able to look back on three different entries from previous years when we write each night. That's another incentive to pick up the book to jot down a memory.
For our second son, I started journaling when I got pregnant. I used it as a pregnancy journal to track how I felt emotionally and physically and now I track about his daily life as well. On Sunday night, we flipped to the first page of each of their books to document something from the first day of our new year.
I have to say, I consider these journals to be some of my biggest accomplishments as a mother. You know, aside from keeping our kids safe and well. They are at the top of my list of possessions to grab in the event of an emergency and I hope they bring as much joy to my boys in the future as they bring my husband and I every day.