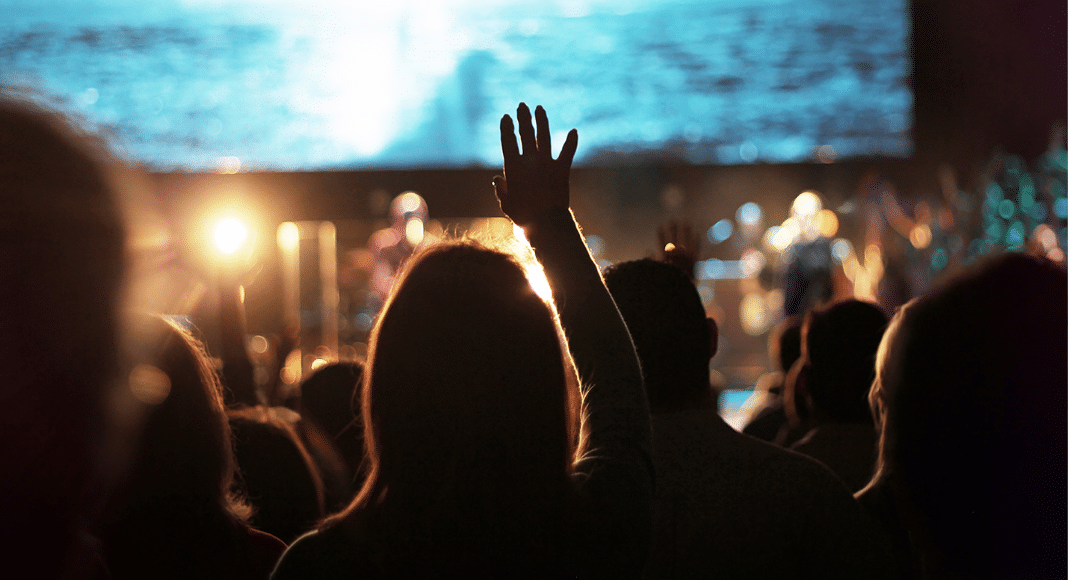 Seen. In a room full of 2,500 women and 200 volunteers. We were seen. 
This winter, Traders Point Christian Church (TPCC) held its second Women's Night conference. The anticipation for this night has been built for years. The first Women's Night was held prior to the pandemic, and it has now made its return. When the original tickets were released online, the tickets were sold out in 24 hours. The church released their remaining seats and, again, immediately sold out. With demand so high, TPCC then released the opportunity for online tickets to be purchased so that the event could be watched online. I told you, the anticipation was high. 
As a member of Traders Point Christian Church for the past seven years, their teams and volunteers never cease to amaze me, and Women's Night was no different. 
Upon arrival for the pre-gathering portion of the evening, we were greeted by volunteers carrying trays of appetizers. There were hot coffee and cold brew stations and photo backgrounds. As I made my way through the lobby, I was surrounded by other women, who, like me, were already in awe and taking it all in. Inside the gymnasium is where dinner was being served. There were stations set up for a potato bar, walking tacos, wraps, and salads. All around me were groups of women eating, talking, and laughing. Some were friends that came together, and some were friends that just met. Connections were being formed, old and new. Everyone felt seen. 
After the pre-gathering, we all filed into the auditorium. The stage was set for the worship team to come out. Prior to worship beginning, we were instructed to put these 'Seen' bracelets on that had been placed next to our seats. The band filed onto the stage. (There was a female drummer, nobody rocks quite like a female drummer.) The worship singers filed onto the stage. The lights fell, and the lights flashed. Each time they flashed, we heard lyrics from "I'm a Survivor" by Destiny's Child. Then, with the last light flash, three lyrical dancers took center stage. Completely in sync, they moved to the lights, the drums, and ended with pirouettes. As the worship singers began to sing again, I realized what the 'Seen' bracelets were for. All 2,500 women in the audience had these bracelets on, and they were programmed to the setlist. They all were lit at the same time, turned off at the same time, and changed color at the same time. 
Each of us had our own light shining on us. We were each individually seen. 
The first speaker was Jodi Hickerson. She was visiting us from Southern California, where she and her husband planted Mission Church. Jodi's message surrounded the story from Genesis chapter 21 about an Egyptian slave named Hagar. She fled from Sarah, her mistress, who used her as a surrogate and then turned against her. "The angel of the Lord found Hagar near a spring in the desert." (Genesis 16:7) Within this encounter, Hagar names God "El Roi" or "The God Who Sees Me". Jodi taught about how God sees us through our suffering. He knows our value, He sees the details, and He knows the bigger picture. 
During intermission, there were snack stations set up throughout the lobby. There were donut walls, yes, I said walls. There were also yogurt parfaits and bags of popcorn. I saw the same sight as I did previously. Women all around me, eating, talking, laughing, connecting. I saw familiar faces, and I met new faces. 
After intermission, TPCC's lead pastor, Aaron Brockett, came out to speak. Aaron spoke about a story from John chapter 4 about the woman at the well. This story and Aaron's message were full of examples of love, truth, redemption, and acceptance. The woman at the well was living in shame as a social outcast, hence why she was visiting a well alone during the hottest part of the day. Aaron spoke about how not only did she have a holy encounter with Jesus, but she also received eternal salvation. Her testimony convinces an entire town to believe too. Jesus could see her, and she used that for others to realize that they, too, are seen. 
The night wrapped up with a post-gathering in the gymnasium. There were s'more tables set up all around and groups of tables and chairs for women to sit and continue to connect. There was also a huge 'SEEN' sign, and it was covered in post-its. At the end of the night, everyone was given a post-it, and on that post-it, we were instructed to write the name of a woman that we are praying for. This woman could be a family member, friend, co-worker, etc. 2,500 women at that moment were being intentionally prayed for. Even if they weren't in that room, they were seen and cared for. 
As mothers and wives, we can sometimes feel unseen. For whatever reason that you might be feeling unseen, just know that, He sees YOU.
"With Christ, our sins and weaknesses are the very resume items that qualify us to approach Him." – Dale Ortland. 
You are precious and honored in God's sight and He created you for His glory (Isaiah 43:4) He will never abandon you. You were worth Jesus to God. He sees you. "You are the God who sees me, I have now seen the One who sees me." (Genesis 16:13)
You are SEEN.
If you are interested, you can find Traders Point Church Services and locations here.