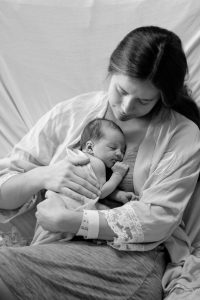 Behind every adorable, squishy, prized newborn is a woman learning how to tackle her new role of Mom. Don't forget about her.
I have a vivid memory of being one week postpartum, standing in the shower, letting the water fall over me and mix with my tears. My confused, concerned husband wondered what was wrong, and I told him, "No one cares about me anymore." I know now that wasn't actually true. My husband and I were lucky enough to have parents, siblings, extended family, and friends around in the early weeks of our daughter's life. But those feelings of unimportance and loneliness were present and stemmed from the intense focus on the baby. The baby that I gave birth to just days prior. In virtually no time at all, I went from family and friends constantly checking on me, strangers offering me a seat or a hand, and everyone (and I mean everyone) commenting on my body to everyone focusing on the tiny human they had only just met. Didn't anyone care that I was passing golf ball-sized clots (something I thought the nurses were dramatizing in the hospital until it happened to me) and soaking my breasts in Epsom salt baths (I didn't realize the "natural" process of breastfeeding included clogged ducts and cracked nipples)?
I also remember family members taking my child from me without asking and flashing me annoyed looks when I asked them to please wash their hands before holding her (during flu season, less than three months before the entire world shut down due to the Covid-19 pandemic but I won't say, "I told you so"). Possibly the worst feeling was seeing our family running past me to get my baby out of her car seat before even acknowledging my existence (not even a, "Hi! How was your 2-hour drive? Thanks for being amazing and birthing this beautiful baby we love so much and then driving to visit us! Did we mention how awesome you are and how much we love you?")
I couldn't be jealous of my newborn daughter, right? Something had to be wrong with me. Every woman-turned-mom before me went through this, so why couldn't I handle it? My first pregnancy ended in a miscarriage, and I wanted nothing more than to be a mom, so who was I to complain? I should have been happy that everyone wanted to fawn over her. But that wasn't my experience, not all the time anyway.
I love my daughter immensely, and I'm so incredibly thankful to be her mom. I just wish I hadn't felt so isolated in the first weeks, actually months, of motherhood, and hope I can help another woman feel less unimportant and alone. Here are some ideas of gifts I believe the mom behind the newborn will love and will make her feel seen and appreciated.
Food, food, and more food.
In my experience, sleep-deprived people don't enjoy cooking, and sometimes even ordering takeout can be a struggle (making decisions, timing, etc). Any new parent would appreciate home-cooked meals that can easily be reheated (or stored in the freezer), gift cards to local restaurants that offer delivery, or electronic gift cards that can be used at multiple restaurants (Grubhub, DoorDash, etc).
New mom care kit.
Snacks, a variety of ways to stay hydrated, at-home spa items, heated neck pillow, robe/nightgown (loose-fitting and nursing/pumping friendly), pads (Seriously, I had to send my husband to the store to buy some for me, and the poor soul came back with incontinence pads. Bless his heart.), mesh underwear. This gift focuses solely on pampering the new mama, and she will likely be shocked that anyone thought of bringing something just for her.
Household chores.
Of course, I have a specific way I do things at my house, but in the thick of the fourth trimester, I would have taken any and all help (even if someone else wouldn't have done everything exactly as I would). Dishes, baby's laundry, sweeping, mopping, vacuuming, cleaning toilets, emptying the cat's litter box. All of these tasks are not the typical "congrats on your new baby" gifts, but I would have appreciated these more than anything in the world.
The next time you're gathering with family or friends to celebrate the birth of a new baby, please take some time and show love to the new mama. Her body and world will be completely rocked, and she deserves some recognition and attention.