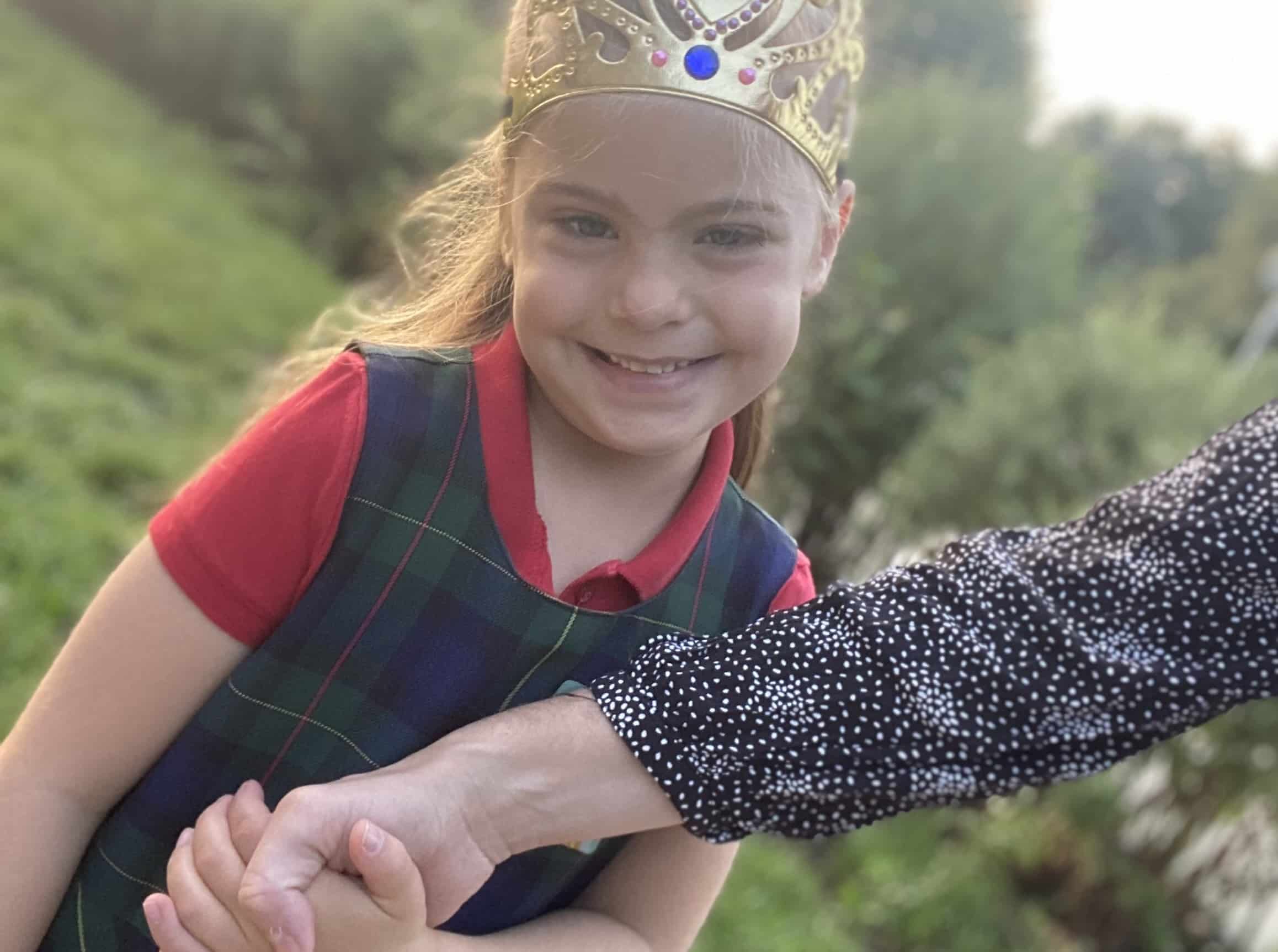 We are approaching the final days of kindergarten, and this mom is not okay. Before you start rolling your eyes at this mama drama, hear me out. Starting this year felt exciting. I didn't have the typical sentimental feelings it seems so many have with the start of school. But the imminent end of this school year is leaving me with a nagging ache in my heart. For weeks I've been mourning the end of kindergarten.
While every age and stage has shown me something new and exciting, this year has been the most pleasant surprise. It feels like this special sweet spot of in-between. We are between the little and "big" kid phases, and it has become my new favorite place to be. Kindergarteners are sweet, hilarious, and smart. They have an exuberance I wish we all held on to a little bit longer. They are grown up enough to reason with at times, but primarily just be happy to be joyful and act like kids.
Her teachers hit the ground running from the start of this school year. The speed at which they have been learning is incredible. But what I love the most is that they are happy to learn for the sake of learning in kindergarten. Although there are standards that need to be met and skills that need to be mastered, they don't yet have the added stress of grades or a sense of competition regarding schoolwork. As a recovering perfectionist and the now mother of a 6-year-old almost first grader who appears to be traveling down the same road, it breaks my heart to think she may start putting even more pressure on herself over the coming years. I think it took me until my 30s to remember I could learn things for fun, just because I wanted to – rather than to earn a grade or achieve a goal.
Unfortunately, with the end of kindergarten, I believe we will be met with the start of homework. As a dual-working parent home, it already feels that by the time we get home from school, eat dinner, and drive around to activities, we barely get to bed on time. I have been blissfully aware of how wonderful it is not to have to worry about homework in kindergarten.
When it comes to friendships, I think we could all learn a little bit from 5 and 6-year-olds. In kindergarten, everyone is your best friend. This may not be the case everywhere, and much of the credit likely goes to my daughter's amazing teachers. We never talk about "best" friends at home, but if a friend or neighbor asks my daughter who her best friend is, she will look you in the eye with a serious expression and tell you matter-of-factly that her entire kindergarten class is her best friend.
A large percentage of our weekend days have been spent celebrating her classmates' birthdays. All they need is each other. You could place them in an empty warehouse or an open field, and they would use their imaginations, run wild, and figure out how to have the greatest time together. If only it stayed this easy. While the optimist in me wants to believe they will always love each other this much, I know that is generally not how things work.
Back to the teachers. Kindergarten teachers are angels sent straight down from Heaven. After coaching my daughter's soccer team this spring (and failing to get a group of 5 and 6-year-olds to listen for 45 minutes), I am shocked and amazed about how a group of kindergarteners is ever taught anything. Seems like magic. Kindergarten teachers help their students navigate the big social, emotional, and educational transition that takes place from preschool to "big kid" school. Although all teachers are incredible, and I am grateful for every single one, I will miss the sweet relationship kindergarten teachers have with their students – balancing learning with fun and hugs.
Lastly, I have been cherishing my relationship with my kindergartener. She still loves me and wants me around. She reaches for my hand as we walk down the street or into school without thinking twice. Hugs goodbye are welcomed (and expected). She'll tell me about her day and wants me present for school functions. I'm sure this all won't immediately dissolve due to the end of kindergarten, but each year my strong-willed girl is becoming more and more independent.
I understand this transition isn't going to happen overnight. Some changes will be small and undetectable as things slowly fade away. Others will be a sharp and clear transition as we return from summer break to start first grade. I'm sure as my daughter continues to grow, each age will have its joys and its struggles. But I can feel that someday I will always look back and remember the delight and innocence of this stage. So, for now, I'm going to mourn the end of kindergarten.