My husband and I grew up in small towns where the local public schools were really the only choice for local schooling. By state testing standards, our schools were a very good choice and we both agree they suited us just fine.
Now we have two kids of our own and it's time to seriously consider where they will attend school. The oldest is 4 years old and is currently in pre-school. Next year will be pre-K and the following year will be Kindergarten. My husband and I are in the throes of figuring out what is important to us about an education, and then figuring out what educational opportunities are available to us.
We live in Irvington, just 10 minutes east of downtown Indianapolis, and that puts us in the Indianapolis Public School district. The IPS school district is a behemoth and like many city school districts, it exists in social and political contexts that result in stereotypes about urban schooling (for a brief, but more in-depth, look into some of the ways urban schools have long been marginalized, check out this newsletter from the Midwest and Plains Equity Center (located right here in Indianapolis at IUPUI!)). Our boundary school is George Julian School 57 and is ½ mile from our house and a 10 minute walk. Yet, in my preliminary research of where the parents in our neighborhood send their kids, I hadn't heard of any that send their kids to this school that is right in the heart of our community. I just assumed that there was something "wrong" with it and had figured we would do what many of the parents in our neighborhood do, which is to apply to one of the "choice" schools in IPS. If that didn't work out, I figured we would send them to a local charter school. Both seemed like good enough options, but there are lotteries to get into both. Isn't this kind of crazy? To have to "win" a lottery to get into a "choice school"? How did we get here? Needless to say, the wait lists are LONG, and navigating this system just really kind of sucks.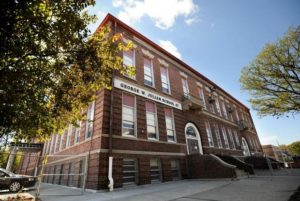 One day, a mom in a local Facebook group posed the question as to why people don't send their kids to our local boundary school. There were many responses as to why the other schools were chosen, but no one had any definitive negative thoughts on the school right under our noses. So, two other moms and I started to look into it more in-depth.
Now, I am not an educator and because my boys are not school aged, I don't have much experience in what to look for in a school other than it "feeling right". The other two moms are bad-ass champions of public education and both work in other IPS schools, so they are teaching me along the way about school options and the research, behind them. It has been a wonderful experience and the best way for me to learn.
We scheduled a tour with the school and met with the Principal and the Parent Involvement Educator (PIE) to tell them about our group and to see what the school had to offer. The visit was so positive. The school is beautiful inside and out! The children were kind and respectful to one another, the faculty and staff were so welcoming and obviously very dedicated to the school and the children. We were just blown away: why had we had so many assumptions about all the things this school wasn't? This little gem has been right under our noses the whole time. We went back and shared what we had learned to the larger Facebook group, and worked with the school to have an open house to allow everyone a chance to so see the wonderful things happening here.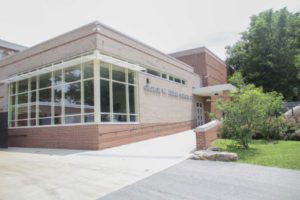 The open house went very well. There were 35 prospective parents in attendance and only a handful had ever even stepped foot inside the school prior to this. The feedback far and wide has been positive and I believe more local families now consider this school as an option for their children. What a relief to not have to rely on the results of a lottery. It made my heart sing to imagine being able to walk my boys to school from Kindergarten to 8th grade, (hopefully they will be walking themselves by that point!) to attend school with their neighbors and have a real community in our local school.
At this point, my husband and I don't know what the learning style is for each of our boys. What I can say is that through this process of getting to know this school, faculty, staff and the leadership surrounding it, I feel they are going to do their best meet our boys where they are and as parents, my husband and I are going to be as involved as we can to support the school in any way possible.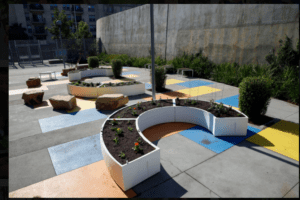 Recently, I found out about a program through The Kitchen Community where learning gardens are available through application. I heard about this opportunity just a few weeks ago. I reached out to the Principal and PIE and they both jumped at the chance to apply. We found out last week that we have been approved for a garden and it will be installed in the next few weeks! Teachers will have the opportunity to work it into the curriculum and the kids can learn about where fresh food comes from. Coming from a long line of farmers, I could not be more excited.
When this research journey started, I expected to find out that our school needed some work. I was wrong. I am thrilled to report that I was very wrong. Urban schooling is often depicted in pop culture as schools in need of "saving," or totally devoid of resources and opportunity. And that stereotype just isn't true. You can see it in how IPS is volleyed back and forth between politicians, for-profit charter schools, and even efforts to "revive" the city. But, if you only believe what you see in the news and pop culture, you'll miss the thriving communities in these spaces.
Sometimes it seems that the best option just needs more vocal champions to help rally and share the good news with the masses. I'm still interested in rolling up my sleeves to be involved, but it's with the knowledge that I will be assisting to take something great and make it even better. I wonder, for those of you reading this post, what do you know about your neighborhood school? If all you have heard is based on stereotypes of "inner city" schooling, I encourage you to meet with your local principal, to learn about your neighborhood school's teachers, and if you want to be a champion of education here in our city, learn what that's going to look like by first learning your school.
Share you experience in the comments!!!!