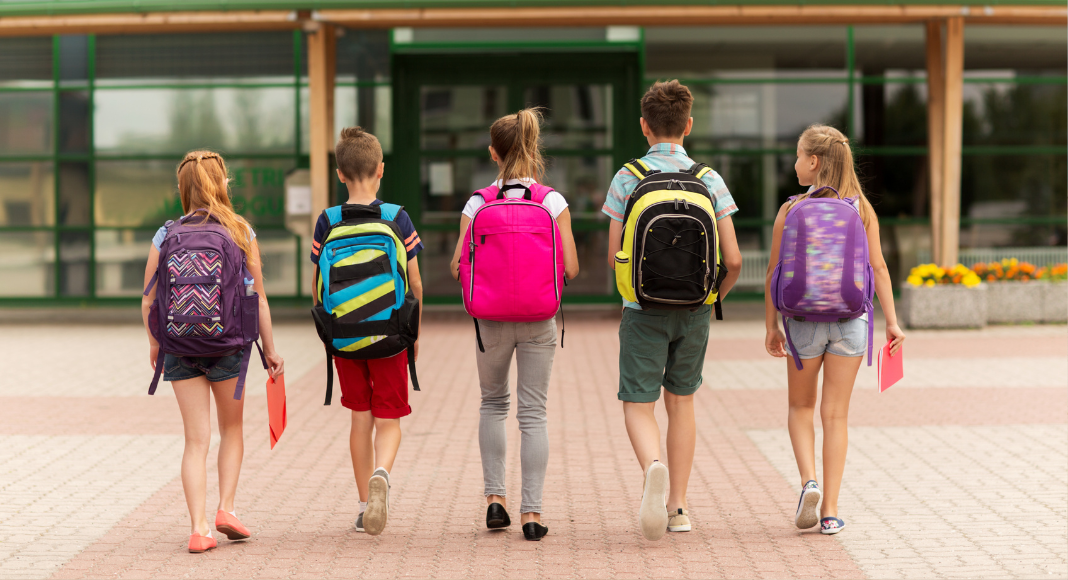 Buckle up, mamas! Believe it or not, the first day of school is almost upon us. The first day can undoubtedly be a whirlwind for us parents: packing backpacks and lunches, helping kids remember their new teachers' names, encouraging good choices, and giving pep talks. We want our kids to be well-fed, well-rested, and at ease. But I also want my kids to be excited! Big celebrations don't always come easily to me, but simple first day of school traditions can be easy ways to connect with our kids and create the fun, celebratory tone we want them to feel about school. 
Decorate the house.
I want my kids to believe school and learning are fun, and nothing makes them think "party time" more than balloons. It would be so fun to hang some streamers or blow up some balloons to surprise them when they wake up on the first day of school. 
A big, protein-packed breakfast.
We are usually a Cheerios and yogurt type of family when it comes to breakfast, and we save things like bacon and eggs for special occasions. Sending my kids off with full bellies and lots of protein is an excellent way to ensure they are ready for the day ahead.
An after-school treat.
On the other end of the spectrum, I love having a plate of fresh chocolate chip cookies ready for my kids when they get home on that first day. We sit around the dining table with cookies while I try to get them to tell me everything about their day…then they crash in front of the t.v. to decompress for a while. To me, this is the easiest of the first day of school traditions. Store-bought works, too!
Write a letter to each kid.
I've never done this on the first day of school, but it feels like the perfect opportunity for some reflection and for saying the things we might not always share. You could share this with your kids, but it's also valuable even if you keep it in your journal or saved it in a document on your computer. Write each child a letter, telling them your hopes for the school year ahead and what you love about them at this stage of their life.
A back-to-school blessing.
Sending our children off to school is such a vulnerable, significant thing for a parent to do, and I don't think we often stop to consider the more significant meaning behind these moments. A back-to-school prayer or blessing can be one simple, quick way to do that and can be adapted for whatever faith tradition (or not) your family practices. My good friend tells her children, "May God bless you and keep you," every morning as she says goodbye. On days when my kids seem to need a little extra encouragement, I tell them, "Be kind, work hard, and have an adventure." This year, I'll make a point to say that on the first day of school. 
Take the photos.
Your kids do not–I repeat, do not–need a cute customized chalkboard or a fresh haircut before you snap some first day of school pictures. Done is better than perfect! Take those photos, savor those memories, and celebrate how far your kiddos have come.
Indianapolis Moms, may the school year ahead be one in which we all grow and learn–as individuals, as families, and as a community.

I'm cheering you and your kiddos on!