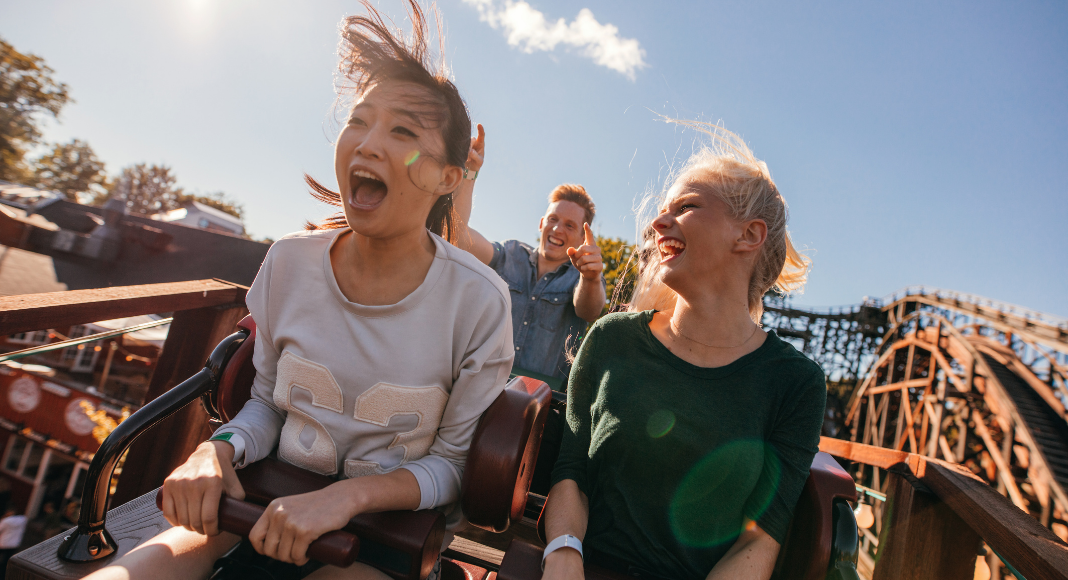 Just about three hours south of Indianapolis is the magical city known as Santa Claus, Indiana. The town boasts a Christmas theme throughout including a Santa Claus Museum and Village. But as magical as this town may sound, the majority of families traveling there are visiting for one reason – they are planing a trip to Holiday World and Splashin' Safari!
So what can you expect when visiting this amusement park? A whole lot of fun and ton of memories that's for sure! I ventured down there a few weeks ago for my very first time and my family is STILL talking about it. We have had several people ask about going, so I brainstormed with fellow Indianapolis Mom contributor and professional Holiday World-er Anne for some tips to add to this list. Because whether you are a first timer or maybe heading on your third visit, we have tips that will help you when planning your next trip to Holiday World with the family.
1. Rent a Cabana
One of the first things you want to do is rent a cabana at Splashin' Safari before your visit. While you may not actually spend a lot of time in it, the cabana does come in handy whether you plan on staying at the waterpark or even venturing out into the park. It comes equipped with a table and chairs, a cooler with bottled water and a personal locker for you to lock your things up. Your family won't be stressed about finding chairs or having someone watch over your things because it will all be in one, secure place. If you plan on going with another family, split the cost together!
2. Get to the Park Early
The thing that we have on our side is the time difference – Santa Claus is actually an hour behind Indianapolis time. Holiday World opens up at 10 am (which is 11 am our time), so plan on getting there as close to the opening time as possible. You won't have to wait forever to get into the park and you'll also score a decent spot in the parking lot!
3. Invest in Water Shoes
Water shoes are never a bad thing to have when you're at a water park. But at Splashin' Safari you do a LOT of walking between attractions and that pavement gets hot! Water shoes were a lifesaver for my kids because they could go from slide to slide without burning their feet. Plus they could enjoy the activities and not worry about taking their sandals off while they were waiting in line.

4. Wear a Water Shirt
A one day ticket includes admission to BOTH parks. You actually access Splashin' Safari by walking through the Holiday World and vice versa. However, in order to enter into Holiday World you HAVE to be wearing a shirt, shorts and shoes. There were a few times my son wanted to go ride the roller coasters and then come back to the waterpark to cool down. Instead of changing every time, he just kept his swim shirt on with his trunks and water shoes and was able to enter Holiday World. That way he could easily go ride the rides and then come back to the water park without having to worry about a clothes change. For my girls, we just threw a dress cover up right over their swimsuits.
5. Grab the Meal Service
When you rent the cabana, you have the option to include a few different family meal plans that you can preorder before your arrival. This is the one thing we regretted not doing because the food lines were LONG. We spent a good 30 minutes waiting in line to grab lunch so you'll be grateful for this option! Remember that you also have a mini fridge in your cabana. So anything that you don't eat you can put into your fridge and your family can snack on it throughout the day!
6. Camp (or Cabin) It Out
If you have the capacity, I highly recommend you make a mini weekend out of it. Lake Rudolph Campground is RIGHT next door to Holiday World. You can camp or rent one of their cute cabins. I am not a camper – I will admit that up front. But these cabins were super clean, could easily sleep at least 7 people and HAD AIR CONDITIONING. They also had little kitchenettes so you could bring groceries and cook meals while you stayed. The campground is full of fun activities for the family like paddleboat, swimming and of course fishing. They also provide a shuttle service that will take you to Holiday World and pick you up from the park so you can come and go as you please!
7. Pre-Purchase Your Tickets
Purchase your tickets ahead of time to help the ease of entering the park. Be sure to check your local grocery stores, banks or restaurants for advertisements of deals and promos for cheaper ticket prices. Local publications will also have offered within that big savings off the original ticket prices. Holiday World also offers Flex Tickets so you can get cheaper tickets on different days throughout the season. Remember – kids under 3 are free!
8. When to Ride
Consider the weather the day of your trip to help plan out when to ride the roller coasters and rides in Holiday World. Splashin' Safari actually opens up at 11 am, so if you get there when the park opens you will have some time to ride before you head to the water park. When our family visited, it was a steamy 95 degrees that day – so the water park was slammed. But the kids figured that out early and were able to go enjoy all of the big rides and roller coasters during the early afternoon in Holiday World since the majority of attendees were cooling down in the pools in Splashin' Safari.
9. Waterproof It
Invest in a good waterproof case for your phone. This one is great because you can still press buttons through it as well as wear it around your neck when sliding and tubing. But it's super handy to have so you can take pictures and enjoy the water too!
10. Bring a Wagon
If you don't have one of those collapsible portable wagons, get yourself one now! Holiday World has a few places that are kind of steep with hills. And this wagon came in handy as we were venturing to different rides and as we were exiting the park. My husband and I packed all of our things into to it and pulled our exhausted 5 year old to the parking lot. Melt downs were avoided and that was a win our book!
Overall, we felt that Holiday World was really a great spot to vacation within a reasonable distance from Indianapolis. The park felt really clean, the staff was nice and there was so much to do for all ages. We will definitely be planning a trip to Holiday World in the future!