An avid Disney fan before there were children in my life to justify a trip to the theme parks, I have spent a lot of time reading various Disney articles and tips. As I reflect on my last two trips to Disney, and those two did include kids, I realized I have learned some things that will influence our future trips. So, allow my (many, many) hours on the internet and dollars spent on Disney to save you precious resources if you are planning, or hoping to plan, a trip to Disney.
Disney Travel Agent: I was surprised to learn that I could plan a trip with a Disney-certified travel agent at zero expense to me. Though I am Type A and like to control my own destiny (and everyone else's), I decided to give this a shot. YOU NEED TO DO THIS.
We worked with Elizabeth at Destinations to Explore. She was a rockstar every step of the way. She reminded me of deadlines for booking restaurant reservations (which she booked for us) and Fast Passes (which I booked for us). When we had (perceived) problems with our Disney PhotoPass, she was immediately on the phone with Disney to ensure we didn't miss a single photo (which we didn't). She sent us a great pre-trip package that only fueled our excitement. And best of all, when the cost of our trip dropped slightly after our booking, she ensured we picked up those savings. You have nothing to lose by relying on an expert.
PhotoPass: On our first trip with the kids, which was a single day trip, we impulsively bought the PhotoPass option. It felt extravagant for one day (about $100), but we decided to give it a go. Best. Decision. Ever. We were so thrilled with the opportunity to have family photos without the dreaded selfie look. When we planned our 2017 trip, we knew we would get it again.
We were pleasantly surprised to find that for the entirety of our 3 day trip, it was about $169–and that by purchasing it in advance we only paid $149. TOTALLY worth it. I know it may feel like you're getting nickel and dimed on extras, but this was money well spent. I encourage you to consider adding it to your trip.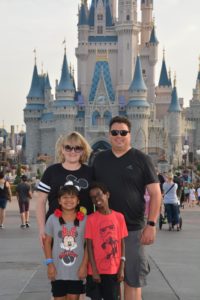 Once you've booked, there are a few ideas for maximizing the fun in the parks while still saving money.
Pressed Pennies: One of the best things we did was get our kids excited about pressed pennies at Disney. In the MousePerks newsletter I received from our travel agent, I learned that there are pressed penny machines across all of the Disney parks. Typically, they cost 51 cents…the penny plus two quarters.
Decorate a mini M&M's candy container and fill it with the coins you'll need. We split a roll of quarters and a roll of pennies between our two kids. There are checklists you can download, but the locations are available on the My Disney Experience app, so I suggest you get them there. But if you want it to be a cartography lesson for your kids, visit here. More information about locations is available here. It was a really fun thing for the kids to do in between rides, when it was raining, or when we just needed a different distraction. We also surprised them midway through the trip with these books to showcase their pressed pennies.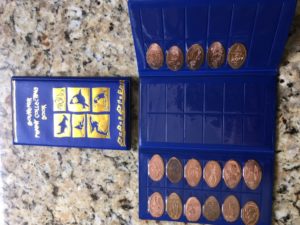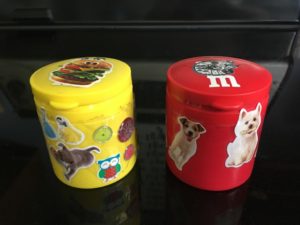 Bibbidi-Bobbidi Boutique: Bypass the expensive princess makeover and stop at the Bibbidi-Bobbidi Boutique at Cinderella's Castle instead for a sprinkle of magic (aka a LOT of glitter) from the Fairy Godmother in the doorway of the boutique…free of charge.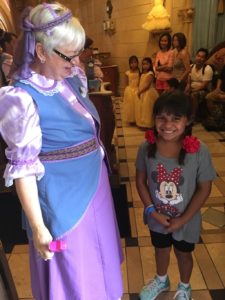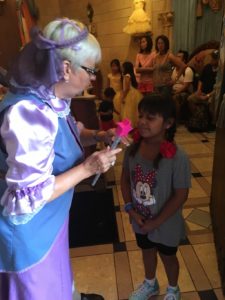 Pre-Shopping: I've learned that one of the hardest impulse purchases to resist after 8:30pm at Disney is anything that glows. On this last trip, I mastered this urge with a $10 trip to a local dollar store before we left home and bought a bunch of glow sticks and necklaces. The kids loved them!
And, while we're talking about bringing things from home to save money, I strongly encourage you to buy some weather-proof snacks (fruit leathers, applesauce pouches) to help stave off hunger, and let's be honest, boredom, while waiting in line. Snacks also come in handy in the room, even if you're on the meal plan. (And if you drive to Disney instead of flying, you may want to consider packing some screwtop wine. I'm just sayin'.)
What tips did I miss? What are your words of wisdom for new—or veteran—travelers?