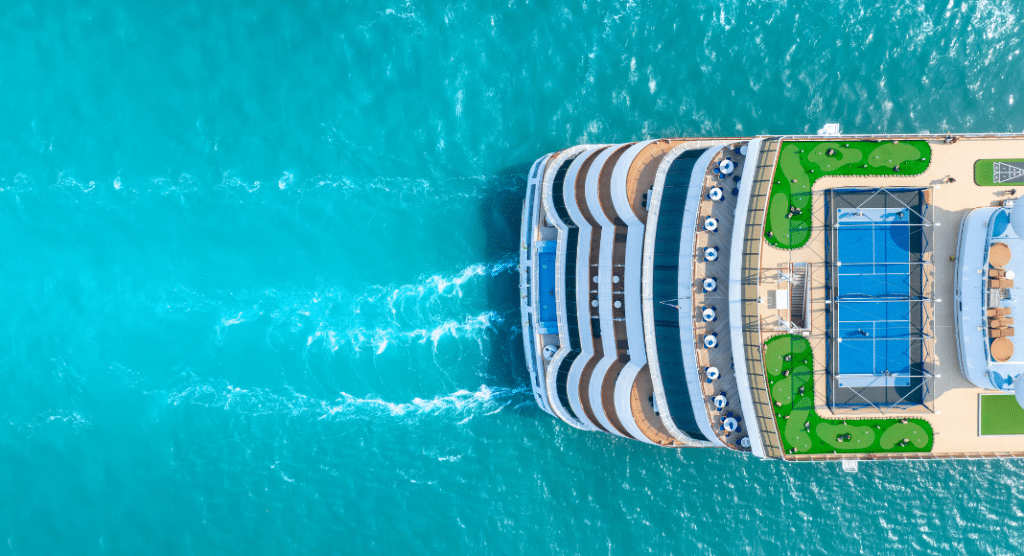 "I have to say, after all of this, I'm definitely a Disney Cruise Line fan. When can we book our next cruise?" 
Those amazing words were spoken by my husband as we walked away from dropping off our kids and headed to our favorite bar. The next few hours were ours to do what we wished, and it was glorious. We suddenly understood why so many of the families we spoke to told us the cruise line they sailed was Disney. 
Let's backtrack. How did we settle on doing a Disney Cruise? My husband promised me that once we paid off his private student loan debt, we'd celebrate as a family by doing an all-out trip to Disney. We'd book the best resort, spend our days at the park, and make everyone's wishes come true by attending every event that sounded fun. Thankfully we made that final payment in 2022, and I immediately contacted a travel planner to help plan out our trip. 
She listened to everything I wanted and asked if she could also include some other suggestions with our quote. I figured why not take a peek at what else could be offered? When we received our options, we noticed that the Disney Cruise she recommended would not only have an amazing dinner experience with Anna and Elsa; our girl's favorite princesses, but there was an onboard kid's club and daycare facility, which meant the grown-ups could get time on their own! 
Honestly, every time I thought of a cruise, the first thing that came to mind was motion sickness, stuffy dinners, and hours of boredom. When I mentioned this to our travel agent, she laughed and told me that while there was the slightest chance I might get a smidge queasy for a few hours when we first boarded, everything else I stated was far from the truth. 
She was right. The cruise was phenomenal. When we came back home, I was still buzzing about how amazing our cruise was, and I decided I NEEDED to share all the tips I picked up with everyone. Before we get into the tips, I just want to point out that these are my tips for the Disney Cruise Line. I'm certain some of these tips could transfer to other cruise lines, but others may not. Please keep that disclaimer in mind! 
Use a travel planner if you know one; if you don't find one!
It is a little easier to book a Disney Cruise versus the amusement parks, but I still recommend working with a travel planner. They'll be able to walk you through certain situations, i.e., if you have a big group that needs to be booked, the best room to get so you can view the fireworks from your balcony, the different events that occur throughout the year, if you need special accommodations, etc. 
Join some Disney Cruise Facebook groups!
I learned SO much by joining the different Disney Facebook groups out there. Once you choose a cruise you can begin searching for that particular cruise on Facebook. For example, if you book a four-day cruise on the Disney Wish for August 1, 2023, search that date on Facebook; chances are there is a Facebook group already started. You can chat with those that you'll be sailing with and sign up for Fish Extenders, Candy Exchange, Gift Exchange, etc. 
Review what's covered in your reservation and what costs extra.
When you book an adventure at Disney World or Disneyland, a big expense can be meals. Thankfully you don't have to worry about this on a Disney Cruise. All your meals are covered unless you'd like to do a specialty dinner, want an alcoholic beverage, or a latte/cappuccino. Those specialty dinners have to be booked in advance and will have a price listed. Activities at the port and other special events onboard do cost extra, but again you'll be able to review those costs on the website or the app. If there is a specific activity you'd like to do, make sure that you ask your travel planner if that is extra, or do your due diligence and review whether or not you'll pay extra for that activity. 
Understand the deposits and gratuities on Disney Cruises.
Some folks don't realize that you don't have to pay the full cost of the trip right away. You can make a deposit of 20% of the cruise fare, and from there, you can continue to make payments whenever you see fit. Your final payment will be due 75 to 120 days before your sail date. You also cannot book any additional activities (like port adventures or specialty dining), until your trip is paid for. If you are on a tight budget, I highly recommend pre-paying for gratuities. You can always pay for gratuities while onboard, but pre-paying ensures those funds have already been set aside, and if you feel someone went above and beyond during your stay, you can always leave additional money in the envelopes provided by Disney on your second to last day of your cruise. 
Consider purchasing a photo plan for all the great photos!
Disney Cruises do an amazing job of ensuring there are many moments each day for you and your family or friends to take photos together. There are photographers before you board, every evening before dining, throughout the cruise, at dinner, and even on Castaway Island! I'd strongly encourage you to purchase a photo plan because chances are there are going to be multiple photos that you'll have to have. 
Don't overbook your evenings.
One massive mistake my husband and I made during our first trip was overbooking our evenings. We'd hope that we could drop both kids off at their respective kid's clubs, and then we'd go on a date. While that did happen one night, the others didn't go as planned. Either our kiddos were too tired from the day's activities to even function after dinner, or there were other cruise activities like Pirate Night or the fireworks show, or the boat's Broadway-like show that we didn't want to miss out on! 
It also turned out that our kiddos wanted to go to their kids' club in the morning/early afternoons versus in the evenings. That threw off our groove because my husband and I suddenly found ourselves with nothing to do. We could have booked other things for us to do during that time. 
Don't overpack!
You can do laundry, and Disney has floaties for everyone. I'll be honest I tend to overpack because I imagine every worst-case scenario. Unfortunately, I had my husband trailing behind me while I was packing and heavily editing what I packed for our kiddos and myself. This was actually beneficial for two reasons. One, we really didn't need that much stuff.  Second, we did have the worst-case scenario happen when we realized the night before our cruise that we'd left the bag with bathing suits and towels back home in Indiana and ran out to purchase one set of swimsuits per person. I prefer to pack at least two per person so that you're not changing into a cold swimsuit, but with this blunder, it wouldn't work out that way. Thankfully the laundry services onboard were phenomenal and made it so that I could do all our laundry, be notified of when everything was done, and the best part, no one had cold swimsuits! 
Buy/Make and pack your magnets.
If you've never been on a Disney Cruise before, then you may not know about this joyous, artsy, and fun tradition! Many Disney Cruisers take the time to create fun magnets that they place on the outside of their cabin doors. These magnets can be your favorite movies or your family as Disney characters, or you can have them commemorate your trip! If you can dream it up, you can either make them yourself or have them made for you! If you're needing some inspiration, do a simple search for Disney Cruise magnets. 
Disney Cruise Line Placeholder
Disney Cruise Lines has a great incentive for you to put down a small deposit (at the time of this article, the cost is $250) for your next cruise. Generally speaking, this must be done while on your current cruise or within a specified amount of time after your cruise. Should you book within their required time frame you will receive 10% off the total cost of your next cruise booking (not including speciality dining, port adventures, etc). If you decide not to book another cruise then the deposit will be refunded to you. To me, this is a no-brainer! 
This last tip is by far the most important one, in my opinion. While you're on your cruise take the opportunity to relax, recharge, and, most importantly, have fun with your family. You do not have to worry about making meals or planning the next activity. That is all done for you. Go with the flow, and remember that you're there to make memories and rest!
Have you done a Disney Cruise? What did you enjoy the most? If you're about to take off on your first Disney Cruise, please feel free to reach out to me! I'd love to hear about your experience.