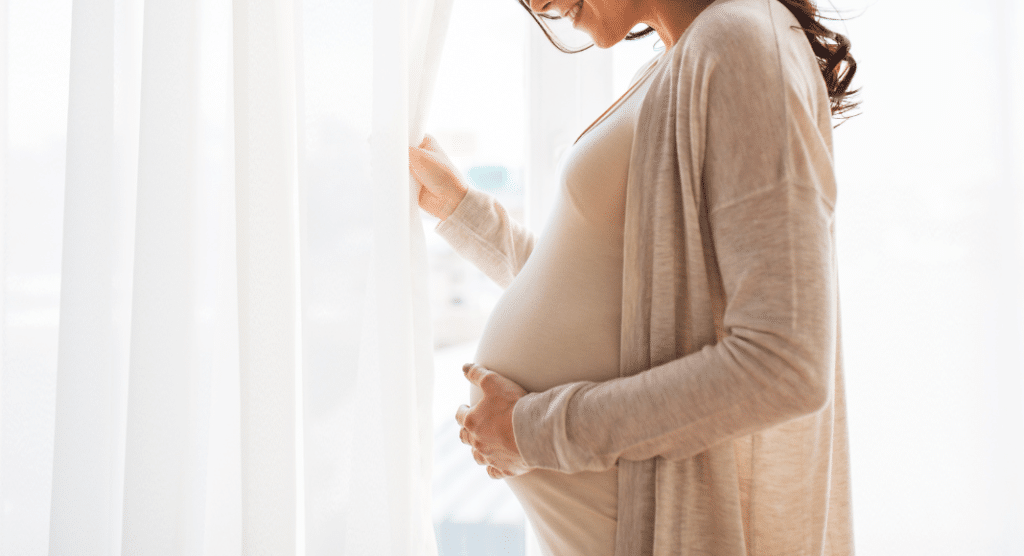 This labor and recovery were going to be different and well-planned. The second baby, we got this!
I found a doula. We signed up for summer camps. I found a wonderful summer nanny/daughter of long-time family friends who would be home from college to help our family adapt during the six weeks following the birth. The Frida Mom postpartum survival pack was ready for my hospital bag. (No straining with a non-flex peri rinse bottle this time!)
I would keep my mental health in check (mostly accomplished, minus a bad case of seasonal affective disorder meets a four-week family bout of Covid from January-February.)
The highlight of my careful planning? We had a nice baby moon planned as a way to relax and mentally switch gears into labor mode before the baby came.
We were at 35.5 weeks.
I was hurrying after Blake, my 4-year-old, and his sweet younger cousin down a curved staircase at a family member's home. Suddenly, my legs flew up, and I found myself falling. With a loud thud, I landed on what felt both hard and sharp at the bottom of the staircase. I looked up, estimating the number of stairs I had fallen. Four to five stairs. Could've been worse.
I tried to shake it off- just a few stairs! Not the whole staircase. I'll be ok. The baby seemed energized by the movement, and so I counted the kicks/or rolling motions in his case. Five rolling motions within minutes, and the baby seemed normal. A sweet cousin took over watching the kids so the rest of us women could continue our joint project for the day. I didn't even ice the injury at first (not a good decision in retrospect.)
I finally consented to lie down when the pain escalated too much to sit, and besides, it was lunchtime. I called the doctor's office, called my doula, and called my husband, Josh.
No bleeding, no fluids leaking. Now mind you, this is the girl who walked a mile on a fractured ankle in high school (it wasn't so bad yet.) and completed a 26.2-mile trail marathon with an injury. I generally have a high pain tolerance. My family brought me food and continued to watch Blake while I ate lunch and felt useless to help on the project we were there to do. But I knew we needed to get home eventually. I called Josh and told him I was still waiting to hear back from the doctor's office but could drive myself home.
The easy interstate drive was fine, but as I pulled into our garage and tried to open my door, the pain reached screaming levels, and I realized I could not get out of the car. I texted Josh for help. Once inside, I iced and allowed Blake extra tablet time. Iced more. My wonderful doula was the most helpful medical advisor in this scenario, with her instant text responses about the importance of icing and elevation.
I fell asleep waiting for the call back from the doctor's office on call line. The next morning I was greeted by horrible pain, worse than after my labor with Blake and the resulting surgery (managed with strong pain medications). The doctor's office advised me to continue as I had been and monitor for changes in fetal movement or any fluids or bleeding. They opted not to do X-rays because of the baby. The likely injury was a tailbone contusion (bruise) based on my described symptoms. They echoed my doula on ice and added I could take some Tylenol.
Can I even make the baby moon? I wondered. The fall happened on Wednesday. Our flight was scheduled for Friday. I knew I couldn't keep up with Blake here at home. The fall also coincided with our two-week break between preschool and summer camps.
The night after the fall was Blake's preschool end-of-school-year celebration. I was to bring salty snacks.  I set my car on "smart mode, wheel lock" to prevent swerving and ensured all the other features were turned on. Even with my donut pillow, each turn and each road bump had me cursing under my breath and hoping no drivers braked suddenly as I would probably rear-end them despite all my safety features. Who knew you used so many muscles around your tailbone to break and do right-hand turns? Now I do.
We were one day away from the Memorial Day holiday. I pause here to say thank you to all who sacrificed everything for our country, including my own Opa and other family members. We honor your service.
The week after, all we had on the calendar was one hour each of kid's gym and speech therapy for Blake's activities. Two hours of programming in a 32-hour week. At four years old, Blake no longer naps and has the energy of at least three healthy adults. My injured tailbone and I didn't stand a chance.
We decided to proceed with the weekend babymoon. I was hopeful swimming would ease the pain and maybe help rehab my tailbone quicker than the average (four weeks!) healing time. We had our mission- swim, sleep, rest.
On the drive to the airport, even just riding along in the passenger side, every bump, turn or merge had me clutching the side door and praying. We arrived several hours early, as we always do while traveling with my punctual husband. Just the 30-minute drive had my lower back throbbing, and I wanted to cry imagining two and a half hours more of sitting followed by more driving on arrival.
I limped into the terminal and saw something I had always wanted to try: a mini spa. Without pausing, I told Josh to go on ahead to the gate. I was close to tears and knew it was time for intervention. A very kind massage therapist listened to my tale of whoa and suggested a modified combination of a Swedish and medical massage combined with eucalyptus numbing spray on my lower back and thighs. All this was accomplished in 30 minutes and at a very reasonable rate. The spray worked enough for me to walk and picture sitting, and we were on our way again.
Saturday and Sunday, I spent over four hours a day floating and swimming, and it was truly heaven. Huge, huge thank you to the family that blessed us with the space to rest and my family for watching Blake over the long weekend. On the last full day of the trip, I felt buoyant and hopeful. The aches were lessened by the regimen of swimming, rest, and ice/elevation. We were able to reconnect and enjoy quality time as a couple despite all my limitations. We even took a smiling photo on the beach. You would never know the story behind the trip looking at that picture. I should've held my donut pillow up to include that part of the story. It was with me 24/7, even parked under our beach umbrella.
The Monday morning we were set to fly home, I awakened at 2 am to strong and fast contractions- very close together. As I paced and counted, Josh googled nearby hospitals with neonatal intensive care units (NICU). The baby may need surgery after birth. We called my doctor's on-call line and tried to plan what having a baby in Florida would mean. Around 35 minutes, the contractions suddenly subsided, and I told Josh to rest while he could, then fell asleep in my awkward semi-upright position on the couch. Mercifully, the Braxton Hicks contractions didn't return.
A few hours later, we both exhaled in relief as we touched down on the tarmac in Indy. We made it. The long sitting time for travel took it out of me and brought back the soreness. I found myself lying down with my head on a backpack in our car's back row of jump seats. After arriving at my parent's house to pick up Blake, I lay on the couch to try to regain strength for the drive home.
Facing the week, I planned to practice horizontal parenting. I prepared activities, Blake would bring me ice and needed items, and I could push through. Josh, who owns his own business, would be playing catch up from being out of the office Friday to Monday for at least the next week and unable to step in much.
Tuesday morning, I silenced my body and went too hard with a splash pad meetup, driving time, and an unwise push through helping Blake at the parent/child gym he attends. This program is often the highlight of his week. Must wear out toddler, I told myself. I casually mentioned the fall to a fellow mom when I couldn't bend for some of the exercises. She looked at me like I was out of my mind for being at a gym in my state. I did refrain from the bear crawls portion of the obstacle course.
I came home, iced my tailbone while emptying out the fridge and pantry (the next day was trash day), washed and folded laundry, and packed our hospital bags. The Braxton hicks contractions the day before had really freaked me out, and the least I could do to plan would be sending our kid to his grandparents with clothing, and God knows I would need my bags for labor!
Wednesday, one week after the fall, I woke feeling like I was right back to day two pain levels again. The sharp pain, now accompanied by a fun duet of hemorrhoids (despite too many grams of fiber intake per day to count), prevented any sitting at all. Apparently, pressure and too much standing can cause/worsen these during pregnancy.
I finally surrendered and sent SOS texts to both sides of my family. The recovery help I envisioned for myself postpartum would have to begin early.
As I lay on my side (the only position that provided relief) on the rug next to my still pajama-clad child, who lovingly made me a pretend pizza, I realized that no plan can prepare you for the unexpected in pregnancy or parenting really. This is our 36 weeks pregnant reality. My tailbone is either bruised or broken. My energetic child is out of school. Baby number two may come early, or he may need to be induced; at least the date for that is set. Worrying won't help. Making it to summer camp in seven days is our new goal.
I'm putting my pride away. The reality is that with an uncertain recovery end date, I may be facing a labor and postpartum injured. (Double-check yes for that epidural!) I'm crawling to the starting line on this one. Time to accept all help. The most perfect plans can't forecast things like falls. Our baby moon was perfectly timed in that the three days of swimming and resting jump-started my healing on a good note. Facing these next weeks of healing and gearing up for labor, I find myself repeating Blake's kidstrong gym mantra- "I am brave, I am strong, I can do this," just not alone. Oh, and no more stairs or bear crawls until after the baby arrives.