I'll be the first to admit that I have a list of favorite foods that I don't like to share. Unfortunately, not sharing food is like rule number 5 on the list of things that toddlers don't allow you to do. The Grilled Cheese ranks high on my list of comfort foods and one I definitely like to consume without any help. It pairs well with a soup on a chilly day, and it can be prepared fairly quickly if need be. Cheese and bread rank high on the toddler list of foods to devour, so I'll step out and say that this recipe is kid friendly, too. Check out the details on my favorite version below: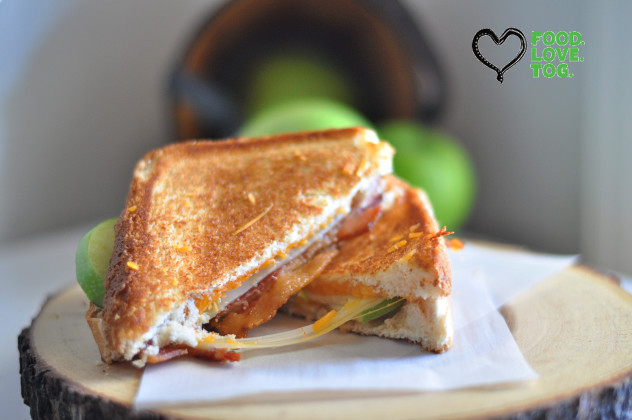 Ingredients
2 slices of Thick Sliced Texas Toast Bread
5 Thinly Sliced Granny Smith Apple Slices
4 Slices of Perfectly Cooked Thick Cut Bacon
1/4 cup Shredded Sharp Cheddar Cheese
2 Slices Provolone Cheese
2 Slices Colby Jack Cheese
2 Tablespoons Butter
Instructions
Heat a nonstick skillet on medium heat.
Melt 1 tablespoon of butter just until bubbly.
Place 1 slice of Texas Toast in skillet.
Add 1/2 of shredded sharp cheddar cheese to bread.
Place 1 slice of each Provolone & Colby Jack cheese on side of bread.
Top with sliced apples and bacon.
Place remaining Shredded Cheese on Top of Sandwich.
Top sandwich with second slice of Texas Toast.
Cook on medium heat until golden brown.
Press lightly to melt cheese.
Using a spatula, flip the sandwich.
Add second tablespoon of butter.
Cook until golden and cheese is fully melted.
Serve and devour immediately.