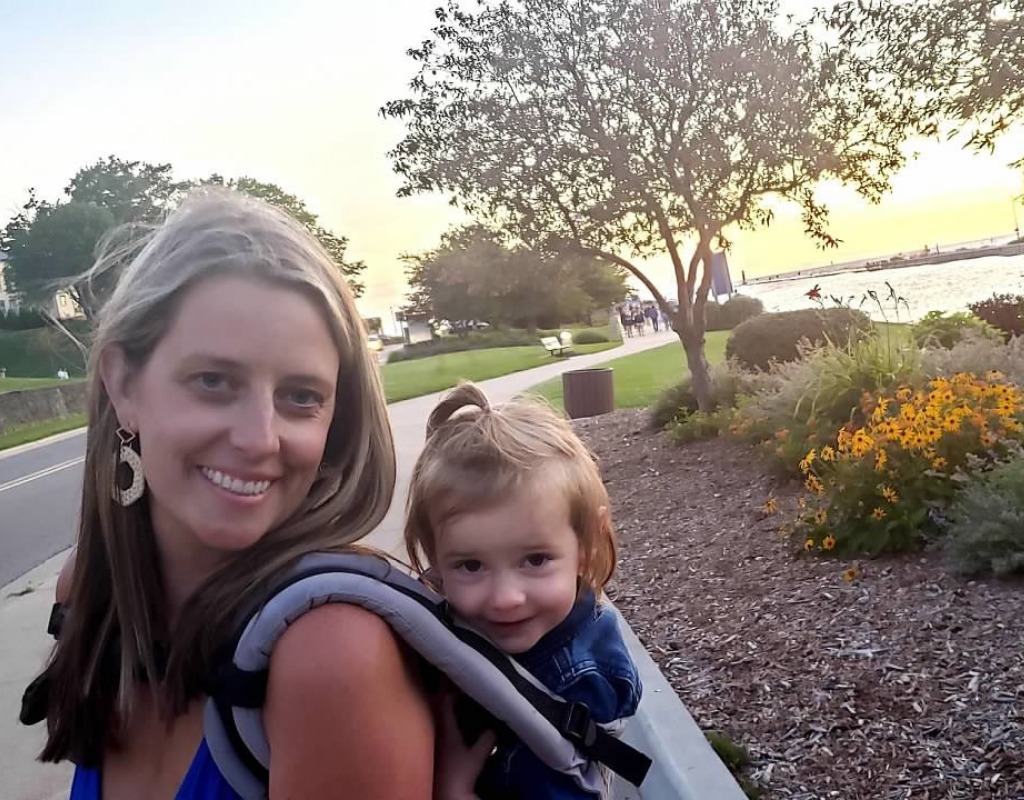 When I was pregnant with my son, I had every intention of buying a stroller. We were lucky enough to have a friend give us a stroller that worked with our infant seat, so that bought us some time before making the plunge and purchasing a stroller for the long haul. On a whim, I attended a meeting about babywearing and fell in love with the idea of utilizing a baby carrier. I have absolutely nothing against strollers, I just never ended up wanting one after discovering babywearing. Here are a few things I've learned on my journey of getting by without a stroller.
There are Medical Benefits
I am not a medical professional, but there have been studies about the benefits of babywearing. Babywearing is one of the key components to the parenting philosophy, attachment parenting, coined by Dr. William Sears. Babywearing is said to include the following medical benefits:
Increase of the mother's oxytocin levels, which can lead to an increased maternal bond, easier breastfeeding, and lower instances of postpartum depression.
Increased calmness for baby because their needs can be met more quickly, as well as the effects of walking and heartbeat rhythms.
Babies can more quickly learn languages and understand facial expressions when more frequently face-to-face with caregivers.
Independence is actually established earlier.
Decreases risk of positional plagiocephaly (flat head syndrome).
It's Super Convenient
At home, I've done everything from vacuum to return emails on my computer while babywearing. During those times when one of my kids wanted to be held, but I had work to do, having a carrier was a lifesaver.
Out and about, it's just seemed more practical to babywear. During shopping trips, the baby is content and I always have two hands. Places like the Children's Museum, Indianapolis Zoo, and Conner Prairie have areas where strollers are prohibited, but I can walk right in with a baby carrier.
Also, I can't tell you the number of times I've thrown a carrier into the car or diaper bag "just in case" and had it end up getting us through an otherwise disastrous trip.
There's Something Called Sleepy Dust
If you've ever talked to a babywearer, you know the term "sleepy dust." Trust me – there's something magical about putting a cranky baby into a carrier that can have them asleep in moments.
It's Possible to Breastfeed
I'm not saying it's easy – it's a learned skill – but for some, it's possible to breastfeed in a baby carrier. With some practice, you can go about your day shopping, chasing a toddler, doing laundry – whatever. Seriously a game-changer.
You Get to Keep Tabs on Their Every Move
Are they hot? Are they breathing normally? Did they wake up? There's enough to worry about as a parent, but when you babywear and they are inches from your face, it makes it easy to ensure they are content.
It's Very Interactive
When babywearing, you become the source of your child's entertainment. You can point to the trees, a bird – or just chat about anything. For me, it's been a great way to teach new words and have that extra bonding time with my kids.
Carriers are Like Jeans
There are about a bazillion different types of carriers. Here's a little bit of information about the three most common:
Wraps are the most traditional type, which is basically a long piece of fabric that you can tie in different ways around you and baby. These can be challenging to use, especially for beginners, but they are incredibly comfortable and can be adjusted to your exact preference and body type.
Ring slings are also a long piece of fabric, but one end has two rings that prevent the fabric and baby from slipping. These are easier to use but can sometimes be less comfortable and cause strain on the shoulders.
Soft-structured carriers (SSC) are probably what you think of when you think of a baby carrier. They come with a padded waistband, shoulder straps, and are secured with buckles. This type of carrier has been my personal favorite due to the ease of use and comfort level.
Once you decide on the type of carrier, there are many different brands that all have tons of patterns and accessories. If I were to give one piece of advice around babywearing, it would be to attend a local meeting. At the meetings, they have many different carriers that you can try on or even borrow for a small fee each month. Don't just take a friend's advice on what carrier to get – that's like buying the exact same jeans and expecting them to fit just like they do on your friend. Try them on, find what's most comfortable, and then pick a pattern you love.
It's Exercise
I still wear my two-year-old, so that's an extra 27 pounds to haul around. But you do get used to it, and I find it pretty comfortable to babywear, even with a toddler.
It Means Fewer Germs
I'm not a huge germaphobe, but it feels great to avoid a shopping cart in the middle of flu season or unwanted touches from strangers.
You Can Babywear for A Long Time
Many brands make toddler carriers that often go up to about 60 pounds. On a recent hiking trip, my two-year-old wanted to walk, and my five-year-old wanted to be carried. So, I put him on my back in the carrier while she walked and we continued our adventure.
It Can Be a Hobby – if you want it to be
I'm in some babywearing groups on Facebook and the babywearing community is a passionate one. There are many people with a carrier or two that just love the convenience and closeness babywearing offers. There are also people with large collections and some carriers made from luxury fabrics can sell for a LOT of money. You can absolutely make babywearing whatever you want it to be, but one of the biggest surprises to me was the amount of trading and collecting of baby carriers. Not knocking it – just took me a bit by surprise!
There are so many resources. Here are a few links that I like:
Baby Carrier Industry Alliance
Popular brands include: