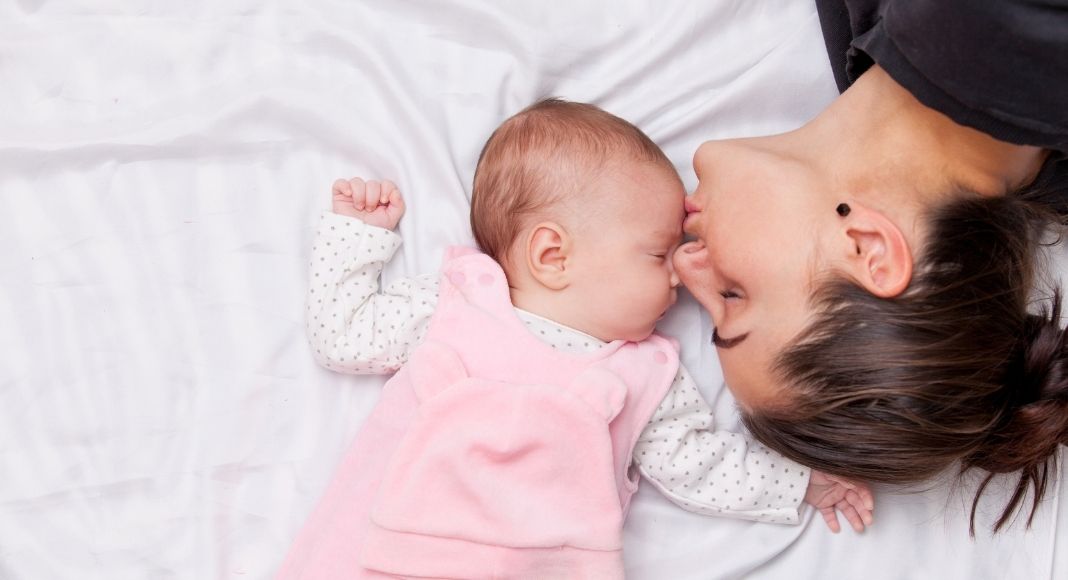 I was just a few months shy of having my first baby when I stumbled upon swaddle blankets as a "must-have" item for my baby registry. For me, swaddling had been a totally new concept but the reasoning seemed very sound. New babies are used to the tight confines of the womb, the new, bright, big world can be literally startling for them. A swaddle helps them settle into sleep in that familiar cozy atmosphere and quiets that dreaded Moro reflex. Nothing like settling your baby to sleep and then (God forbid!) sniffing and having them dramatically flail their arms and legs and wake up crying. I immediately latched on to swaddling as an all systems go idea, registered for piles of beautiful swaddling blankets, and watched lots of videos on how to swaddle an infant. Turns out, while those blankets were beautiful, and luckily useful for many other things, traditional swaddling is hard. It's really tricky to get it tight enough to be effective, but also safe for their hips. I also discovered quickly that no matter how much you practice, no one is really very good, and swaddling at 3 am in a dim room on a screaming newborn and it gets rather cumbersome. Luckily, after months of even the expert level "double swaddle" several times a night, I discovered swaddle sacks! There are so many options out there for mamas depending on what details and selling points are important to you and your family, but to save you time, I've rounded up the top five recommended swaddles and sleep sacks recommended by moms like you!
This overwhelming crowd favorite is hip-healthy, has fabric options, an inverted zipper (hello 3 am feeding!), and wearable blanket options for bigger kids. It also has an arm in or out option for when the baby starts to roll!
Apart from the standards of being hip healthy and offering transitional options for rolling babies, this swaddle has a unique "arms up" design perfect for babies who truly resist their arms being pinned down. They also offer a harness-friendly option for babies going through treatments for hip or foot issues.
While they do offer a traditional swaddle sack, this company is best known for its sleep sack for more mobile babies. Mama's say it is great for transitional babies from a swaddle and that they just can't get enough of the adorable "flying squirrel" look!
SwaddleMe
Available at all major retailers, this classic standby is praised most for its affordability and is available in a variety of sizes and fun patterns and colors.
A personal favorite of yours truly, and currently on my sleeping baby right now, embebabies is hip healthy and even compatible with treatments for hip dysplasia and clubfoot. I love it for the unique legs in or out option for temperature regulation and the ability to change the baby's diaper without undoing the swaddle. They also have a transitional swaddle with sleeves for rolling babies.
Have you tried any of these? I found that mamas, myself included, feel very strongly about the swaddle that they use in their home. What features matter to you? Is your favorite not on this list? If you are still on the hunt for sleep relief, I hope this list helps! Sleep well, my friends!