As a parent of two small children, I constantly worry that I am not providing enough healthy nutrition to my children's diets. With my picky eater especially, I am always on the lookout for a good multivitamin to offset the fruits and vegetables that are turned down or ignored during mealtimes. I'm planning to switch out our current vitamin gummies that we use and try out Better Family! Better Family is the first and only family focused liquid multivitamin supplement company in the world, and we recently connected with co-founder Matt Hasbrook to learn more.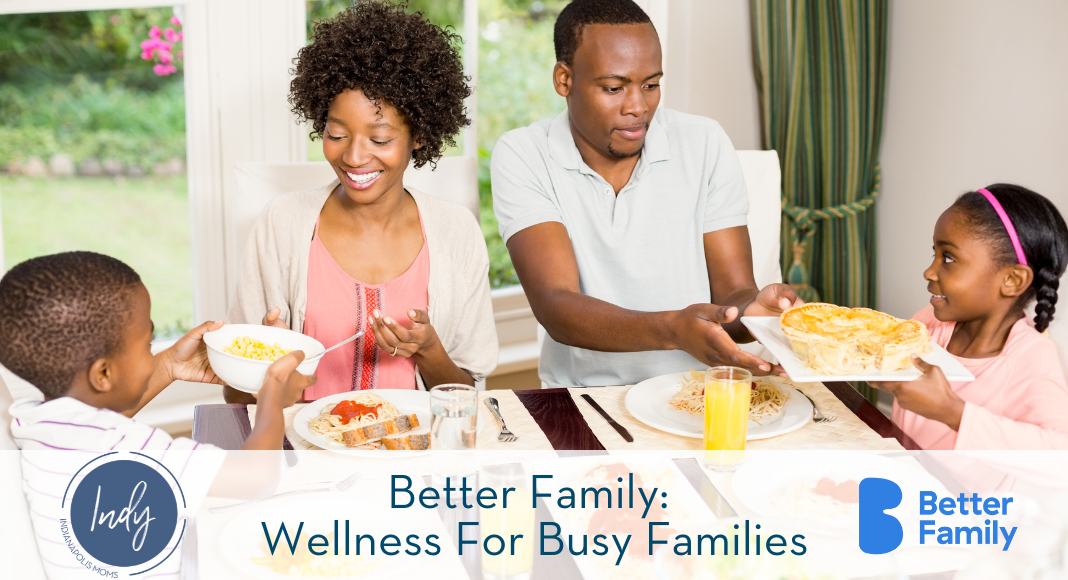 ---
Tell us your story! What exactly is Better Family and how did you develop the idea?
Better Family was created by three dads – Matt Hasbrook, Chris McMullen, and Phil Enck. All three of them were becoming increasingly concerned about their family's health and nutrition, and were frustrated in their search for multivitamins to benefit not only their children, but themselves. They knew there had to be a better way, and Better Family was created. They began national distribution in November of 2021.
"My own story began when I was a teenager and became an extreme nutritionist due to my participation in football and wrestling," said Hasbrook. "I became passionate and well versed in nutrition to gain weight for football or to cut weight for wrestling. I used healthy nutrition as a competitive advantage to close the talent gap between my peers and me." Along with Hasbrook's experience, McMullen is a PharmD with 25 years of clinical naturopathic, medical, and pharmaceutical experience. Enck is a vitamin and supplement enthusiast with skills in distribution and sales. Better Family is also supported by a diverse team of medical experts and a scientific advisory team.
Why would a family need to consider a multivitamin?
Families need to consider a multivitamin because quality vitamins and nutrients are a challenge to consume on a daily basis, says Hasbrook. "The American diet has been tainted by capitalism and mass production. Refined carbs and sugars, highly caloric foods, tasty treats and sugary beverages dominate the shelves of American pantries and refrigerators."
Almost no one is getting the recommended servings of fruits and vegetables, but Hasbrook explains that Better Family can provide you a multivitamin supplement as a version of low-cost health insurance for the family. "For $1/day for an adult, $0.50/day for a kid, $0.25/day for a toddler, a family can obtain most of the FDA recommended vitamins and nutrients," says Hasbrook.
What are the benefits of a liquid multivitamin, especially when it comes to kids?
"Liquid vitamins do not require mechanical breakdown or digestion like pill or tablet vitamins," says Hasbrook. "Liquid can be absorbed directly into the bloodstream, skip the digestive system and have higher bioavailability which leads to greater efficacy." He continues by saying that kids are notoriously difficult when it comes to eating fruits and vegetables, and it can be even more challenging for kids to swallow pills. Hence the liquid multivitamin.
Hasbrook says that Better Family's liquid vitamin tastes great and allows for "taste control" by putting the liquid under your children's tongues, in water, or in their favorite drink or yogurt. "The ability to titrate dose (or dose individual family members by age and size), also helps busy parents streamline their family's health routine and save time."
What essential vitamins does Better Family provide and what are their benefits?
Liquid Daily has nearly twenty vitamins, minerals, and nutrients of the highest form and quality, says Hasbrook. "From precursor hormone Vitamin D3 to Retinol forming Beta Carotene, to collagen fiber and bone forming nutrients, Liquid Daily provides a plethora of health benefits from nursery to nursing home."
For a full ingredient panel, click HERE.
Life is busy! And with school starting up, we know that our schedules will fill up quickly too. We love the idea of the subscription-based model Better Family offers! Tell us the benefits of your subscription options as well as how it compares to others that are out there.
The founders of Better Family believe the subscription model is the way of the future. Also, the vitamin and supplement market is vast and confusing. "We want to provide busy parents a trustworthy and dependable source of the utmost quality because we wanted the same product for our own children and we could not find anything that was not a sugary gummy, or cumbersome number of bottles, vials or powders to consume," says Hasbrook.
They built an algorithm so that when you sign up for the Better Family vitamin, you receive the product based on how many members of your household are consuming it. They also wanted to make it easy to pause or cancel the subscription anytime, ensuring customers only get the product when they want and need a refill.
More information about Better Family's subscription-based model can be found HERE.
Where can families learn more about Better Family?
Visit their website at BetterFamily.com! They have an entire Wellness Center with a variety of information about optimizing your family's health.
"Frankly, we hope to alleviate some of the guilt that parents feel when busy schedules don't allow for well-prepared, home-cooked meals that offer a variety of vegetables and fruits," says Hasbrook. "We offer a path to wellness for busy families."
---
Better Family's Mission
We're on a mission to help you fill the gaps in your family's diet with one liquid multivitamin, safe and effective for all! Better Family is a Replenishment Subscription – meaning your orders are delivered and billed on a custom schedule fit to the size of your household. Better health. Better immunity. Better focus. Delivered.
---