As moms, we tend to put our children and partners first. But this October during Breast Cancer Awareness month, Indianapolis Moms and IU Health Saxony Hospital is here to remind you to make your breast health a priority. Ashley Poe, manager of the Imaging Services Department at IU Health Saxony in Fishers, talked with us about breast cancer risk factors, the importance of getting a mammogram, and breast cancer myths.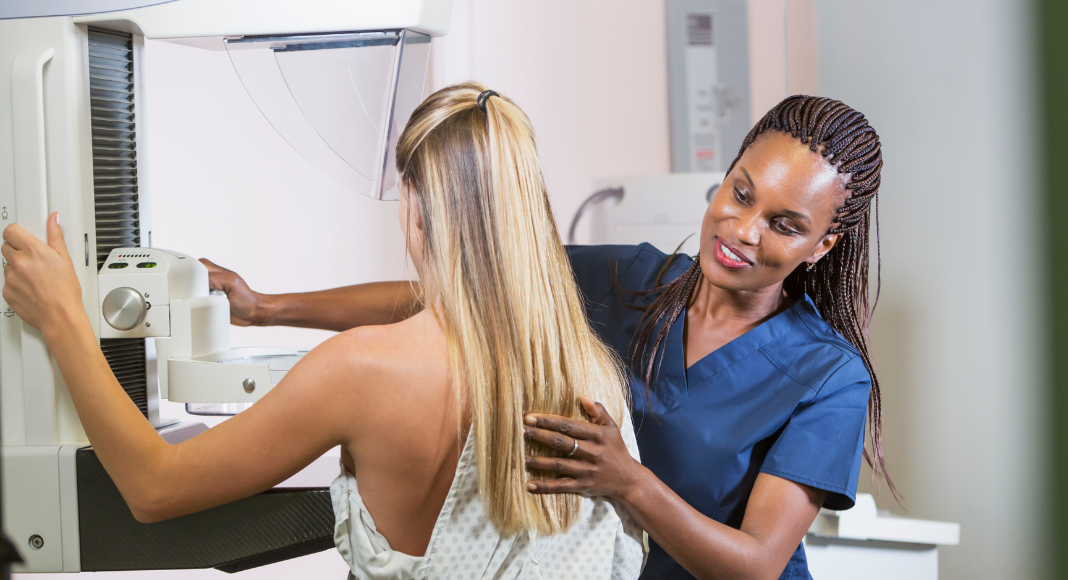 ---
What are the symptoms and risk factors of breast cancer and how can it be detected early?
Poe says the symptoms of breast cancer include a painless lump, thickening or swelling of the breast, irritation or dimpling of breast skin, and nipple retraction. She says early breast cancer can be symptomless. "The best way to detect breast cancer is by scheduling routine screening mammograms starting at age 40 at a frequency based on your level of risk," says Poe. "If you have questions about your level of risk, schedule a visit with your primary care provider. Getting a regular mammogram helps the radiologist see subtle changes over time. The overall goal of this is to catch breast cancer at the earliest stage, oftentimes prior to feeling a lump in the breast."
What are the screening mammography recommendations with the Covid-19 vaccine?
This is a really important question as we continue to navigate the pandemic, because screening mammograms and COVID-19 vaccines are both very important for your health. Poe says, "Some women who receive the COVID-19 vaccine develop swollen lymph nodes under their arm on the same side as their vaccine injection. This is the normal immune reaction to a vaccine." These swollen lymph nodes usually return to normal on their own in a few days or weeks.
To learn more and get answers to your questions: Screening Mammography & COVID-19 Vaccine: What to Know
It's my first mammogram. What should I expect/what does the process look like?
Your mammogram appointment will be very similar to other doctor's appointments, says Poe. The technologist will take you to a changing room to put a gown on, obtain your breast history and answer any questions you may have. Getting appropriate history will give the radiologist important information when reading your mammogram.
"Once in the mammography room, the technologist will obtain a couple of images on each breast," says Poe. "Typically, this means each breast will be compressed a couple of times. For screening mammography, your results will come to you via mail."
We understand the baseline age to start getting mammograms is 40 years old. When should a woman schedule a mammogram before turning 40?
Women should meet with their primary care provider to discuss their level of risk for breast cancer and when it would be best for them to start getting mammograms. "Each person is different and requires a personalized approach to their screening care. There is no proven benefit to beginning screening mammography prior to age 40 for people with no known genetic risk factors for breast cancer," says Poe. "Having a first degree relative diagnosed with breast cancer at 40 or before could result in provider recommendation to begin screening prior to 40 years old."
I've heard a lot about dense breast tissue. What does it mean and why is it important?
Poe says having dense breast tissue is common and about half of the population has dense breast tissue. She says it is more common in younger and thinner women. "It is important to be aware if you have dense breast tissue. It can limit the sensitivity of your mammogram and it does slightly increase your risk of developing breast cancer," says Poe. "If you have dense breast tissue, you may be eligible for supplemental screening. At IU Health, we offer whole breast automated breast ultrasound (ABUS) and Abbreviated Breast MRI as supplemental screening options."
Will breast implants affect my mammograms?
Poe says that yes, those with breast implants have additional images taken — "implant displaced images" and "implant included images." It is difficult to image all of the breast tissue when implants are present. Poe does stress that it is safe to get a mammogram with breast implants.
What is BRCA? What are BRCA mutations?
BRCA, which is an abbreviation for BReast CAncer gene, are genes everyone has, says Poe. "A BRCA mutation is when the BRCA gene becomes mutated. This mutation can increase your risk for certain cancers, including breast cancer. BRCA gene mutations are inherited from a parent, and when a parent carries the mutated gene, there is a 50% chance the gene will be passed to their child."
What are some breast cancer myths that you would like to clear up?
There are a few myths about breast cancer that Poe would like to emphasize are just that  – myths. First, many women believe they do not need mammograms because breast cancer doesn't run in their family, but research shows most breast cancers are caused by environmental rather than genetic factors. The second myth Poe would like to debunk is that many women believe breast cancer is painful, which is a very common misconception. Most breast cancers are painless. And last but not least, Poe says not all lumps are breast cancer, but it is very important to have any new lump evaluated by your physician and mammography.
---
About Ashley Poe, Imaging Services Manager with IU Health Saxony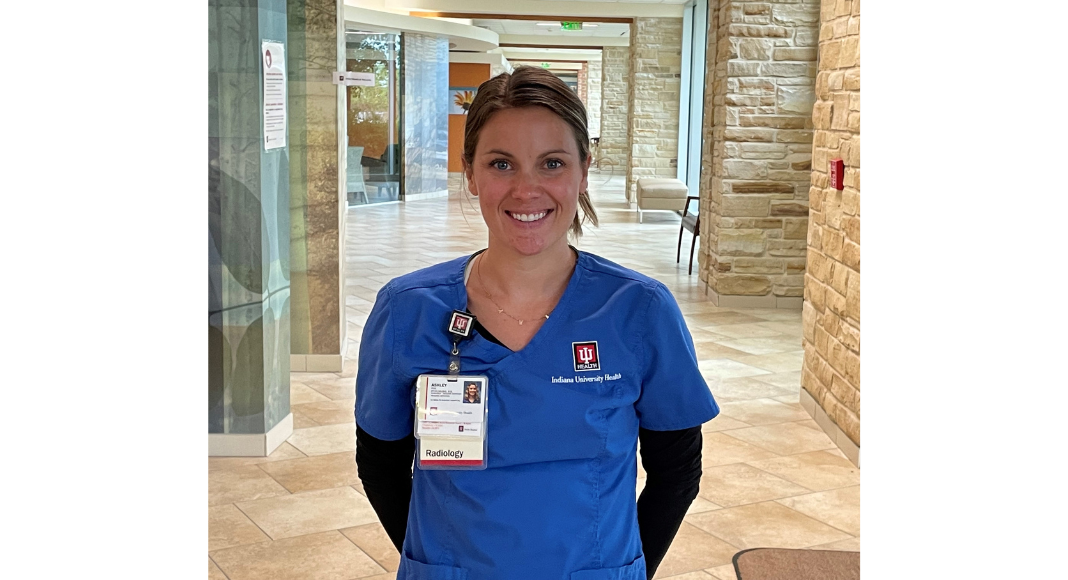 Ashley Poe is the Imaging Services Manager at IU Health Saxony, soon to be IU Health Fishers. She is a 2010 graduate of the IUPUI Radiography Program. She started her career as the main mammographer at IU Health Saxony Hospital in 2011. Before becoming manager, Ashley worked as mammography team leader and mammography supervisor at IU Health Saxony. Outside of work Ashley loves traveling with her husband and two sons, who all competitively race motorcycles.
Named among the "Best Hospitals in America" by U.S. News & World Report for 22 consecutive years, Indiana University Health is dedicated to providing a unified standard of preeminent, patient-centered care. A unique partnership with Indiana University School of Medicine – one of the nation's leading medical schools – gives our highly skilled physicians access to innovative treatments using the latest research and technology. Learn more at iuhealth.org.