When your child has to undergo a procedure or surgery at Riley Children's Health, did you know there is a specialized team available to help make you and your child's experience as comfortable as possible? It's called the Child Life Program, and we recently spoke with Maggie Huffman, Child Life Supervisor with Riley Children's at IU Health North in Carmel, about the program and how they help in numerous ways.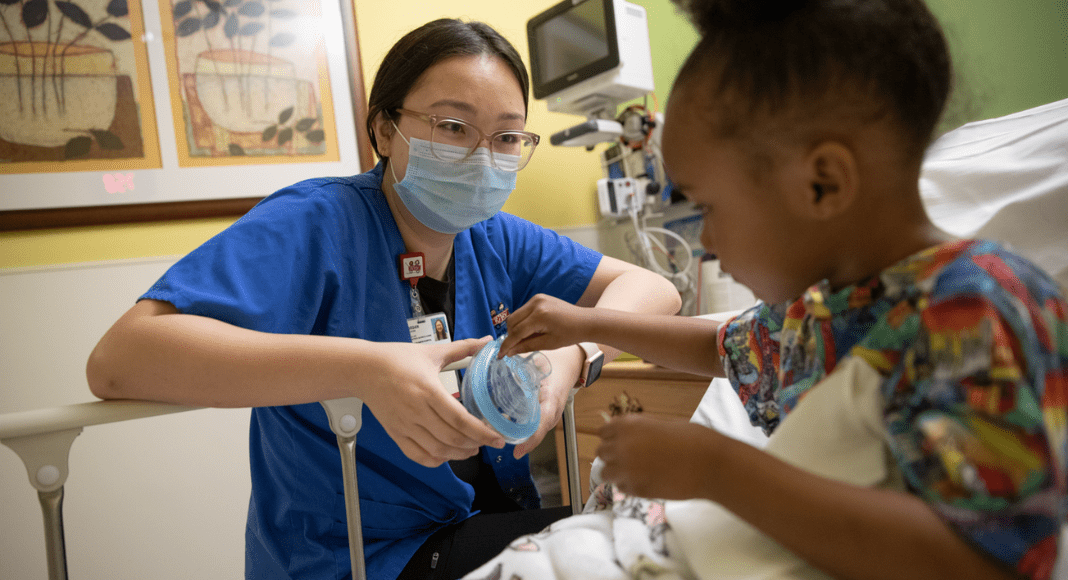 ---
Please give us an overview of the Child Life Program at Riley Children's and its purpose. Is the Child Life Program available at both the downtown and the northside Riley Children's locations? What is the Child Life experience like at IU Health North?
First and foremost, the Child Life Program at Riley Children's helps minimize anxiety your child may have about upcoming treatments, tests, or hospitalizations. A Child Life Specialist – a certified professional with advanced education in fields relating to child life, child health, and child development – will work with you and your healthcare provider to promote continued growth, diversion and distraction, self-expression, freedom of choice, normalization and socialization. You can expect your child to stay busy during therapeutic interventions with play – something all children love.
"We believe in the importance of play, and we strive to provide your child with opportunities to keep them moving toward developmental milestones and practicing emotional expression through play," says Huffman. "Children learn socialization, communication and coping skills through play and interventions facilitated by knowledgeable, understanding specialists who care about their needs."
Child life services are available at both the Downtown and the IU Health North campus. Huffman says, "At the IU Health North campus, the Child Life team is comprised of five compassionate, knowledgeable and dedicated Child Life Specialists. Our team serves children and families in the Emergency Department, Radiology, Infusion Clinic, Hematology/Oncology Clinic, Surgery, inpatient pediatric, and pediatric intensive care unit."
What does a Child Life Specialist do?
"Child Life Specialists promote effective coping through play, preparation, education and self-expression activities," says Huffman. "They provide emotional support for families, and encourage optimum development of children facing a broad range of challenging experiences, particularly those related to healthcare and hospitalization."
Child Life Specialists help in the following ways:
Medical play/preparation. They help children learn about their upcoming procedures and correct any misconceptions they may have. Using play and developmentally appropriate learning tools, they can help children prepare for a procedure step-by-step.
Procedural support. They help children and families practice coping skills during a procedure. Using various distraction techniques, Child Life Specialists divert your child's attention from pain and lessen their anxiety. Each child has a unique set of preferences, from music and books to bubbles or toys.
Psychosocial and emotional support. They help children and families understand and express their feelings about the challenges of hospitalization and/or treatment.
Developmentally appropriate activities. They encourage creative expression and promote a sense of accomplishment by providing activities based on age, ability, interest and needs.
Does the Child Life Program put on special events for patients and their families?
Yes! Meg Sanders is the special events coordinator for the Child Life Program, and partners closely with the Riley Infection Prevention team to ensure all events are safe and up to date with the latest protocols, for both the Downtown and IU Health North campus. When a child is hospitalized or receiving treatments, it's only natural that family entertainment often takes a backseat to focus on recovery. Huffman says your child may not be able to physically attend a ballgame or visit a museum, but the Child Life Program can often bring these things to Riley Children's.
Huffman says, "Throughout the year, the activity rooms on each unit at both campuses and in the Child Life Zone downtown is filled with special events for patients and families. These events are made possible through the generosity of sports and entertainment celebrities, community outreach organizations, museums and corporations. Inpatients and outpatients visiting Riley Children's on the day of an event are welcome to attend."
Participating in special events can enhance your child's healing process and relieve stress for everyone in the family. "Each event begins with freedom of choice: do you want to participate and what do you want to do once you are there?" says Huffman. "These events are organized for your child's entertainment and your child can choose to opt-in or out, depending on his/her/their preference. Even the simplest choices may help your child feel more in charge at a time when life may feel beyond their control."
How can a parent request Child Life services with Riley Children's?
A parent is always welcome to request Child Life services, and it's easier than you think – parents and caregivers can simply ask their health provider to consult a Child Life Specialist. And Huffman says, "if possible, it's helpful to know in advance that a child may need extra support from a Child Life Specialist during their hospital encounter." Physicians, healthcare providers, or family members can contact the Child Life Department by sending an email to [email protected].
---
About Maggie Huffman, CCLS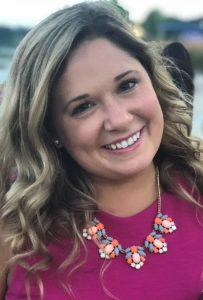 Maggie Huffman is a certified Child Life Specialist and has worked for Riley Children's Health for 11 years. She lives in Indianapolis with her husband, 2 year-old daughter, and miniature Goldendoodle. They are big fans of local Broad Ripple restaurants, parks, and  coffee houses! They believe Saturdays are meant for fun and can often be seen hanging out with family and friends.
---

Riley Children's Health at IU Health North provides nationally ranked pediatric care alongside the most highly skilled physicians and nurses in the state. Whether your child needs primary, specialty, inpatient or emergency care, we are here to support you and your family. Learn more at RileyAtNorth.org.