After a year of having chemotherapy for two days every four weeks, my dad's Large B Cell Lymphoma had shrunk. We wore commemorative t-shirts and celebrated with our family and friends. We will forever be 'Team Nick'.
The month of September is lymphoma awareness month. There are an estimated 825,651 people living with, or in remission from, lymphoma in the United States. (672,651 people with Non-Hodgkin lymphoma and 152,671 people with Hodgkin lymphoma) The American Cancer Society estimates about 80,470 people will be diagnosed with Non-Hodgkin Lymphoma in the year 2022. Overall, the chance that a man will develop Non-Hodgkin Lymphoma in his lifetime is about 1 in 42 and for a woman, the risk is about 1 in 52.
1 in 42 men. My dad is that 1 out of 42 men. The one man that in my eyes, is untouchable. The one man in my eyes that can do anything. The one man in my eyes that is invincible. However, in that moment and moments after his diagnosis, I was reminded that he isn't invincible. He is very much human, even though I'm still not convinced that he isn't a superhero by night.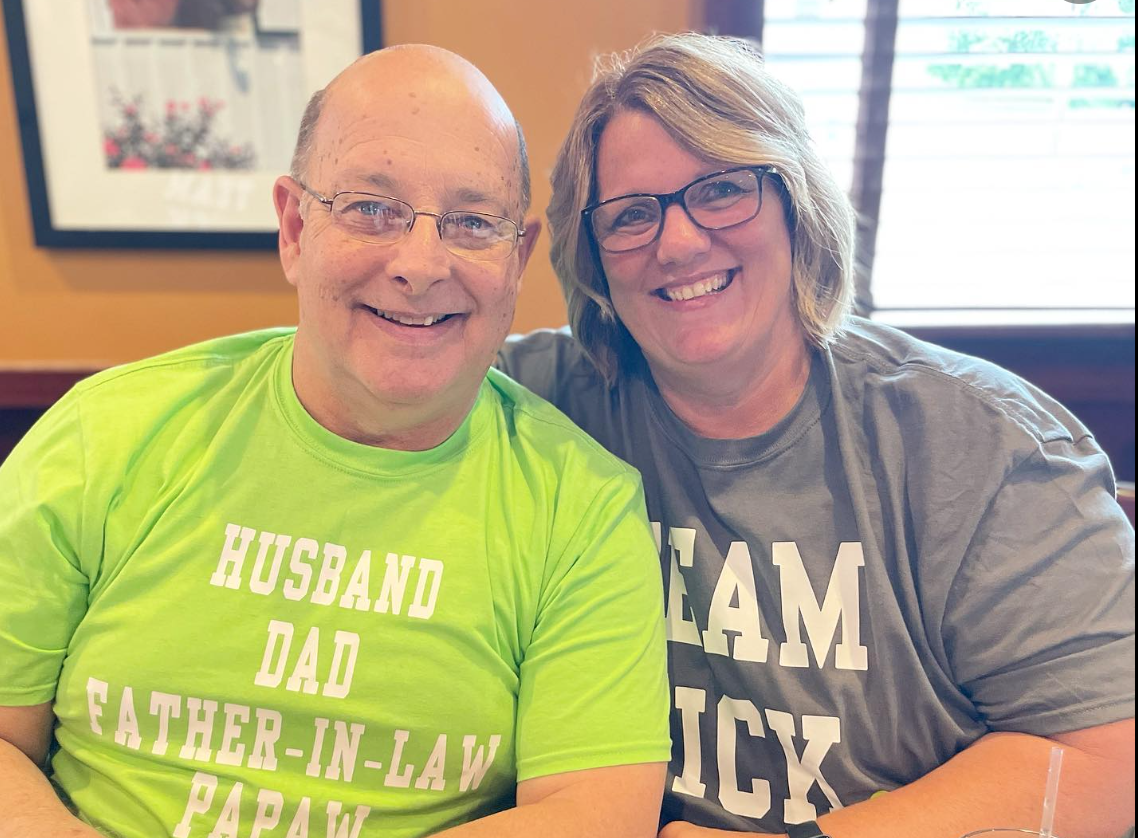 In 2017, my dad, Nick Bauer, was diagnosed with follicular lymphoma in multiple spots on his body after discovering a quarter-sized lump on his neck. Follicular lymphoma is a type of Non-Hodgkin Lymphoma. At that point in time, the lymphoma was extremely slow acting, if even at all. Non-Hodgkin Lymphoma has many different subtypes which can either grow quickly or slowly. After an unsuccessful biopsy, my dad's lump was removed and a CT scan was performed that showed the lymphoma cells in his lymph nodes, but no organs were affected.  
The Leukemia and Lymphoma Society states that lymphoma is a type of cancer that starts in white blood cells and generally develops in the lymph nodes and lymphatic tissue found in organs such as the stomach, intestines, or skin. In some cases, it can even be spotted in the bone marrow and blood. On the American Cancer Society website, it teaches us about our lymph system and how it is made up of mainly lymphocytes, which is a type of white blood cell that helps our body fight infections. There are two main types of lymphocytes, or white blood cells: B cells and T cells.
B lymphocytes (B cells):

B cells normally help protect the body against germs (bacteria or viruses) by making proteins called antibodies. The antibodies attach to the germs, making them for destruction by other parts of the immune system. 

T lymphocytes (T cells):

There are several types of T cells. Some T cells destroy germs or abnormal cells in the body. Other T cells help boost or slow the activity of other immune system cells. 
Lymphoma cells could develop in just one place or in many places in the body. The more spots that show up, the higher the "grade" rating you will have. The higher the grade rating, the higher the possibility it is for a different cancer to show up. At the time of my dad's diagnosis, he was a grade 3 because only his lymph nodes were impacted, not any organs. Due to how slow-growing follicular lymphoma is, my dad's doctor believed that he was very lucky to only have lymph nodes impacted and the cancer being so slow growing, that chemotherapy would do more harm than good to his body. 
Fast forward to three years later in 2020, my dad noticed a larger lump suddenly appear on his neck. Within only a few days he was in the hospital having the lump removed. It was found that the node affected contained Large B Cell Lymphoma. Large B Cell Lymphoma is a type of Non-Hodgkin Lymphoma that is aggressive and also affects the B lymphocytes. Large B Cell occurs in both men and women, although it is slightly more common in men. Large B Cell can occur in childhood, however, their incidence generally increases with age, as roughly half of patients are over the age of 60 years and 30% are over the age of 75 years.
After surgery, it was decided that my dad would begin two days of chemo every four weeks. After a year of treatment, it was found that the areas of concern affected by Large B Cell Lymphoma had shrunk and they were undetectable with a CT scan.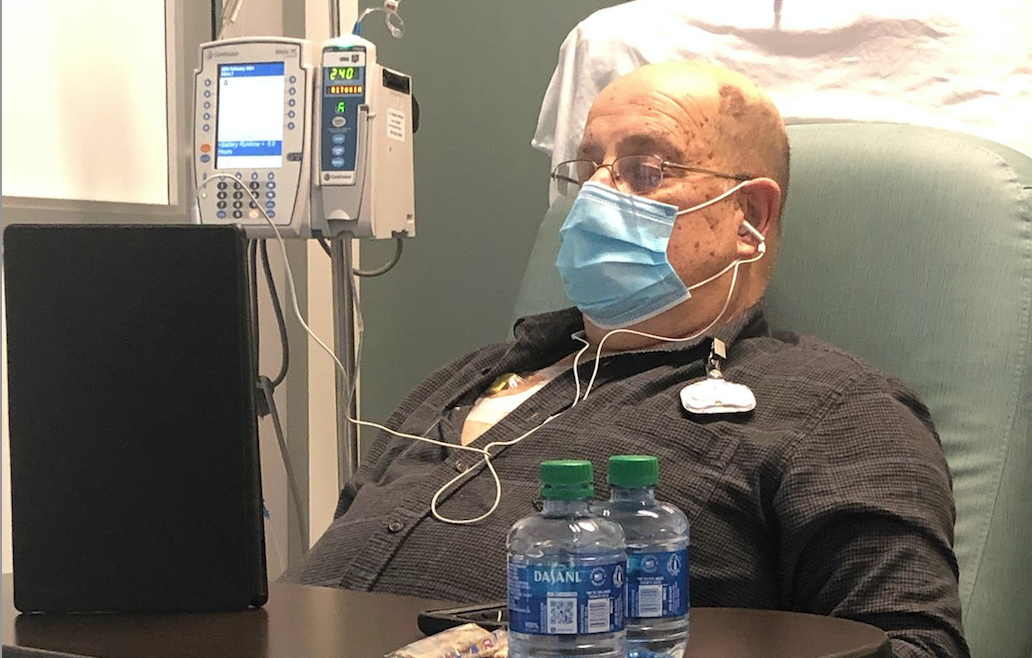 Currently, he is on a two-year maintenance schedule of chemo every eight weeks and the amount of chemo is reduced. He is doing well and preparing for a much-deserved trip to Italy with my mom in mid-October. 
I asked my dad if there was anything he'd want to share with anyone going through treatment for lymphoma. He said,
"Study and learn about your disease. Have a doctor that you can really join with and trust. I am being treated at Saint Elizabeth Cancer Center in Edgewood, KY. My medical staff is wonderful. 
I am so very lucky to have strong support from my family. I keep everyone updated and well-informed. Talk with people: family, friends, neighbors, those you know from work or church.
Faith is also very important. There is someone above who is just as sad about your troubles. He believes you can handle it. Pray for strength and guidance. Pray for your family that they may find peace and support. Pray for others that are dealing with the monster of cancer."
Although cancer has tried to prove that my dad is in fact human, I'm still not convinced. In my eyes, he will always be a superhero. The strongest man that I know.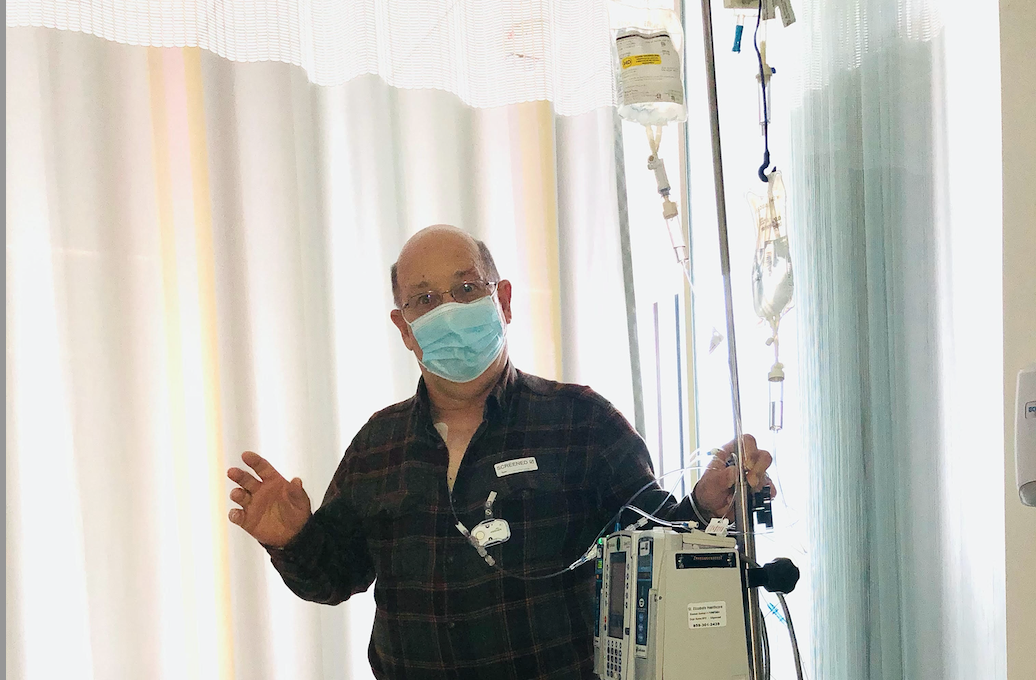 Please take care of yourselves. Be aware of what you are putting into your body and what you are surrounding your body with. Be aware of any changes in your body, internally and externally. 
If you are someone or know someone, who is battling lymphoma please know that you are not alone. Please visit this link for coping support like support groups, fertility support (post chemo), and many other resources.