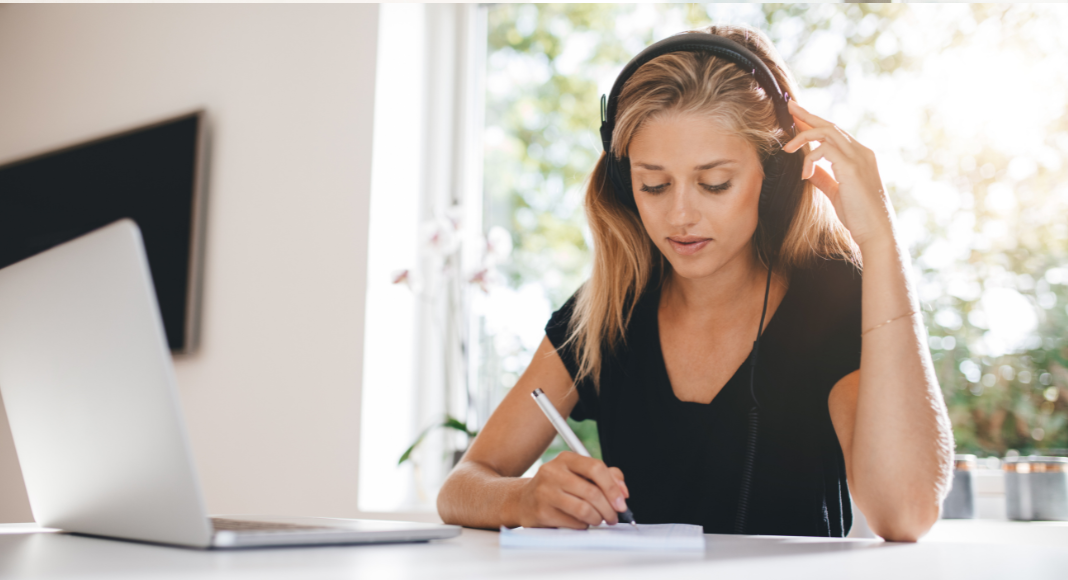 Over the past couple of years, I've had more conversations with friends and acquaintances on the topic of concentration than I can even begin to count. Maybe this is a product of my current stage in life and parenthood. It could be the seemingly inescapable clutches social media has over our daily lives. Or maybe it's just being a human on Earth in the 2020s because, let's face it – it's been a lot. Whatever the reason (or more likely – reasons), I have been having exceptional difficulty finding my focus, and it seems I'm not alone.
For the final decade of my many years of schooling, I frequently turned to music to help me focus during study sessions. I was the girl who wouldn't dare hand over her iPod to place on shuffle at a party because it was about half full of classical music. (well, and show tunes.) Yikes. I spent countless hours on bus rides for soccer trips blasting piano sonatas through my iPod headphones (likely much to the detriment of my future hearing) to help limit distractions. This method seemed to work well for me, but as I stepped away from the student role, I almost forgot how much music could help me find my focus.
In recent months, my new headphones have become my best friend. I've rediscovered how much the right playlists can help bring back my focus when I feel like my brain is trying to jump a million different places at once. Whether I'm trying to work through a long list of tasks at work or writing my latest blog post, you can find me with my headphones on. And this – along with ensuring regular exercise, appropriate mental health care, and a mostly healthy diet – seems to be helping. Still working on getting adequate sleep, but hey, you can't win 'em all.
In an attempt to hopefully help you find your focus too, here are some of my favorite Spotify playlists for concentration:
My number one go-to genre when I really need to focus is solo piano. When I'm feeling distracted at baseline, music with many different instruments coming in and out can add an extra level of chaos to my brain. So I like to keep it simple. This Peaceful Piano playlist is my favorite. Another great one for concentration is Piano in the Background. This Peaceful Guitar playlist is a nice way to mix things up with a different solo instrument. If you are looking for a more typical classical music list, I find this Mozart Study playlist to be a good one.
This one is actually another playlist of piano music. I stumbled on it in a quest to expand my music library while struggling to write. I have really enjoyed this find! The Writing Hour is an instrumental playlist that is about an hour long. It can be an excellent go-to when you want to work for a set hour without constantly feeling distracted by the need to check the clock.
Five hours of peaceful music to start your day on the right foot. Some of these songs do have lyrics, but I typically don't find them too distracting.
Relaxing jazz. What more do you need to know?
Acoustic piano and guitar covers (without vocals) of so many songs you love. This playlist is amazing. Since many of these songs are recognizable, sometimes I let myself get a little too distracted singing the lyrics in my head (or out loud). But for all other times I don't need to hyper-focus, I 100% recommend it.
If you want to feel cool and also improve your concentration, this playlist for concentration is where it's at.
One of my favorite playlists for concentration is actually just the soundtrack from the movie The Holiday. It is entirely instrumental and SO. GOOD. If you racked up the total hours, I have probably spent several days of my life listening to this one. Along these same lines, almost anything by Hans Zimmer will be fabulous.
As the name suggests, this Deep Focus playlist full of ambient and post-rock music is fantastic when you need help concentrating.
Do you have any favorite playlists for concentration we need to know? Share in the comments below! Happy listening!