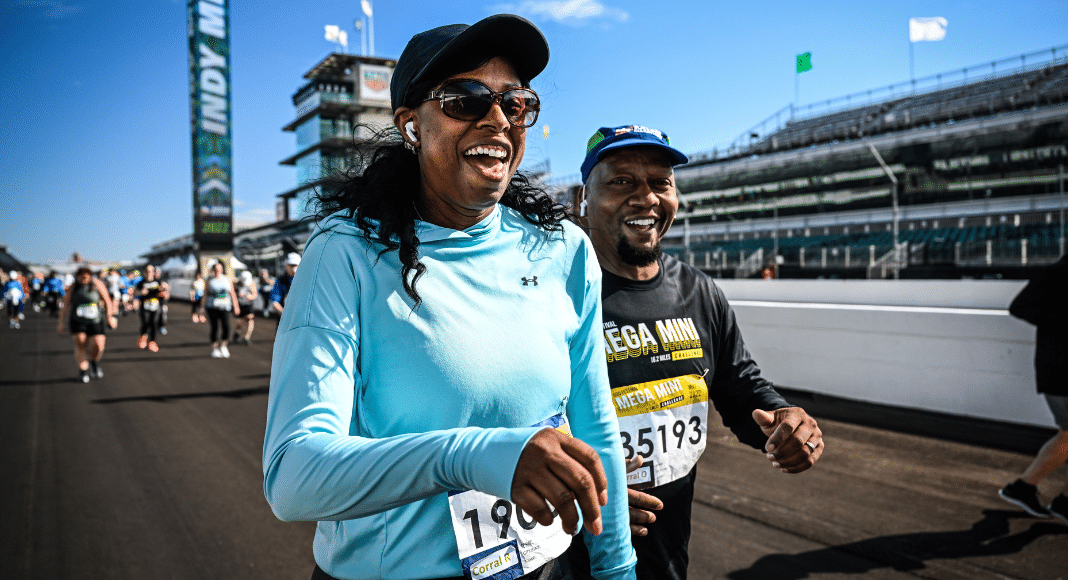 As mothers, we instinctively put our families first. And while it brings us great joy watching our babies grow and become these amazing little humans, it is our own goals and activities that get put on the back burner. This year, several Indianapolis Moms have committed to taking on a greater challenge – running the OneAmerica 500 Festival Mini Marathon. The training will be challenging both mentally and physically. But the visualization of crossing that finish line on May 6th is exciting.
Here are the stories of Indianapolis Moms Who Run:
It has been 10 years since I trained for my last big race. I remember that time of my life so well as I was a new mom of two and ready to do something for myself. So I committed and trained hard for my first half marathon. Training with young children isn't easy, but I made it work. Some of my favorite memories are strapping my baby into the jogging stroller and hitting the pavement for miles at a time while she napped away. But it was the race itself that was unforgettable. The vibe, ambiance and the overall nostalgia of the experience will forever be imprinted in my mind. And I completed the race in just over two hours. Now as I inch my way through my last year of my thirties, I am committed to training for the Indy Mini again. Because I can do hard things and this I will do for myself.
Kait B.
---
While I've never been much of a runner, I did my first Mini in 2009 about a year after I moved to Indy and was immediately hooked. The camaraderie, the energy, the lap around the track … there are so many reasons why May in Indy is magical, and I would argue the Mini is one of the top. But, after completing four more Minis over the next six years, life took a turn for me. I was diagnosed with breast cancer in October 2015 and, after several years of treatment, had my miracle baby in October 2019. So it would be an understatement to say that training these days is so much harder. My body has been through a war and doesn't perform like it used to, which is still depressing for this former two-sport collegiate athlete to admit. Also, being a working mom doesn't leave me much time just for myself. But I'm fully committed to training for the Mini this year.  I want to prove to myself – and show my daughter – that just because you've been knocked down, just because your life has changed, it doesn't mean you're out forever. I will run. I probably will walk too. But I will finish 13.1 miles in May.
Brynna B.
---
Running is my stress release. It's my time where I can shut the rest of the world out, play some Taylor Swift, and just go. I'm not fast, I don't break any records, and probably usually look like I'm one mile from death. But it's mine. The month of May is magic in Indy and I love kicking the month off with this race! It's my 6th time running the mini and every year I look forward to running on the track and then crossing that finish line!
Erin L.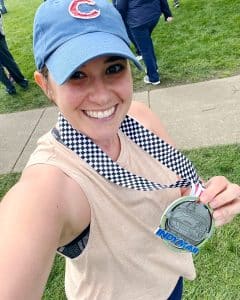 ---
I was a runner in high school but I somehow lost my love of running while trying to build my career and grow my family. I got back into the habit a couple of years ago but also felt kind of "stuck" around the 3-5 mile mark. During this year's race, I'll be 40 and I want to prove to myself that I can push beyond my comfort zone. I've also been focusing more on my overall health the last few years. I also want to set a good example for my kids by making healthy habits a part of our family routine. I haven't trained for a race ever as an adult but I'm excited to participate in the excitement of the largest half marathon in the country!
Kelly S.
---
I've always thought of myself as an active person, growing up playing all the sports in a small town environment. But I was never one to sign up for long distance running sports. In 2018, the year after having my first baby, I decided I needed a goal to start getting active again. I ran the Miler Series the first year, and it was great motivation to keep my miles up, while focusing on improving my pace. I didn't even have an end time goal for the race, as I did not know what to expect. After completing the necessary training, I completed that first Mini and I was hooked. Every year since having a baby, I have made it a goal to train for the next available Mini Marathon. I have even gotten to the point where I run other local fun runs and half marathons. This training time is not only for the improvement of my physical well being, but also my mental health. This time is uninterrupted, no kids, no chores, no responsibilities, as it is dedicated just for me. One of the biggest reasons I run though, is for the three little boys standing on the sidelines at every race I run, cheering me on with signs, smiles, and the "Go Mommy" chants I hear as I run past. I will never be the fastest runner in the race, but I know I am doing something to improve my life and set goals. And that's perfect for me.
Sarah B.
---
I've never ran the Mini. I've said I'd do it in the past, but then get in my head and psych myself out. Last year, along with my sister, I completed the 5K portion. This year I want to complete the Mini and go the full 13.1 miles. My biggest why is that I want to show myself that I can do hard things. I've never been a runner. I'm not an athlete. Until recently I wouldn't even say that I liked running. But I do now. After having my two kids, my body isn't what it used to be, and I'm still coming to terms with that. However, when I run, I can't accurately articulate how good I feel about myself and what my body is doing. Sweat running down my face, legs fatigued and breathing heavy. I feel proud of my me and proud of what my body can do. I'm not thinking of the weight I want to lose or the stretch marks across my belly. My only thoughts are of how magical it is to do something I thought I'd never do. This year I won't psych myself out, but you'll see me and all my magic crossing the finish line.
Chandler B.
---
Whether you walk, run or a combination of both – Indianapolis Moms are cheering you on! And we will see YOU at the finis line!
For more information about the OneAmerica 500 Festival Mini Marathon and to sign up today, visit their website here.