As we start to say goodbye to summer and move into fall, a lot of families in the Indianapolis area are transitioning and preparing for a new season of youth sports. And with a new sports season comes the possibility for sports injuries. Parents and caregivers – take notes! The Riley Children's Health Pediatric Orthopedics Walk-In Clinic at IU Health North Hospital has been open for a year, and we recently caught up with Dr. Gunnar Tysklind to remind you where you can go if your child suffers a sports injury.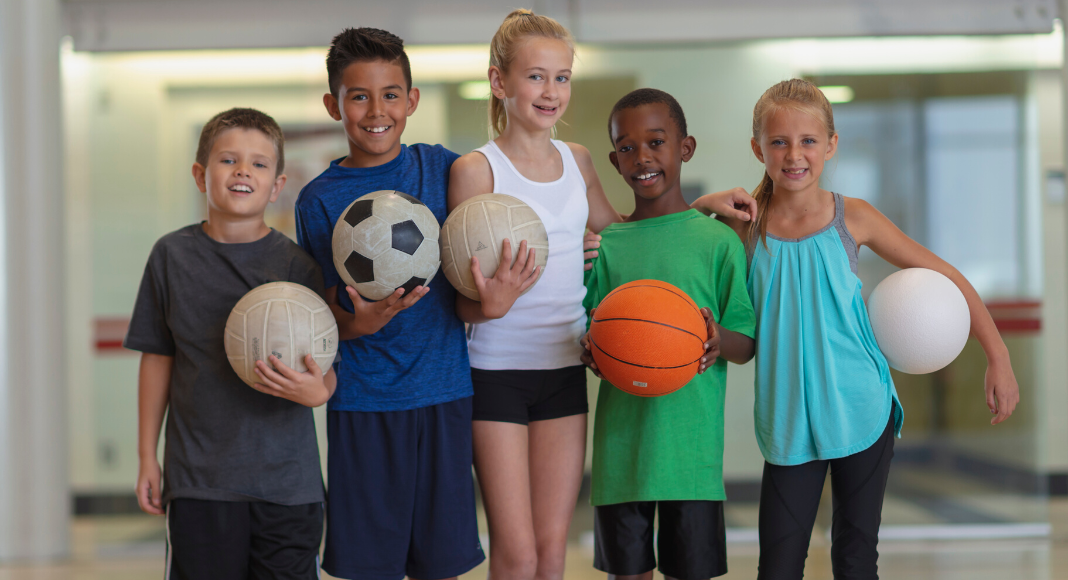 ---
Tell us about yourself! How long have you been with Riley Pediatric Orthopedics & Sports Medicine?
Dr. Tysklind grew up in the area and went to medical school at the Indiana University School of Medicine. He completed a residency at the Cleveland Clinic – Akron General as well as a fellowship at Boston Children's Hospital.
"I've been on faculty now for close to two years. This is my first job coming out of training," says Dr. Tysklind. "I'm excited about building the sports presence here at Riley Children's."
Since opening last year, can you provide an update on the pediatric walk-in clinic at Riley Children's Health at IU Health North? Are virtual visits still an option?
The walk-in clinic has been very well received by families around the area since it's opening a year ago. Families appreciate the quick wait times, and Dr. Tysklind says he and his team still aim to see patients on a timely basis, getting them in right away to begin evaluating acute injuries, whether they are sports related or not. Parents who are not aware should know that the walk-clinic has an X-Ray machine in the office, which helps patients get a quick scan and immediate treatment. Dr. Tysklind also says they are able to place casts in the office if needed and can help direct a patient to the correct providers if someone isn't immediately available.
"We offer walk in clinic hours from 9:00 am-3:30 pm, and like walk-in clinic implies, you don't need an appointment," says Dr. Tysklind. And though virtual appointments are not available for the walk-in clinic itself, the Riley Pediatric Orthopedics & Sports Medicine department does still have virtual visit options for follow-up appointments and existing appointments already scheduled.
When we last covered the walk-in clinic, you educated parents on how they can support their child's health as they play youth sports. For new parents just diving into the world of youth sports this year, can you provide the key points again for us?
Dr. Tysklind recommends that you allow your child to find a sport that they enjoy. As a parent or caregiver, you may reminisce about a sport you played in your youth or you may watch a sport on TV and want your child to try it, but Dr. Tysklind recommends letting your child experiment with sports to figure out what they like and don't like. A good way to get them acclimated could be having them try a sport with a friend.
"Other things I stress with new parents getting their kids into sports is having an open source of communication," says Dr. Tysklind. "During the season, even after the season. Having your kid available to talk about new pains that come along, frustrations that come with the sport or even just questions about the sport itself. I think it's really important."
We also talked about "sports specialization," where kids play a year-round sport, increasing their chance for injuries. How important is it for a child to take a break from their sport?
Dr. Tysklind says this is still a hot topic, and if a parent hasn't researched this, they can find studies on sports specialization that have come out within the last five to ten years. Sports specialization, playing a sport year-round, used to be more common in high school aged teens and older, but according to Dr. Tysklind, this is seen in younger children now, elementary and middle school aged children. This is due to specialized club teams that take no breaks throughout the year.
There are studies that have been published looking at elite athletes and how they got to where they are. These studies consistently show that the majority of these athletes were multi-sport athletes. The thought behind this is that by participating in different sports throughout the year, various body parts take a much needed break from the constant, repetitive stress. For example, a baseball player could switch to soccer to give their elbow and shoulder a break. Dr. Tysklind says a lot of people think their child has to play one sport year-round to become the highest level, but that's not necessarily the case.
"There's such an advantage to taking a period either off of that sport completely, or moving to another position, or even just taking a break in total, because it allows the body to recover, and allows you to develop more critical skills within another sport than can enhance overall athleticism."
Is there anything a child can do to prepare as they are about to begin a sport they've never played before? Are certain stretches recommended for different sports as a warm-up?
To introduce a new sport to your child, Dr. Tysklind recommends watching the sport with your child first, whether that's on TV or watching other kids play the sport at a nearby practice field. Also, play the sport together in your yard or at the park, doing the basic moves to build interest. He also recommends asking your child if they have any concerns or fears about getting into a sport. Building that communication is important from the start, even before the first practice begins.
Another key to preparation is doing research on the proper equipment your child will use. Making sure they are using the correct equipment – helmets, shin guards, appropriately fitting shoes – will go a long way.
"Getting kids to consistently stretch and do warm-ups is very difficult," says Dr. Tysklind. "Most young athletes want to go right into the fun stuff because the warm-ups aren't necessarily the most exciting but they are very important." He continues by recommending five to ten minutes of warming up by doing a lighter version of the sport. It could be juggling the soccer ball around the field, jogging, light agility work, side to side motions, and sprints.
Dr. Tysklind says there are stretching programs that parents can find online for your child to follow along while they stretch. They're not long, but they are important to do three to four times a week to help maintain flexibility. "Flexibility in this young age group is extremely important, and can actually prevent overuse and injuries itself." We all know how fast our kids grow, but we may not know what is really going on inside their body. Kids' bones grow and while that is happening, the muscles and tendons are playing catch up. Stretching on a routine basis is very important.
What are the walk-in clinic hours and where can parents go to learn more?
The walk-in clinic is open to the public Monday-Friday from 9:00 am-3:30 pm. They currently do not have weekend hours but stay tuned! They are located at IU Health North Hospital in Suite 515 and Dr. Tysklind says check-in is seamless – just head to the front desk and tell them you're there for the Pediatric Orthopedic Walk-in Clinic and they'll take it from there. Learn more at RileyAtNorth.org.
---
Check out the full interview here and learn more about Riley Pediatric Orthopedics & Sports Medicine:
---
About Dr. Robert G. Tysklind
Dr. Robert G. Tysklind specializes in Orthopedic Surgery for Riley Pediatric Orthopedics & Sports Medicine. Dr. Tysklind earned his medical degree at Indiana University School of Medicine. He then completed a residency at Cleveland Clinic – Akron General and a fellowship at Boston Children's Hospital. Dr. Tysklind's primary location is Riley Pediatric Orthopedics & Sports Medicine, 11725 N Illinois St, Carmel IN, 46032. When he is not at IU Health North or seeing patients at the Riley walk-in clinic, he also sees patients at an office in Indianapolis.
---

Riley Children's Health at IU Health North provides nationally ranked pediatric care alongside the most highly skilled physicians and nurses in the state. Whether your child needs primary, specialty, inpatient or emergency care, we are here to support you and your family. Learn more at RileyAtNorth.org.