As a mom suffering from postpartum depression, Tracey McInnes made it a personal and professional goal to help other women through the dark fog that she found herself in. As a survivor of postpartum depression, she made that dream a reality when she became the Coordinator of the Women's Mood Disorder Program at Riley Children's Health, supporting programs at IU Health North, West, and Methodist hospitals. May is Maternal Mental Health Month and we recently spoke with her about postpartum mental health and the resources available to help.

Tell me about your role as Coordinator of the Women's Mood Disorder Program and the resources that exist for a mom who is struggling with mental health in the postpartum period.
"I am the Perinatal Mood Disorder Program Coordinator for Riley Children's Health at IU Health North, West, and Methodist hospitals. I conduct assessments with women and their families during the perinatal period," says McInnes. "I do a lot of work with pregnant women as well, through conception and typically through the first birthday." Due to the pandemic, postpartum mental health issues have been on the rise, so McInnes has been working with women longer than usual. Sometimes it stretches to when the baby is near 18 months old. "We usually see a mom go on their way around when their baby turns one, but if a mom needs help beyond that, we are here for them."
She also facilitates weekly support groups and trains all incoming IU Health nurses and social workers on "recognizing and helping women who are dealing with one or several mood disorders, while in the hospital setting, as well as in outpatient settings." At every IU Health hospital, a new mom is screened with the Edinburgh Postnatal Depression Screening (EPDS), given before discharge. If a woman scores twelve or higher on the screening, a referral is made to the program. But according to McInnes, help is still given "if there are concerns, no matter the score." She says obstetricians and pediatricians are getting better at using this assessment tool across the system to help struggling moms after leaving the hospital with their babies.
Her goal is to educate as many people as possible in the field and collaborate to help create each mom's unique care plan. She also helps with referrals to therapists, psychiatrists, and other support groups, including Postpartum Support International (PSI).
What are some questions to help moms identify when they might want to look for some additional support? What are some red flags? What are some lesser-known symptoms?
The following questions are always asked of a new mom in the first two weeks to assess how she is doing:
Can you sleep when the baby sleeps? And can you stay asleep?

Has your appetite been affected?

Are you able to let others take care of your baby to give yourself a break?

How do you feel about being a mom? Do you feel connected to your baby?

Are you giving yourself any self-care?
According to McInnes, at the most basic level, the mom needs to be assessed for her connection with her baby and if she is sleeping and eating. In those first two weeks, it's crucial to see if the mom has "that feeling where the light switch is turned on and the fog lifts." If that has not started to happen, McInnes steps in to help.
Beyond the typical red flags asked in the questions above, a red flag that is often misunderstood is intrusive thoughts. Intrusive thoughts are unwanted thoughts that can pop into your head out of the blue, without warning, and often involve some harm coming to your baby or yourself. "It's important to know the difference between suicidal thoughts and intrusive thoughts," says McInnes. "Intrusive thoughts are a normal part of the constant worry a new mother goes through and does not mean she's going to act on them." A lesser-known symptom of postpartum depression or anxiety is anger or rage. This is another completely normal symptom that McInnes can help a mom work through.
If someone is suffering, who should they reach out to first? Their primary care physician, their OB/GYN, or should they find a therapist or psychiatrist?
There are multiple ways that you can reach out for help, depending on your comfort level and timing. The Mood Disorder Program is available to all moms that need it, no matter where you are at in your postpartum period. You can call 317-948-7308 or email McInnes at [email protected] for help.
Within the first six weeks of giving birth, moms are closely monitored by their OB/GYNs who can provide referrals for additional help. Past those six weeks, moms see the pediatrician regularly, and "have such a good opportunity to catch mamas who are struggling," says McInnes. Pediatricians have become an increasingly knowledgable resource when it comes to catching postpartum depression before it goes untreated. Another resource is your primary care physician, who is always available to you should you need it. And last, you can visit the PSI website for resources in your recovery.  
Along with breastfeeding support groups, are there any support groups for moms who decide
not
to breastfeed?  
All of McInnes' support groups provide support for both breastfeeding and formula-feeding mothers. "They both have struggles, shame, and guilt," says McInnes. "We support both, and one is not better than the other. Fed is truly the best." 
McInnes provided a list of online support groups for mothers who decide to formula feed, or mothers who don't have a choice but to formula feed. You can request to join Formula Feeding Mommies, Bottle Feeders' Support Group, and visit the Fed is Best website for more information and resources.
How can you plan ahead for postpartum anxiety and depression, knowing you've suffered previously?
You can plan ahead by remembering what your previous treatment plan was. "Did you take medication? Did it work? Then let's get back on that one," says McInnes. "We know more about your bodies and how we react the second time around and women are more likely to reach out after having a history of postpartum depression or anxiety."
Even if you have struggled in the past, it doesn't necessarily mean you will struggle again. Some women will suffer the first time, but not the second or third time. But it's good to plan ahead and be aware of your symptoms, knowing you suffered previously.
Beyond the support groups—how do I find a good therapist?
Again, there are multiple routes you can take to seek out help depending on who you are comfortable asking. First, it's important to find a therapist that specializes in postpartum mental health. They will have the right advice for you and will be knowledgeable about ways to cope and improve versus a therapist that doesn't specialize in this type of mental health disorder.
Your provider will have a list of referrals for you if you need to seek out a therapist, especially due to the pandemic being a more strenuous time for new moms and moms in their postpartum period. McInnes is another great resource to seek out a therapist referral. She also highly suggests asking a friend or family member – someone that you trust and who knows how you feel and what you are going through. You can also call your insurance company and ask them for a list of providers that are covered by your insurance. 
Though she has been facilitating support groups for years, McInnes recently started a new postpartum support group for couples that meets every 2nd and 4th Thursday of the month from 6:30 to 8:00 pm. Anyone is still welcome to join the couples group even if their partner is not interested or available to join. Registration is required for these virtual group sessions. If you are interested in attending and/or if you wish to discuss ways to improve your postpartum mental health, call Tracey McInnes at 317-948-7308 or email [email protected] for help.
---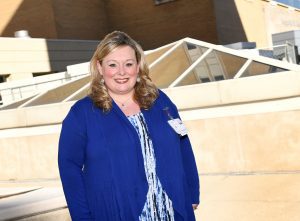 About Tracey McInnes
Tracey McInnes is the Perinatal Mood Disorder Program Coordinator at Riley Children's Health, supporting programs at IU Health North, West, and Methodist hospitals. She conducts assessments with women (and their families) who are struggling with mood disorders, during the perinatal period. She facilitates support groups, weekly, and trains all incoming nurses and social workers on recognizing and helping women who are dealing with one or several of these disorders, while in the hospital setting, as well as in outpatient settings.

Riley Children's Health at IU Health North Hospital provides nationally ranked pediatric care alongside the most highly skilled physicians and nurses in the state. Whether your child needs primary, specialty, inpatient or emergency care, we are here to support you and your family. Learn more at RileyAtNorth.org.