Cindy Love knows that having a baby is one of the biggest life changes a woman will ever experience. As the facilitator of the IU Health Mother Connection and Toddler Time Support Groups, as well as a pediatric nurse practitioner, new moms often tell her, "No one told me it would be this way! No one told me how tired I would be!" While feeling blindsided by motherhood, many mothers experience struggles in the fourth trimester, including postpartum depression, postpartum anxiety, and even postpartum psychosis. May is Maternal Mental Health Month, and Cindy spoke with us about the differences between these three potential struggles of the fourth trimester.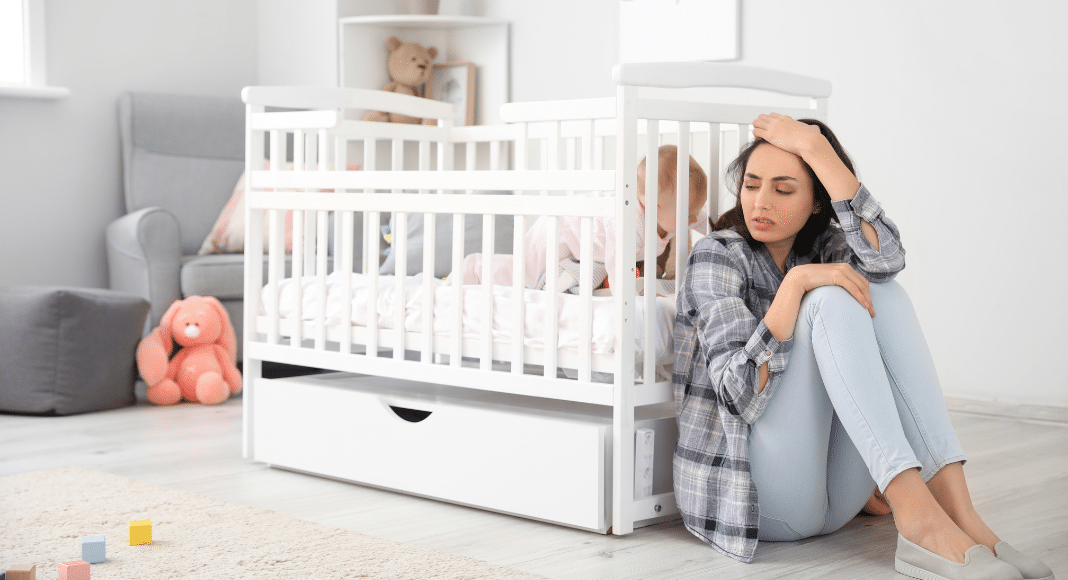 ---
Let's begin by defining and pointing out the differences between the main ways women can experience mental health issues beyond "baby blues" in the first few weeks of the fourth trimester.
Cindy would like to first define baby blues as "a period of a couple weeks after delivery that is a bit of a normal adjustment period." Cindy says "somewhere between 50 to 80 percent of moms experience some tears, some mood swings and feelings of being overwhelmed. The majority of moms I see have some of this." She says the key to the baby blues is that after the first couple weeks, even though moms are still tired, they are feeling better. With some self-care and support, the mood swings should disappear, and the fog should lift. If the fog remains, new moms should look for signs of perinatal mood disorders – depression, anxiety, and psychosis.
"Perinatal mood disorders can begin during a pregnancy through anytime during the first year after delivery," Cindy says. "It can affect any woman regardless of age, race, income, culture, or education. It can happen with first time moms or a mom who has had several children. It can affect a mom who breastfeeds or bottle feeds…simply any woman who experiences pregnancy and delivery."
There are some risk factors that may increase a mom's likelihood of experiencing perinatal mood disorder, like:
Moms who have a history of depression or anxiety
Moms who have had perinatal mood disorder with another pregnancy
A difficult or high-risk pregnancy
A mom who had experienced infertility
A traumatic or very difficult labor and delivery
A premature baby or baby with serious health issues (for example, having a baby who has spent some time in the NICU)
A history of severe premenstrual syndrome (PMS)
A lack of support after delivery
What is Postpartum Depression?
Postpartum depression is one of the more talked about mental health issues during the fourth trimester. A mother who is suffering from postpartum depression can be bogged down by sadness and may not feel connected to their baby. They don't want to get out of bed, get dressed, or eat. Some moms are exhausted and want to sleep but can't.
What is Postpartum Anxiety?
Postpartum anxiety is a little different, and Cindy says many moms experience postpartum anxiety more than postpartum depression. "They often talk about racing thoughts, heart pounding, not being able to sleep because they can't turn off their brain, constant worry or checking on the baby, maybe spending hours researching parenting or other topics about the baby." Some experience intrusive thoughts, like "What would happen if I dropped the baby, or if I fall asleep on the couch with the baby, or I left the baby?…things that they would never do," Cindy says.
What is Postpartum Psychosis?
A mother with postpartum psychosis believes the intrusive thoughts and may actually harm her baby. "She doesn't think, 'Why am I thinking this?' These moms experience delusions, strange beliefs like if I hurt my baby she will be better," says Cindy. They may experience hallucinations (meaning they see and hear things that are not there). These are very different than intrusive thoughts you experience in postpartum anxiety.
Let's talk a little more about Postpartum Psychosis. It's been a bit of a taboo subject with many moms saying, "that will never be me." Is it more common than we think?
Cindy says postpartum psychosis is a mood disorder that is much more rare than depression and/or anxiety. "We hear about this in the news because it is very tragic when it happens, but it is very rare and different than postpartum depression and anxiety." Cindy elaborates, "Statistically it happens to about one or two out of every 1,000 deliveries. Of those moms diagnosed with psychosis, the vast majority never hurt their babies. They will be treated."
Symptoms of postpartum psychosis include:
Delusions or strange beliefs
Hallucinations
Feeling very irritated
Hyperactivity
Paranoia or suspiciousness
Rapid mood swings
Depression
"The biggest risk factor is a personal or family history of bipolar disorder or a previous psychotic episode," says Cindy. "These are risk factors, but that doesn't mean you will have psychosis if you have these risk factors but your doctor will be more aware." She says the key to diagnosis is not to be afraid to say something if a mom seems to be experiencing issues. It is not her fault and she can be treated. "Always say something or reach out to a medical provider if you are worried about a mom. Do not ignore."
How do parents begin diagnosis and treatment for all three of these issues?
Begin by talking to your OB/GYN. "We in pediatrics are trying to be better with assessing how moms are doing at routine well child checks. We see mom so much in the first year, much more than the OB does after the initial first six weeks," Cindy says. "We as friends, sisters, grandmothers, need to be aware and help new moms who are struggling to ask for help. Sometimes someone else saying, 'You seem like you are not yourself. How are you really feeling? It is OK if you need to talk about your feelings. Let's call your doctor.' is the catalyst a mom needs to take that step."
Cindy suggests some great basic ways you can take care of yourself as a new mom. Sleeping, eating healthy, taking walks, getting some natural light, journaling, individual counseling, monitoring your social media use and taking medications as prescribed by your doctor are helpful ways to treat perinatal mood disorders. Postpartum Support International has many options as well. Locally, IU Health offers many ways to connect such as a Postpartum Support Group, Breastfeeding Support Group, Mother Connection Support Group and Toddler Time Support Group. If you would like more information, please email Cindy at [email protected] or visit iuhealth.org/childbirth.
---
About Cindy Love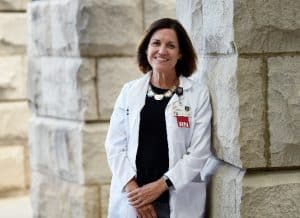 Cindy Love is a mother, a pediatric nurse practitioner, and the facilitator of IU Health's Mother Connection and Toddler Time Support Groups. In addition to her weekly support groups at IU Health North Hospital, Cindy meets weekly at IU Health West Hospital as well and has been a guest speaker at numerous moms groups, preschools and churches. She has worked in the pediatric field for 30 years and writes in her personal blog, Raising Kids with Love, about all things motherhood.
Named among the "Best Hospitals in America" by U.S. News & World Report for 22 consecutive years, Indiana University Health is dedicated to providing a unified standard of preeminent, patient-centered care. A unique partnership with Indiana University School of Medicine – one of the nation's leading medical schools – gives our highly skilled physicians access to innovative treatments using the latest research and technology. Learn more at iuhealth.org.