"As you grow older, you will discover that you have two hands, one for helping yourself, the other for helping others." – Audrey Hepburn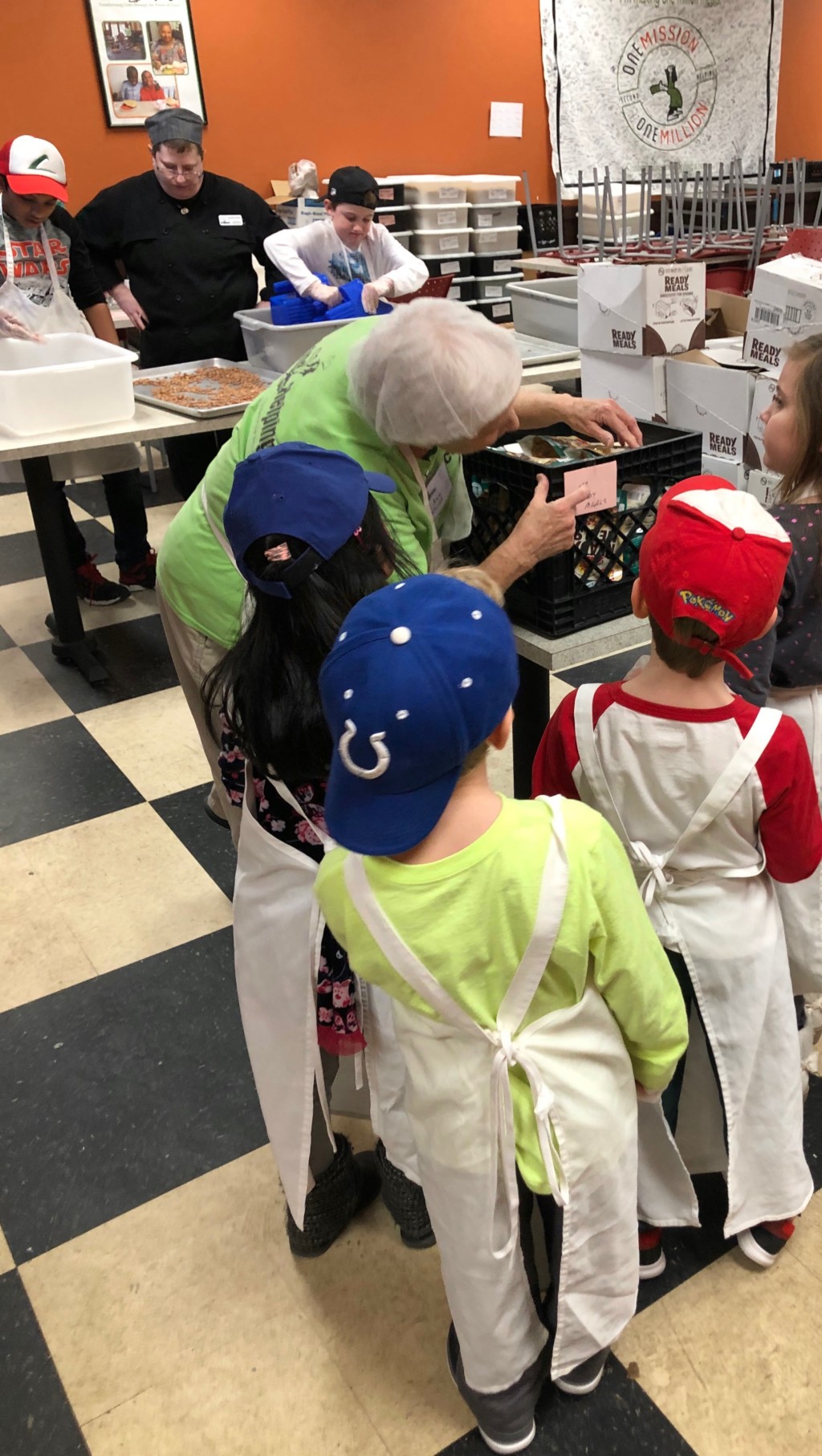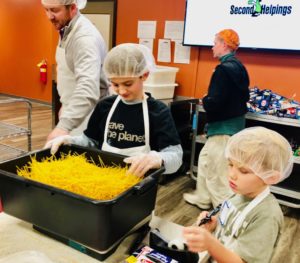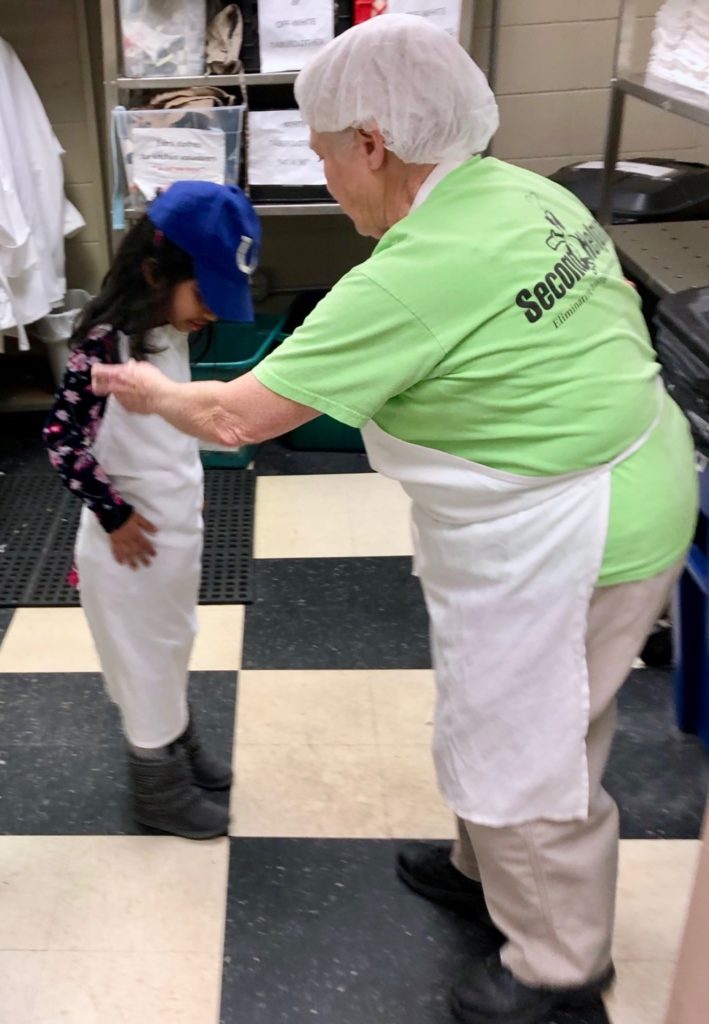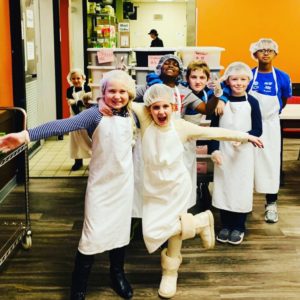 An experience that our family has truly come to love, cherish and look forward to is volunteering. Already witnessing growth in each of our children, cultivating an innate desire to help and recognizing that they are making a difference. First-hand discovering the all encompassment of joy that one receives when giving back.
April is National Volunteer Month, a celebration of gratitude and reflection towards selfless acts and honoring those offering service to our communities. A time to widen our perspectives and take into consideration getting involved and helping others.
Many non-profits operate on the dependence of volunteers and are the fuel that powers the organizations.
"We could not do it without them," Second Helpings Senior Director of Programs Nora Spitznogle attributes their success to their volunteer power – volunteers who daily outnumber staff five to one.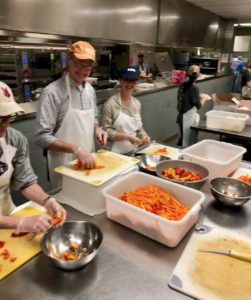 Each day at Second Helpings, over 75 volunteers and 25 staff work to rescue, prepared and perishable food from wholesalers, retailers and restaurants — preventing unnecessary waste and repurposing good, nutritious, food, creating and providing 4,200 hot, nutritious meals daily, which are distributed to more than 90 social service agencies in Central Indiana.
"Volunteers are the heart of our organization," said Second Helpings, Executive Chef Kathy Jones, "without them, we are nothing."
Annually, 750 regular volunteers work together at Second Helpings to rescue over 2.3 million pounds of food and to prepare one million meals.
Rescued food translates meals on plates.
This brilliant concept was formed into an organization in 1998 by three chefs, Kristen Cordoza, Bob Koch, and Jean Paison, all who shared the same passion: To transform lives through the power of food.
The founding of Second Helpings and success story of solving differently four pillars in society. Food waste, hunger, job training, and a source of skilled labor for the local food service industry. These partners set forth towards one solution: turn unused food into meals and jobs.
Forty million Americans are food insecure.
One in five children in Indiana struggle with hunger.
One-third of global food production is wasted.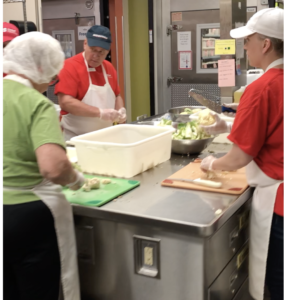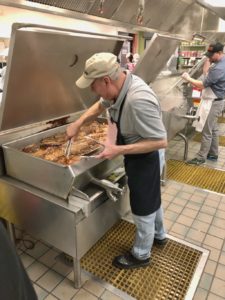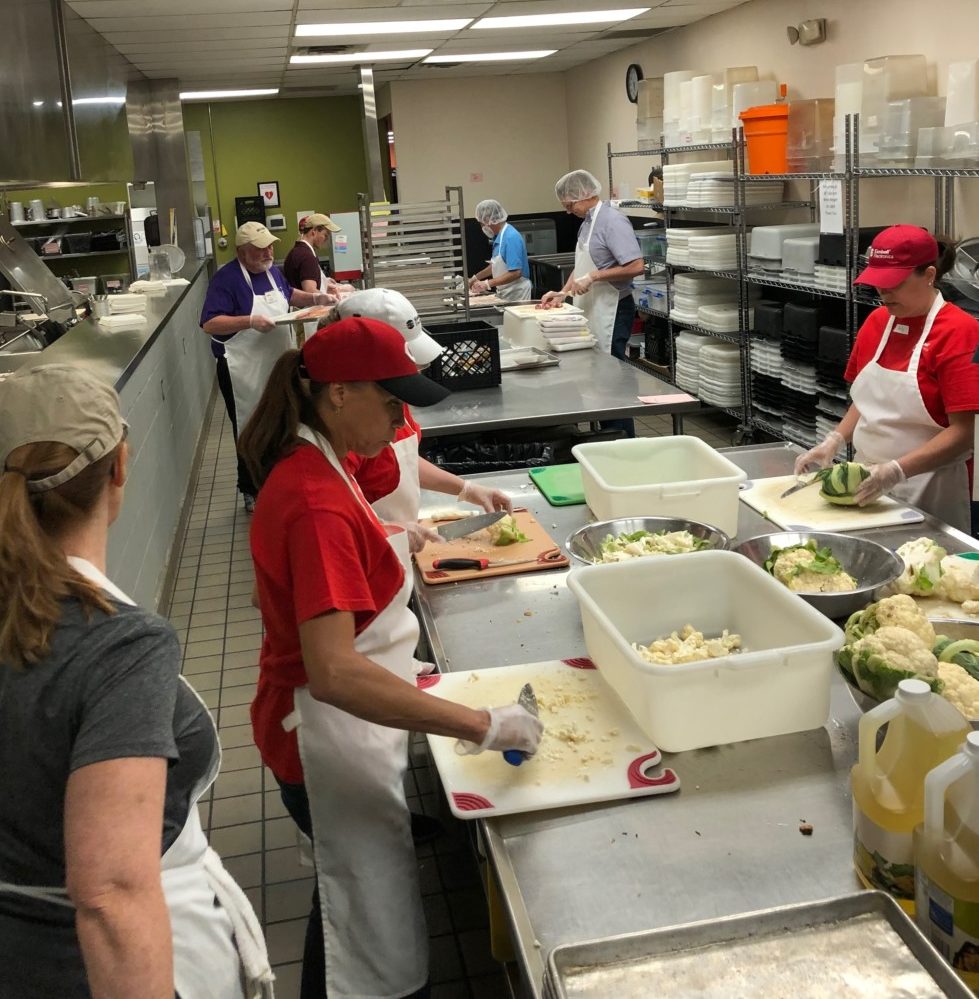 Today's consumers rely on expiration dates to detect when foods are bad, which is partially to blame for a staggering amount of waste, nearly 3 trillion pounds of food a year, according to the UN – enough to feed every hungry person on the planet twice over.
The three chefs saw a large amount of food waste in the food service industry; they did not like to see the food wasted when others have had none. Why waste perfectly good food and send into landfills?
While Second Helpings feeds warm and healthy meals to individuals in need, it also teaches individuals how to cook and provide an avenue for people to transform their lives. And it is all done sustainably. The hunger relief kitchen practices re-cycling and composting methods and the entire organization embraces and promotes environmental responsibility.
"It makes sense," Nora Spitznogle explains, "it truly combines experience, education, and passion."
Second Helping provides disadvantaged adults –unemployed and underemployed, an opportunity, means and skills to build meaningful careers.
Second Helpings founders were also aware that many existing programs serving the less fortunate struggle to provide nutritional needs to clients. And, they knew how difficult it was to find employees with the skills needed to be productive in a commercial kitchen through their work as food service professionals. And saw a correlation and a need for an opportunity; many adults in poverty struggle to build a career or to earn higher wages because they lacked basic life skills.
"Helping to eliminate hunger at its source."
Second Helpings Culinary Job Training program trains adults with barriers to employment for careers in the foodservice industry.
To date, more than 800 adults have graduated from Second Helpings and now work as cooks, executive chefs, business owners and culinary instructors. Second Helpings' Culinary Job Training program is a "Program of Excellence" by the American Culinary Federation. Second Helpings teaches discipline, basic life and culinary skills, from learning the lingo to basic knife skills to mock interviews and job skills.
"Some of our students may have never had a job, or have been on the street or incarcerated," said Chef Jones. "This is their next chance. A life changing a moment."
Each step in the 7-week program ensures students are focused on mastering lessons and skills taught each day. Each Second Helpings graduate is eligible for 5 credit hours from the culinary program at Ivy Tech Community College and ServSafe Certification.
"The ServeSafe National certification is taught at a manager skill level in the state of Indiana," Chef Jones said. "We want our graduates to go into the restaurant and get more than an entry-level position. ServeSafe® makes them more valuable on a corporate level. Each graduate student walks away with that."
News of 'student transformation' is almost daily and proof of how Second Helpings is making a positive and sustainable impact. An exciting phone call came from a former graduate who is working as Head Chef at Ruoff Home Mortgage Center in Noblesville, "the chef and former student called and was looking to hire new Second Helping graduates", said Spitznogle. The next generation of chefs at Ivy Tech in Indianapolis is being led by an instructor and former student of Second Helpings Culinary Training Program in 2011, Chef Frank Brown.
Another graduate of 2015, Jeffery Hartfield, said that Second Helpings changed his path. "When I found Second Helpings culinary program, I was lost in his life. And trying to find something, to show myself that I can be something."
Jeff had overheard a fellow congregation member of his church say, "Second Helpings can help people who need help, get their lives together."
It did just that, providing Jeff with a new lease on life. The Culinary Job Training program at Second Helpings taught him everything from being on time to working long hours, the fast pace of the kitchen and teamwork. How to work well with others and feeding one's drive to be the best you can be.
"My first night at work as Head Chef at Flatwater Restaurant in Broad Ripple," Jeff knew then his life had been blessed and a new world was on hand for him in the kitchen. "I had graduated the day before and got the job very next day. "Here I am today, 5 years later –doing what I love."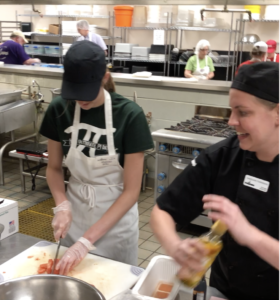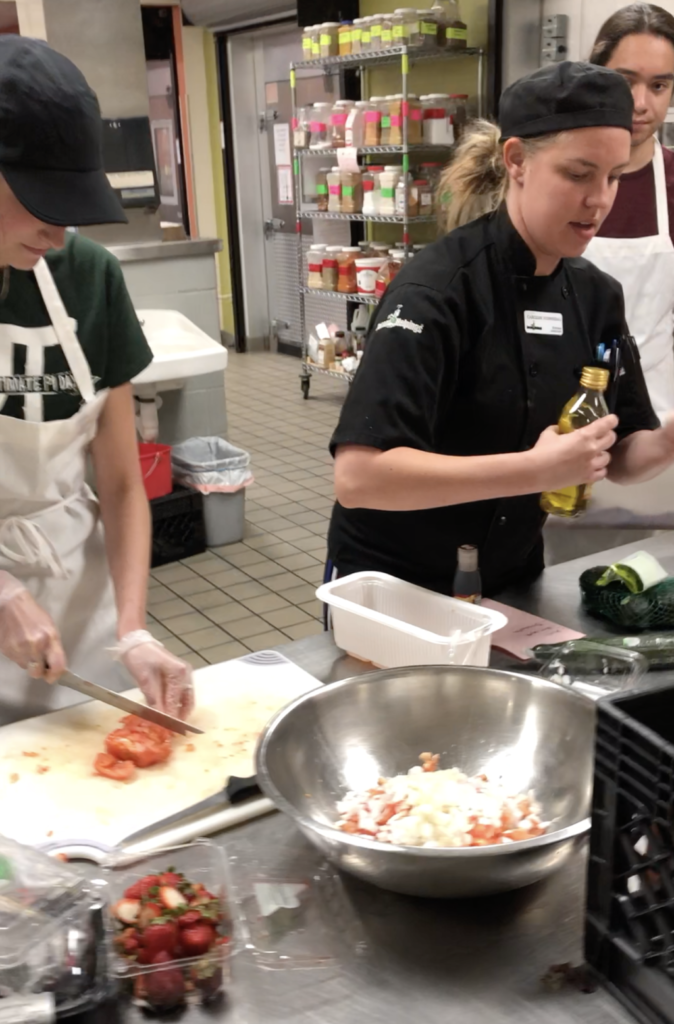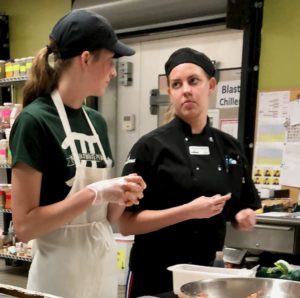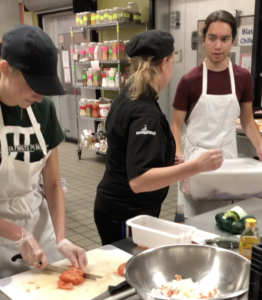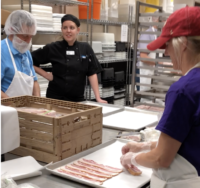 Caroline Townsend, Kitchen Assistant of Second Helpings, is too also a graduate of Second Helpings Culinary Program. "I've found a love and passion for food and cooking."
Ten years ago the career chose her when she had encountered the not-for-profit via community service. She had had previous food service experience – both front and back of the house. "Finding Second Helpings changed my life. It gave me a second chance."
Caroline enjoyed her time as a student at Second Helpings and recalled the kitchen being filled with positive energy in which she thrived.
"There's love in all the food!" – Caroline Townsend, Second Helpings Kitchen Assistant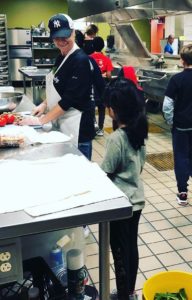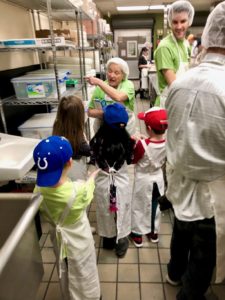 "It was amazing to feel all the kindness. To be fed great healthy meals there every day was incredible." Caroline was offered a job upon completing her service hours and said she never looked back.
"I loved that Second Helpings made sure nothing went to waste. The places that donate, the volunteers, all the staff and anyone involved – there is love in all the food!"
Caroline discussed she feels the impact that is being made when going to an agency to deliver food and seeing the children's faces light up to see what they have brought makes it that much more worthwhile. "I love what I do, and now it's my job to share and pay it forward."
Second Helpings welcomes everyone to volunteer, accommodating any person or group.
Assistant Chef Townsend reminisced a memorable moment when a new volunteer who could not find another volunteer opportunity because of mental illness had came in and hugged her. "She thanked me for allowing her to help do laundry."
"I feel so lucky to have this job," Nora Spitznogle said of her position. "Volunteering is so communal. The laughter and lasting friendships formed each day, and to see the fruits of the labor, the meals you have helped prepared and the hard work that you have given –it warms the heart."
"Life is good."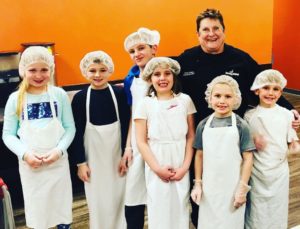 Notorious words of well-loved of Chef Kathy, "Life is good."
Exactly how one feels when finishing a volunteer shift at Second Helpings.
Almost two years ago, when our family ventured on a path to sharing our experiences with others, hoping to influence positive change and to consider donating their time to the greater good of others –we discovered Second Helpings.
Our children at the time were ages three, four, five and seven and too young to volunteer at most non-profits. Second Helpings welcomed us with open arms. All ages are encouraged to volunteer. To volunteer in the Hunger Relief kitchen, volunteers must be at least 16 years old. However, there are plenty of ways for younger students and families to get involved. Learn more about to get involved here.
Second Helpings gave us the means to install an invaluable lesson to our children, helping others and enabled our family together to provide other families and young children opportunities to help through Helping Ninjas™ our family's not-for-profit. The Helping Ninja kids and we love to volunteer in the hunger relief kitchen and assist the chefs, staff and volunteers with food prep.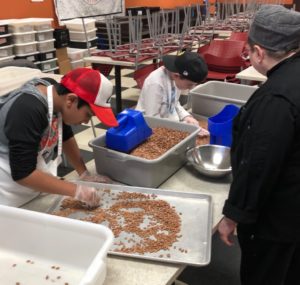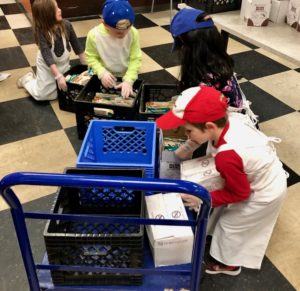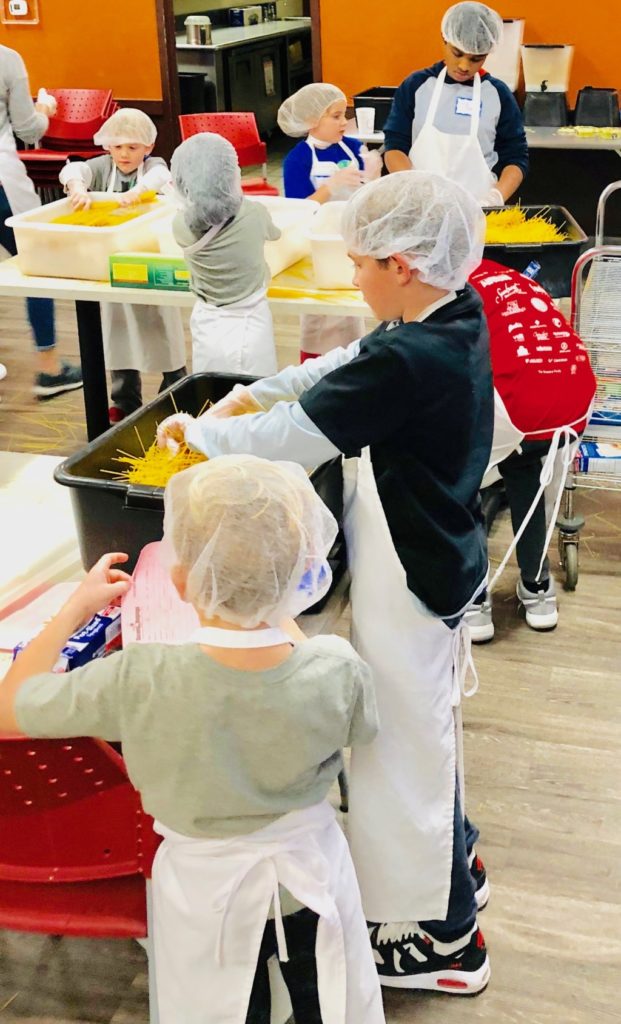 "Volunteers hands are in the meals today, that are going out tomorrow," said Chef Jones, "it's neat for kids to see and understand the process, and it gives them the opportunity to learn."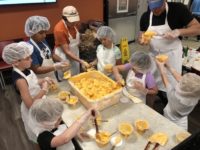 Chef Jones describes the feat she is faced with and is happy to take on the challenge each day. Similar to a Master Chef mystery box challenge: she never knows what she is going to get. Each morning she and the other hunger relief staff together plan menus based on what food was rescued the day before.
"I do what I do because it makes a difference every day, said Jones, "It's instant gratification."
Second Helpings delivers more than 80,000 meals per month to families in Central Indiana.
"We take a lot of things for granted," said Chef Jeff, a former student, current Chef at Flatwater.
"To have food is a blessing. There are families here in Indianapolis that go without food."
Jeff encourages others to be thankful for where you are in life and to consider helping fellow neighbors, "It could be you."
During this month of tribute to volunteerism and community, what better time than now to give back.
Twenty years ago, as a third year college student at the University of Kentucky, I worked as an intern for the American Red Cross in Lexington, Kentucky for two years and fell in love with philanthropy; ironically my first job out of college was with The Gene B. Glick Foundation, a founding donor and significant supporter of Second Helpings–and initially was what brought me to Indianapolis.
Now, full circle, volunteering at Second Helpings and through Helping Ninjas and our efforts to help their mission: nourishment, opportunity, and sustainability – I am fortunate to share this story and hope that it inspires others to help 'feed Indy.'
Second Helpings is indeed a unique organization. The generosity of each person involved. From the founding chefs to the board, the staff and all sources of operation, support and donors, to volunteers to staff to students to graduates to chefs – all playing an integral piece of the puzzle, are special and a rarity that should be celebrated.
Setting an exemplary model, a sustainable and circular system – every city needs a Second Helpings.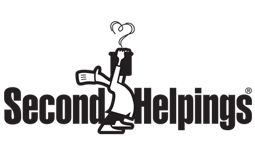 "The work of Second Helpings is critical to the missions and success of the 90 others not for profit organizations we serve. Whether it is meals from the Hunger Relief kitchen, or students working to rebuild their futures in the Culinary Job Training program, the impact of Second Helpings mission is making a real and personal difference for children, seniors and families in need each and every day."
– Jennifer Vigran, CEO, Second Helpings.
Learn more about Second Helpings
How Can You Help Second Helpings?
Wish-List Amazon Items
High-Priority Items: Chicken Base, Beef Base, Ham Base, Mayonnaise, Mustard, Pickles, Oil (all kinds), Cooking Spray, Soy sauce, Lasagna noodles
Helping Ninjas donated approximately 100 lbs. of organic home-grown tomatoes last summer! This year Helping Ninjas will be growing more organic produce for Second Helpings! A partnership through Carmel Clay Parks Recreation, Helping Ninja students will be learning to grow produce through organic and natural methods on a 5 by 15 plot in an organic, community garden – all will be donated to Second Helpings! The children are growing tomatoes, parsley, rosemary, basil, jalapenos, and banana peppers to donate to the hunger relief kitchen. Learn how you can join the Helping Ninjas and grow gardens for Second Helpings!
"The best way to find yourself is to lose yourself in the service of others."

– Mahatma Gandhi