The beginning of what is now Keep Indianapolis Beautiful, Inc. (KIB) started over 40 years ago when 1976 Mayor Bill Hudnut created the Indianapolis Clean City Committee—a single-employee, anti-litter city agency. While litter reduction is still one focus in KIB's programming, the nonprofit has expanded over the years (there are now 30 employees) to include more services (Community Forestry, IPL Project GreenSpace, Youth Tree Team, Department of Education and more!) that help KIB carry out it's mission to engage diverse communities to create vibrant public spaces, helping people and nature thrive.
Full disclosure, I've worked at KIB for 2.5 years in the Department of Education as their GreenKids Coordinator, so my opinions may be a bit biased. 😉
One of the best things about working for KIB is being a part of amplifying the beauty of Indianapolis, all while getting to work outside in the field. No day is the same when coming to work. Some days I'll be at my desk working on new lesson plans to add to our environmental education curriculum, while others I'll be part of a team moving 300+ trees off a semi-truck, re-loading them onto one of our numerous fleet vehicles/trailers, and dropping the trees along with mulch buckets in an Indianapolis neighborhood for an upcoming planting. Nature has always been a calming and reinvigorating force for me. So the fact that I get some nature therapy while on the job is a huge perk.
While there are 30ish employees, KIB heavily relies on our corporate partners and community volunteers (we have about 40,000 each year!) to help our projects succeed. There are still several volunteer opportunities left in 2019, so I thought I'd teach you a little about each KIB program and see if any of them excite you. If so, please visit our volunteer calendar to sign up! If there's nothing that fits your busy schedule this year, stay posted because the volunteer projects will continue to pop up in the spring.
Trees Please!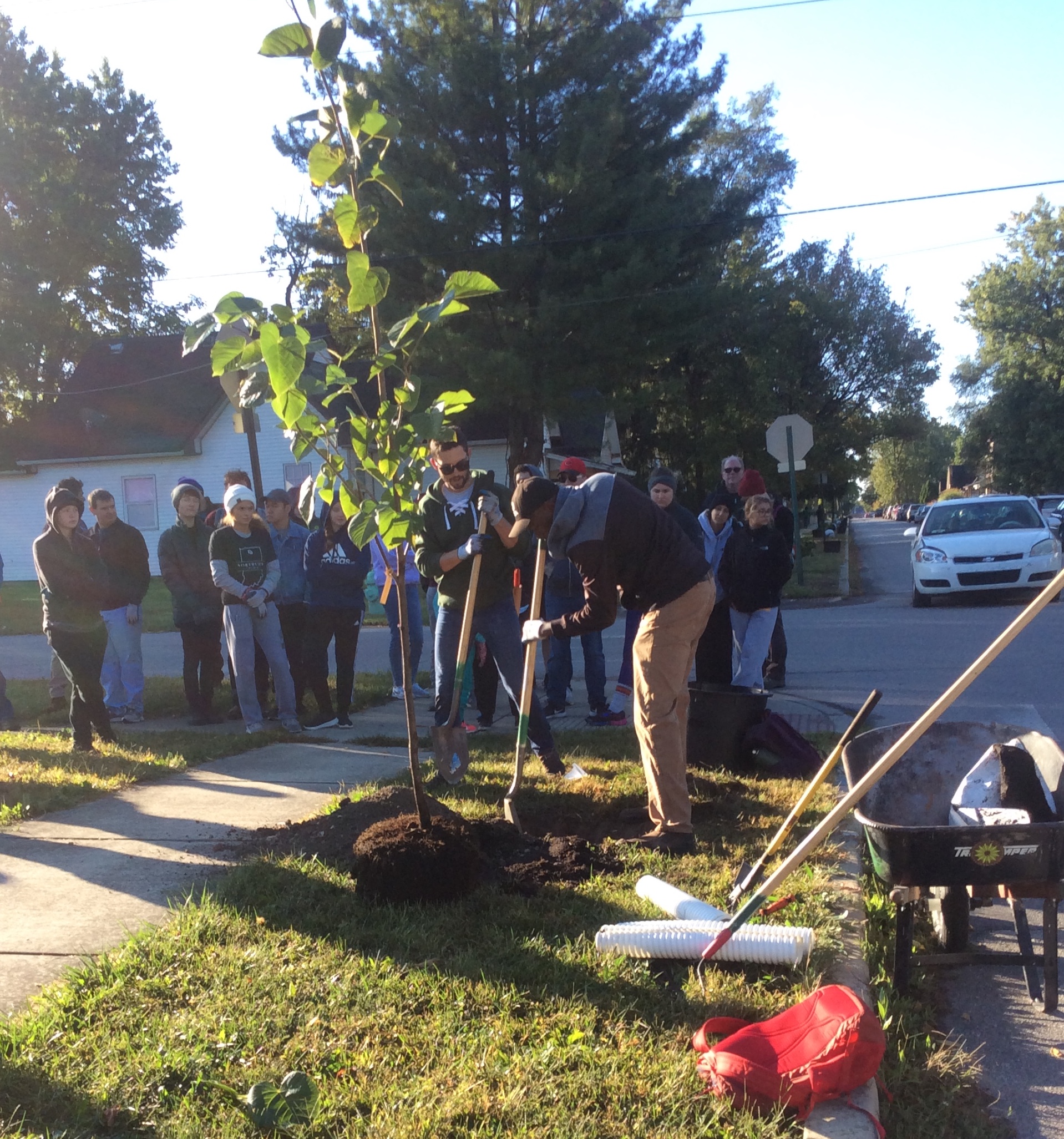 Every year, KIB plants over 3,500 trees throughout Indianapolis. If you're interested in bringing free trees to your neighborhood, you can apply for a 2021 planting here. We also need help putting all those trees in the ground, and have tree-planting volunteer opportunities through early December. All plantings are family-friendly (as long as the littlest ones have a supervising adult). KIB brings everything you need: tools, trees, mulch, and more! All you need to do is sign up and show up.
Why are trees important, you may ask? Well, trees provide endless benefits! They reduce greenhouse gas (an acre of mature trees absorbs the amount of carbon dioxide produced when you drive your car 26,000 miles), create clean oxygen for us to breathe, provide food and shelter to local wildlife, help keep our urban streets cool, increase your property value and prevent rainwater from flooding and then contaminating our sewer systems!
Did you know that the majority of Indianapolis gets their water from the White River? When it rains a mere ¼", our sewer system overflows. Rather than having the sewage/waste water from your house flow to the waste treatment facility, the combined sewer overflow system is at capacity from the ¼" of rain, meaning sewage (yes, exactly what you think it is…) flows into the White River. The exact same river we get our drinking water from. Trees are a great solution to this because one mature tree can intercept 50-100 gallons of water during rainstorms. With less water going down the sewer, it's less likely waste will redirect into our waterways.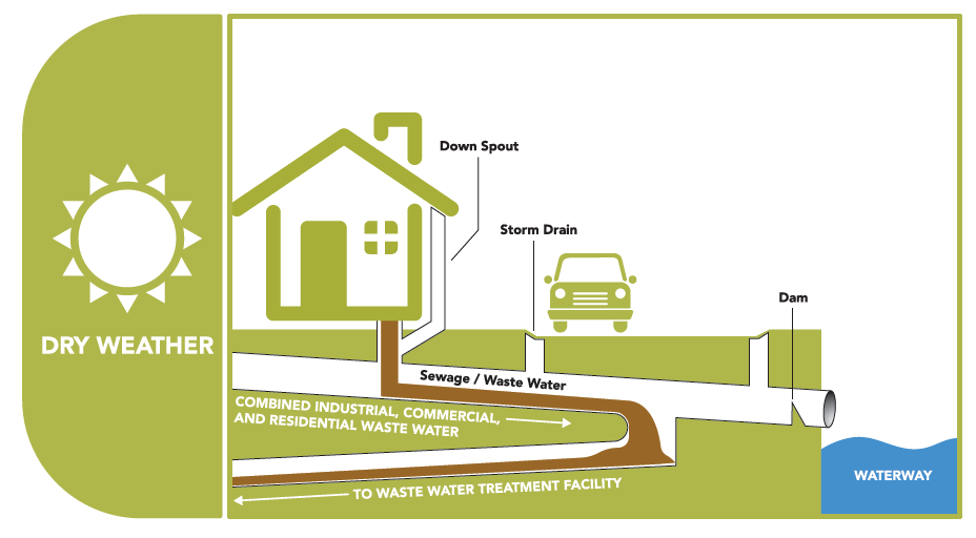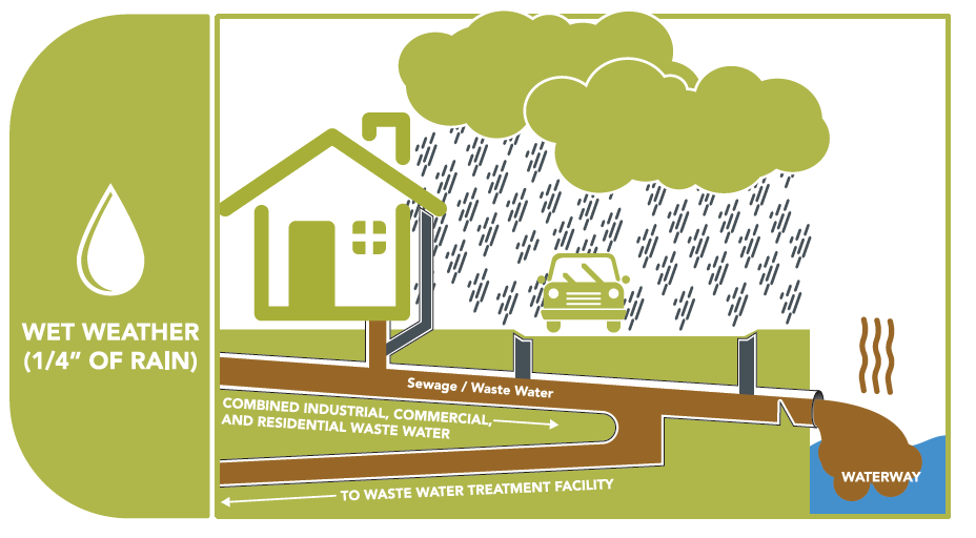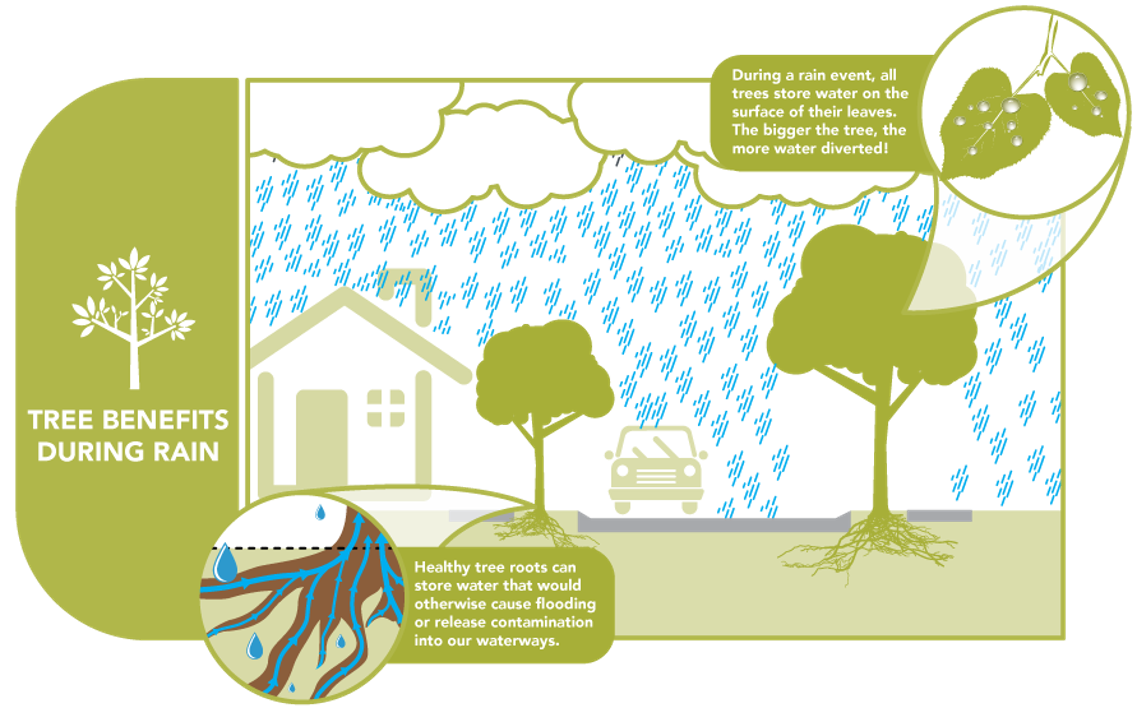 Put Litter In Its Place!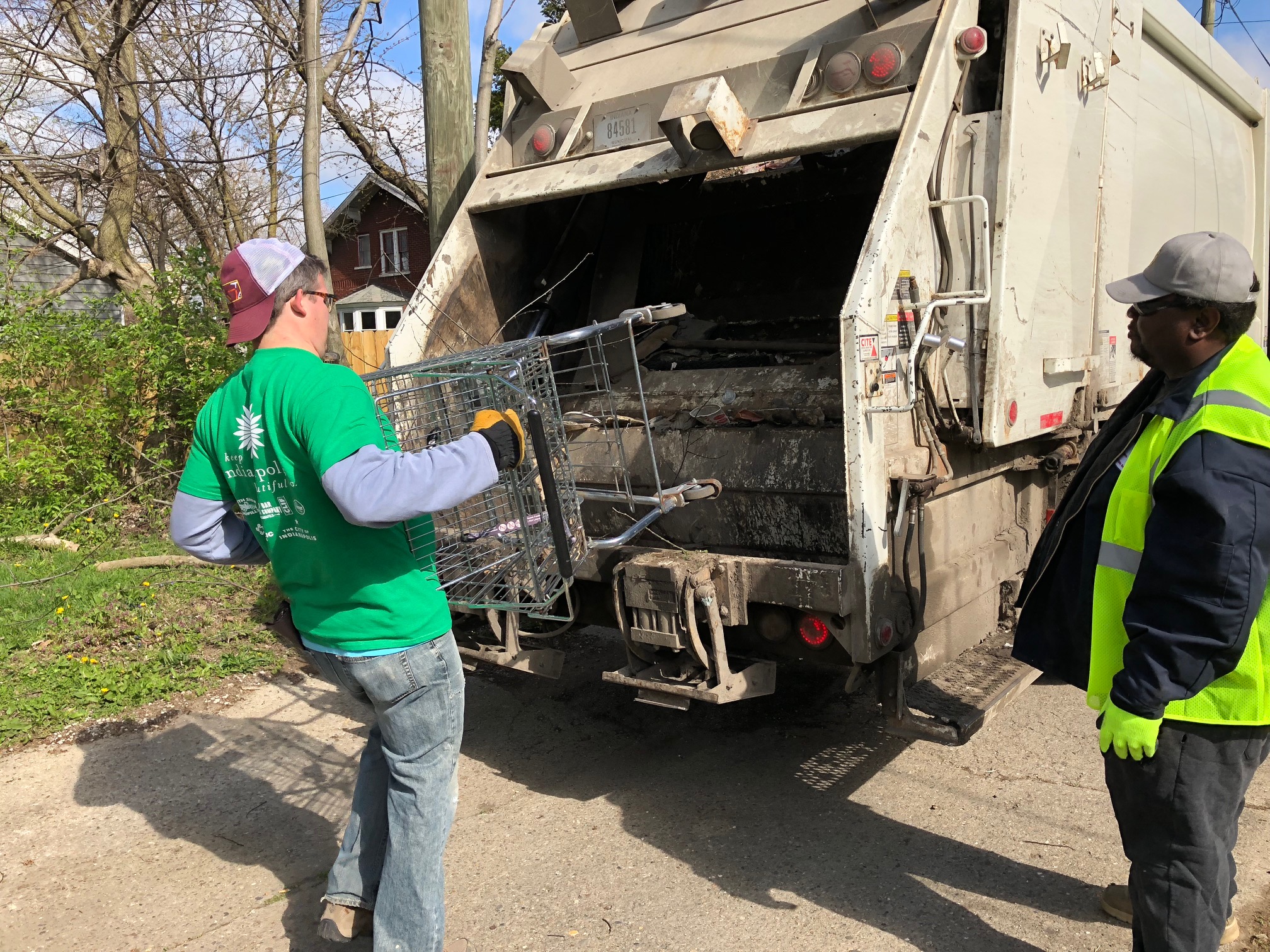 In 2018, KIB picked up 1.2 million pounds of trash from the streets of Indianapolis. We hold two Great Indy Clean Ups a year, but neighborhoods and community members are encouraged to create their own neighborhood cleanups all year long. Once you register through KIB, you will be provided with (depending on availability) packer trucks, dumpsters, trash bags, gloves, and tools. Doing a simple clean up is a great way to show your kids what it means to be a responsible citizen. Even the littlest of hands make a big difference in cleaning up your neighborhood.
You can also sign up to be an Adopt-A-Block Captain. This means you'll claim the block you live on and vow to keep it trash-free. You'll get a nifty t-shirt and can pick from a variety of tools to help like litter grabbers, shovels, gloves and trash bags. Since block captains are our feet on the ground, you'll receive free flowers and a native tree each year as a thank you for helping us keep our streets litter-free.
IPL Project GreenSpace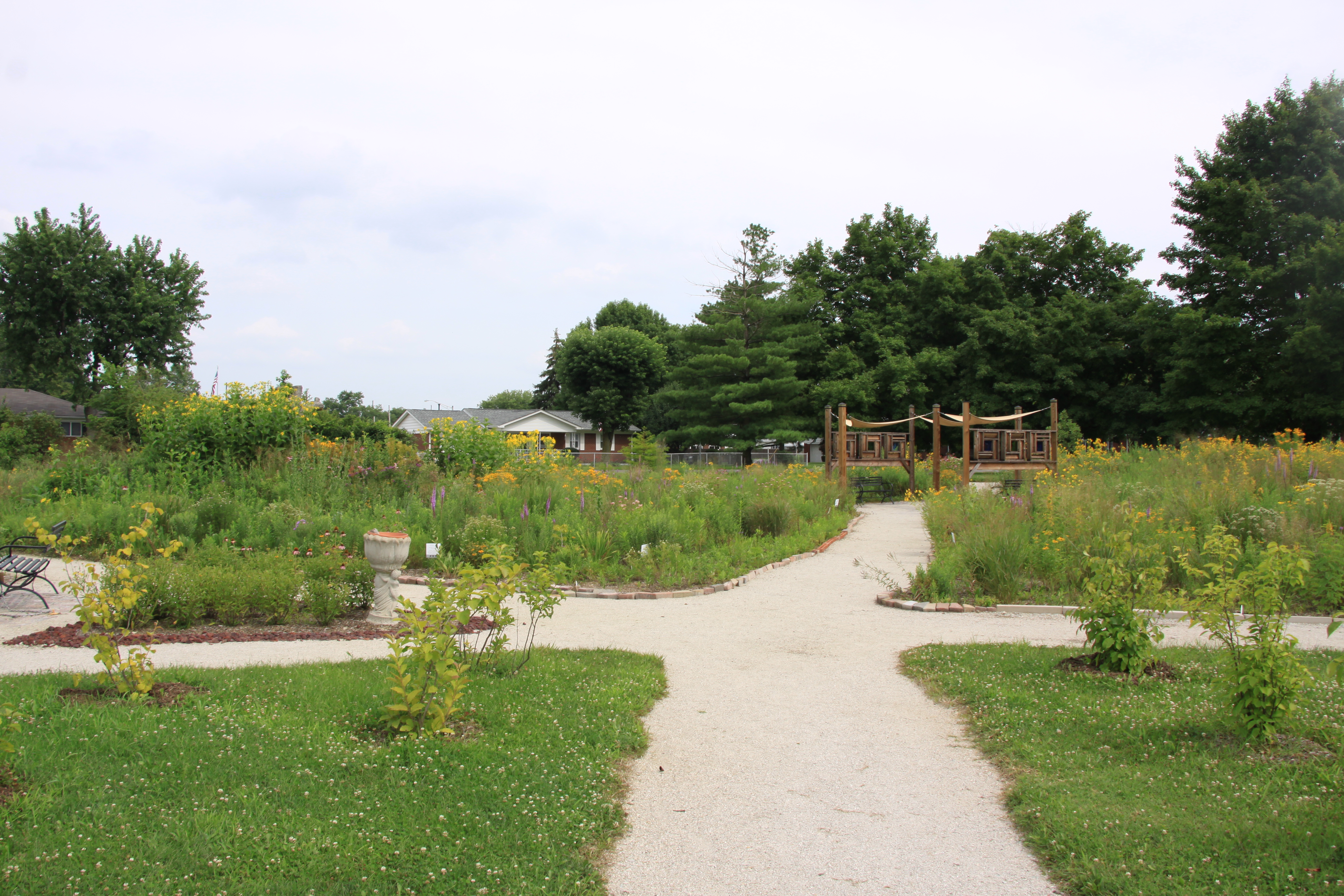 Every year, KIB, with the help of a committee of community members and stakeholders, select 3-5 places that we'll revitalize into a thriving greenspace for your community. These public spaces can occur at community centers, schools or even an abandoned plot of land in your neighborhood. KIB will work with professional landscape architects to take your vision for the space and execute it into the perfect green refuge. Did you know being able to see nature from your school building can foster academic success for students? Similarly, patients are more likely to heal faster if they can see a tree from their hospital window.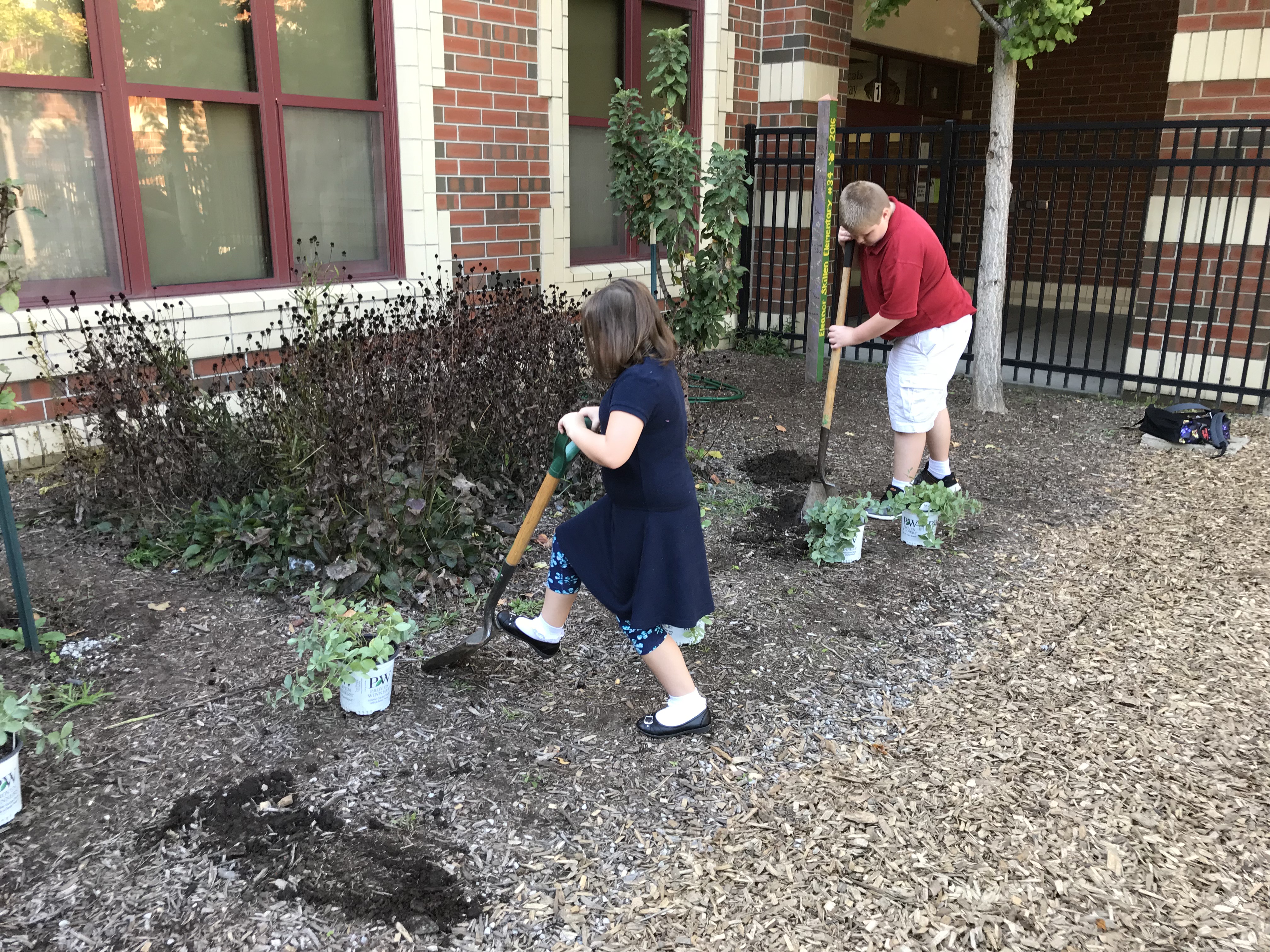 Applications to become a 2021 IPL Project GreenSpace partner will go live in Spring of 2020. You can sign up for the KIB newsletter to make sure you don't miss the deadline. While most public GreenSpace volunteer projects are done for 2019, they will be popping up in 2020 so stay tuned!
Whether it's inviting a KIB staff to your classroom to teach your students about nature, finding summer employment for your high schooler, organizing a neighborhood clean up, or volunteering at one of our many tree plantings, I promise you will enjoy your time engaging with Keep Indianapolis Beautiful. Our work provides a genuine connection between community engagement and helping the environment for future generations to come.