Over 65 years ago, at a time when individuals with disabilities were widely assumed to be unable to contribute to society, Noble was born. The organization was founded by a group of dedicated, brave parents of uniquely talented children with developmental disabilities. They ignored the naysayers and medical professionals because they knew that their children did have something significant to contribute. I don't know about you, but I sure wish I could shake each of their hands. Better yet, give them a huge hug!
Today Noble has grown to help thousands of children, adults, and families each year. The organization facilitates the development of employable skills and focuses on career goals for those they serve, ultimately assisting in job placement. Additionally, they offer day services like therapeutic art, gardening, and community exploration. Other benefits include summer day camps and respite services for families and caretakers.
I've had the privilege of working with several different charities over the years, but Noble has always stood out to me. The positive energy alone is contagious. No place is this more evident than at one of Noble's annual fundraising events, Noble Evening in the Garden. Hosted by the Noble Auxiliary (I'm a member, join me!), all proceeds from the event directly benefit the people that Noble serves.
Noble Evening in the Garden, which takes place on Friday evening, March 13, 2020, is so unique! It is set within the beautiful gardens of the Indiana Flower & Patio Show, which offers party-goers a chance to preview all that the show has to offer, all while taking in a taste of spring. Even more special are the art pieces, hand-painted by participants of Noble's therapeutic art program, that are featured in the silent auction. Specialties from top restaurants, live music, and interactive entertainment are the icing on the cake. Not to mention this is a 21+ event, so a great excuse to secure that babysitter and head out for a night of fun for a great cause! Get your tickets here.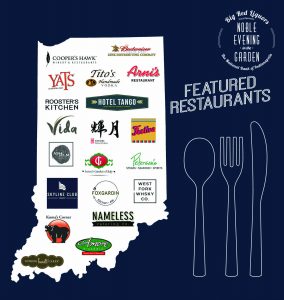 Even if you can't make it to the event, there are lots of ways to support Noble and those that benefit from their services. You can make a donation here. Or, join us as an event sponsor, with opportunities starting at just $500. See the many marketing benefits here.