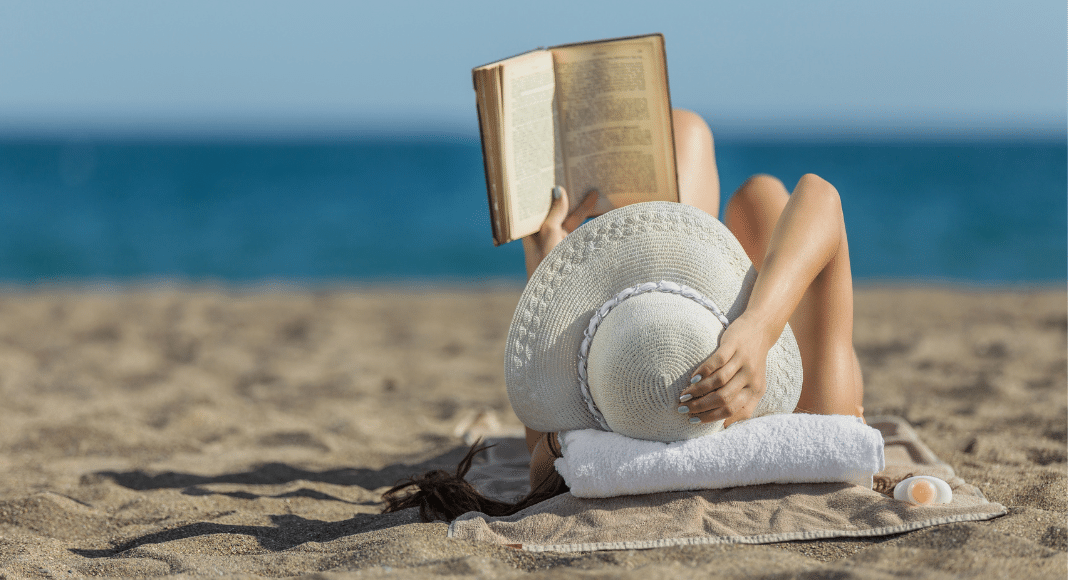 Your Indianapolis Moms resident bookworm is back with a book list made for summer. Summer is a great time to dive into books just for fun. My favorite thing about reading is simply being able to escape and transport the mind to a place that allows us to forget about the sink full of dishes, or the basket(s) of laundry that still needs to be folded and all the other mom things we have to worry about.
So, let's not waste any more time and get into it!
This historical fiction novel is the Indy Moms June Book Club pick, and I'm so excited to read and discuss this one. It's about two sisters living in London during WWII. Older sister Hazel tries to distract younger sister Flora from the war by inventing a fairytale about a magical land only they know about. One day Flora disappears, and Hazel carries around the guilt as she grows older. Twenty years later, Hazel receives a book that is about the fairytale story from their childhood. Hazel hopes she can discover what happened to her sister and where this mysterious book came from.
We will be meeting at Liter House to discuss The Secret Book of Flora Lea on Wednesday, June 28th at 7 pm. Join us!
This one is probably on just about every summer book list you can find because it's the newest book from the resident queen of rom-coms, Emily Henry. This is her fourth adult romance, and at this point, she's made a name for herself in the genre and is now an auto-buy author for a lot of readers. Sometimes you don't even need to know what the book is about; you just pick up and read it. But for those of you who might not know her work, here's a brief description of Happy Place. Harriet and Wyn have been a couple since they met in college, and they make the perfect pair. That is, until they broke up, decided not to tell their best friends during their annual vacation, and pretend they were still together. For some, this one is a sob fest despite the title. Maybe take the tissues along with you to the pool.
Eva is a single mom and bestselling erotica writer. Shane is a reclusive, award-winning novelist. They meet at a literary event and spend a week falling for each other. Then 15 years later, they reconnect and spend another seven days together. This second chance romance is perhaps a little steamy and a definite must-read for summer.
Best Men by Sidney Karger
This one is hot off the press and a perfect addition to your summer reading list. The cover totally sold me as soon as I saw it. First off, the beautiful sunset cover art screams summer. It's got a blurb from Amy Schumer at the top, and at the bottom, this one line sold it to me, "Boy meets girl's fiance's brother". Sounds intriguing and juicy. Basically, it's about two best men in a wedding party that fall for each other.
Another brand-new book just in time to start off summer. Sam is happily engaged to Jack. He's a doctor, and she has a great job in NYC. They are planning their wedding and looking at venues near her family's Long Island beach home when something doesn't seem quite right to Sam. The boy that broke her heart as a teenager is there, and everything comes flooding back. What will Sam do now? Carry on with her fiancé or let the one that got away re-enter her life?
This one could be hard to come by, but if you see this book out in the wild, BUY IT! Or if you're cool with eBooks or audiobooks, DOWNLOAD IT! This book is taking the bookstagram and booktok world by storm. No one can get enough of Fourth Wing. It's a mixture of The Hunger Games and Divergent but with dragons. It's got the romance of A Court of Thorns and Roses everyone loves too. This book is the first in a new series, and book two will be out this fall. *At the time of publishing this post, this book is on backorder from the publisher.
If you love Bravo or White Lotus, this one is for you. None of them would claim to be a particularly good person. But who among them is actually capable of murder? This is a book about gossip, the rich ruling the town and manipulating their way to get what they want. Small-town, juicy secrets make for a fun reading escape.
This book needs more hype! This debut is a firecracker of a book and a recent #ReadWithJenna pick. Loretta Thurwar and Hamara "Hurricane Staxxx" Stacker are the stars of Chain-Gang All-Stars, the cornerstone of CAPE, or Criminal Action Penal Entertainment, a profit-raising program in America's increasingly dominant private prison industry. It's the return of the gladiators, and prisoners are competing for the ultimate prize: their freedom.
I'm throwing in a non-fiction book that reads like fiction. It's also been picked up for a tv series starring Shailene Woodley. It's about the sex lives of three women from three different places with three very different experiences. It's scandalous, gossipy, and totally binge-worthy.
I hope you get some good reading time in this summer. If you have any book recommendations to share, I'd love to hear them.