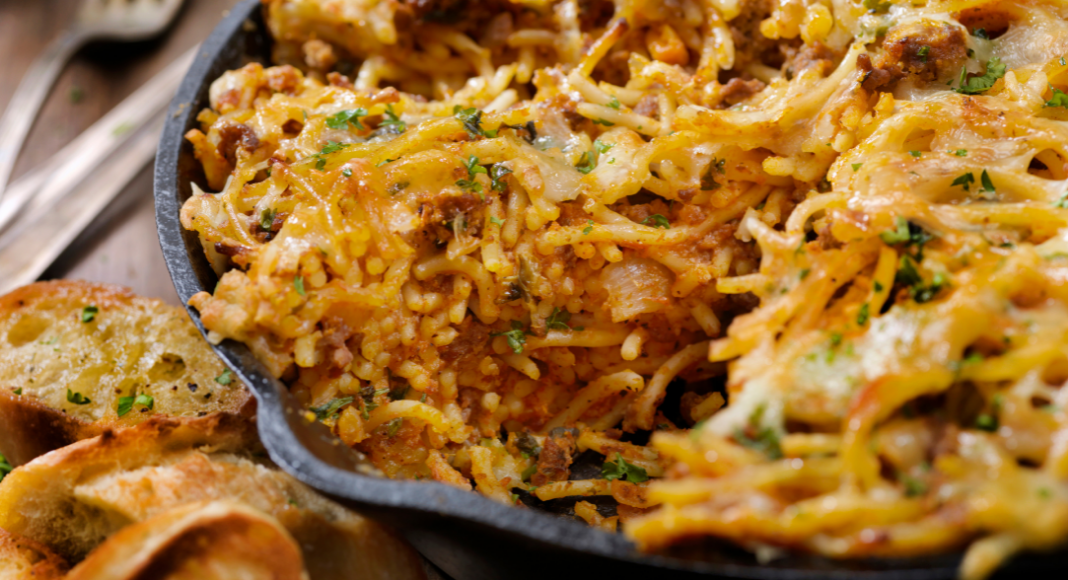 Spaghetti is a staple in our house. But week after week, it can seem a bit boring. Enter Baked Spaghetti Casserole, or as my 4 year old calls it "Special Spaghetti"! Little does she know, but "Special Spaghetti" is actually easier than regular spaghetti, IMO. This recipe is nice because you can make it ahead of time. I'll prep everything while my oldest is at preschool and my youngest is napping so once it's dinner time, all I need to do is pop it in the oven!
My small family of four only needs about half of this recipe and we still have some delicious leftovers. Whenever I make this, I'll divide it into 2 8×8 dishes—one to cook that evening and one to freeze for a future meal. If you have a larger family, or your kids eat more than my 4 and 1 year old, make the recipe in a 9×13 dish and voila!
You'll Need
1 package of spaghetti (16 oz)
8 oz mushrooms, chopped
2 medium carrots, chopped
1 onion, chopped
1 jar of your favorite pasta sauce (my jar was only 24 oz, so I added another cup of sauce to make sure there was enough)
1 1/2 c cottage cheese
1 c plain greek yogurt (or sub sour cream)
1/2 tsp black pepper
2 eggs
1/2 c butter, melted
1/2 c grated parmesan
2-3 c shredded cheese (I used cheddar because we didn't have any Mozzarella and it turned out just as delicious!)
Let's Get Cooking:
In a pot of salted water, cook spaghetti according to package. Drain, rinse in cold water and set aside.
In a large pan over medium heat, heat olive oil and add your veggies. (If your family isn't vegetarians, you can sub 1 lb ground beef, chicken or italian sausage.) Cook until onions are translucent and veggies are tender, about 5 minutes. Add spaghetti sauce (if you're using meat, you'll want to drain the grease before adding sauce) and simmer for 10-15 minutes.
Combine cottage cheese, greek yogurt and black pepper into a bowl. Stir and set aside.
Whisk together eggs, melted butter, parmesan. Add cooked spaghetti (make sure the noodles are cooled, you don't want hot noodles to start cooking the eggs!) and toss to combine.
Assemble your dish by first adding 1/4 noodle mixture (if you're using 2 8×8 pans, if you're doing one big 9×13, add 1/2 noodle mixture). Spoon 1/2 of the cottage cheese mixture into each dish. Next, add your sauce and sprinkle shredded cheese on top. Next, add the remaining noodles, sauce and shredded cheese.
Cover your dish with foil and bake in a preheated oven at 350 for 30-40 minutes
Remove your foil and let the casserole rest for 10-15 minutes. Resting will ensure everything has time to stick together, making it MUCH easier to dish onto plates.
Cut up and serve with salad and bread – and enjoy!
Note: If you're baking a frozen version straight from the freezer, increase baking time to 60-75 minutes.
This Baked Spaghetti is such a tasty meal that is always a family favorite. The best part is that you are making two meals at once – one for now and one for later, which comes handy when you have a busy schedule!